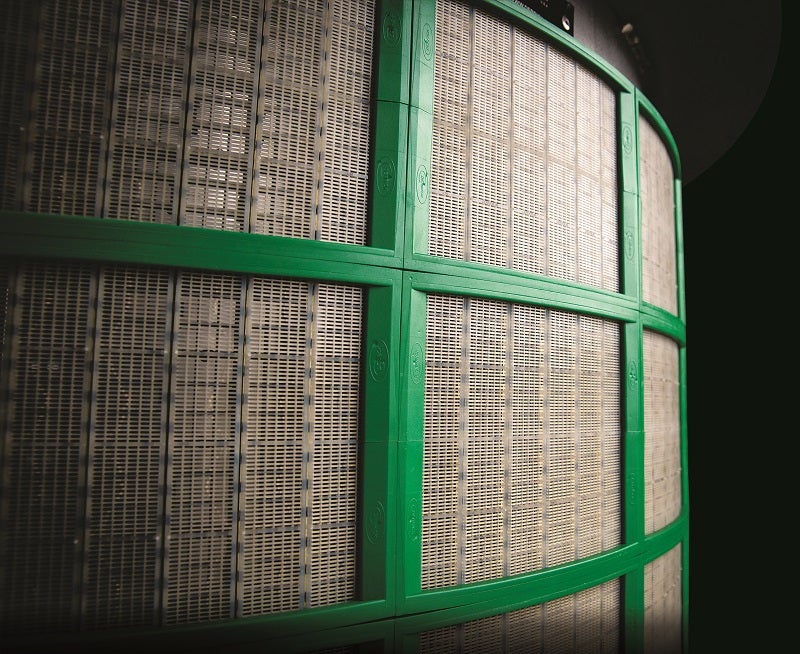 Derrick®Corporation announced today the introduction of its new G-Vault® polyurethane interstage screen for carbon in pulp/carbon in leach (CIP/CIL) and resin in leach/resin in pulp (RIL/RIP) processes at gold recovery plants. Due to the abrasion and blind resistance of the polyurethane material, the new interstage screen reduces maintenance by eliminating the frequent washing and unblinding procedure required for stainless steel wedge wire screens. G-Vault screens are available in a variety of sizes, with screen apertures ranging from 500 to 1,200 microns.
The G-Vault Interstagescreen is a direct bolt-in replacement for the existing wedge-wire screens but allows re-use of the operating mechanism. The retrofit involves replacing the wedge-wire screen with the G-Vault screen and then lowering the module back into the tank.
The G-Vault offers a significantly higher open area than wedge-wire screens—in some cases more than 20%. Combining the wear resistance and non-blinding characteristics of Derrick's polyurethane, the G-Vault screen produces the same micron consistency as wedge wire screens with reduced process interruptions and extended intervals between cleaning cycles.
The G-Vault is composed of several independent screen sections retained in a 304 stainless steel cage. The use of replaceable screen sections reduces maintenance costs by permitting replacement of only a heavily worn section, rather than an entire screen.
Field testing conducted in six countries in North and South America, as well as Asia, has demonstrated that G-Vault screens can reduce maintenance and attendant costs, while increasing throughput. In some applications, run times without periodic cleaning cycles have extended beyond 18 months. And while the initial cost is higher than wedge wire, due to its significantly lower maintenance costs, the G-Vault has been shown to produce a favorable return on investment (ROI) for mine management.
Jeremy Rozelle, Senior Metallurgist at OceanaGold's Haile Gold Mine explains his experience with the Derrick G-Vault screen: "After the first checkup at six weeks, the determination was made to replace all interstage screens at our operation with the Derrick G-Vault baskets. This decision was based mainly on performance. During the first six weeks of the trial, neither basket had to be pulled by operations for any reason. Performance in the circuit went up, while also allowing operators to focus on other tasks. The wear on the screen panels tested was minimal to none over the trial."