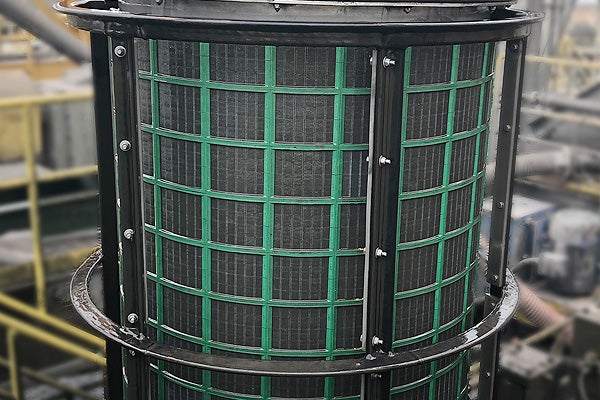 Screens have been a part of modern gold processing plants since their inception. Derrick Corporation®, a world leader in innovative screening machines and surface technology, historically provides process solutions to the processing plants of most major commodity suppliers.
Most recently, Derrick® has successfully tested and placed in full operation its latest advancement, the G-Vault® Interstage Screen in a geographically diverse set of gold mines. The G-Vault® addresses the inherent challenges associated with the separation of carbon (or resin) from the pulp of a CIL/CIP (RIL/RIP) common to most processing plants. The G-Vault® is a direct bolt-in replacement for traditional wedge-wire screens, and its non-blinding polyurethane surface is a contributing factor in achieving continuous run-times of 18 months. Additionally, by utilizing the features of higher open area and a non-blinding surface, the routine cleaning schedule and replacement programs of traditional screens is no longer required, giving way to vast operational savings.
As gold ore processing is a continual hunt for increased production, G-Vault®'s inherent ability to provide a screening surface that can (if required) provide an opportunity to accommodate a tonnage increase as well. In the case of a North American CIL, operating multiple wedge wire screens per tank – the G-Vault® replacements were put in place of 67% of their wedge wire counterpart's and attained the same amount of process tonnage. With a 100% changeout, the operation would have been able to increase tonnage another 33%, helping operators meet week and month-end goals.
The existing challenges in processing gold loaded carbon/resin in a gold mill are directly attributed to the screening media used in the slurry tanks. The culprit? A lathe-welded, wedge-wire screen with varying wire gages used to determine the separation is, in most cases, a rudimentary solution to a series of complex problems. The issues revolve around the comparatively low open area and the wearing properties of stainless-steel causing blinding, pegging, and increased maintenance. With a litany of problems stemming from an under-achieving design, Derrick Corporation® worked closely with some of the world's largest gold producing companies to develop the G-Vault®.
First on the agenda was to utilize Derrick®'s urethane screen panels, which offer a 30% increase in open area when compared to wedge wire. Accompanying this increase is the non-blinding surface, leaving operators with a truly worry-free installation that negates nearly all of the previously required maintenance. The highlight of the G-Vault® is the wear-rate of the urethane surface. In some installations, reports have been received showing three times the life of wedge-wire screens!
With these benefits combined, a new age of interstage screening is available to the industry, and with G-Vaults® installed a new standard of excellence has been achieved.