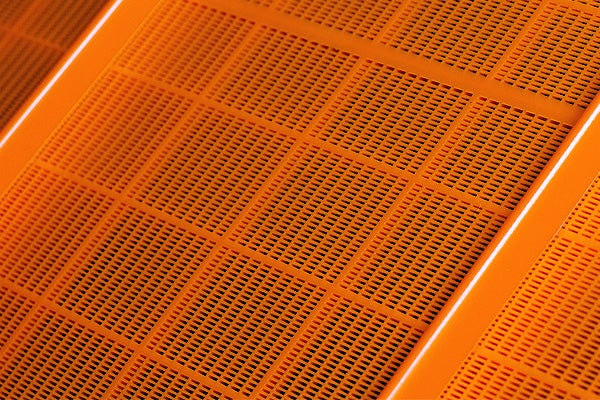 For nearly half a century, Derrick Polyweb® urethane screens have been raising productivity, reducing screening costs, and improving the quality of fine screening operations in both wet and dry screening. And our latest innovations are dramatically expanding the universe of applications that can benefit from integrating Derrick®'s advanced Polyweb® technology into fine screening operations.
Significant cost savings have been achieved throughout the world using Polyweb screens. Commonly lasting 6 to 12 months—10 to 15 times longer than conventional wire screen panels—these remarkable panels are also lightweight and easy to install. With openings as fine as 325 mesh (45µm), Polyweb panels are well suited to many wet and dry screening applications.
Features include:
High open areas of 45%  – the industry's highest
Reduced operating and maintenance costs
Lightweight and easy to install
Extraordinary wear resistance for 10 to 15 times longer life than wire screens
Panel apertures as fine as 325 mesh (45µm)
Square or rectangular openings with tapered sides for smooth particle flow and minimal blinding to meet rigid cut-point specifications
Free use of the Derrick computerized panel configurator for precise panel selection
Full-scale test lab validation of predicted performance
High-Temperature Dry Screening Technology
Derrick Polyweb® screens are also available to serve the high-temperature dry screening market. By overcoming the previous temperature limitations of urethane compounds, these advanced screens readily accommodate both standard and high-temperature dry screening requirements. The wide array of product offerings currently available can meet the needs of virtually any dry screening application. Polyweb® screens are offered in overall dimensions and aperture sizes and configurations to directly replace wire screens on Derrick® equipment. Their excellence has been demonstrated in successful applications at processing plants throughout the world.
Derrick®'s unique Polyweb® screens offer exceptional abrasion resistance, high open area, and minimal blinding in a high-temperature screen that can safely handle materials up to 300°F (150°C). Previously, dry urethane screens have been limited to screening materials at temperatures not exceeding 120°F (50°C). But with the advent of Derrick's latest urethane formulation, the spectrum of suitable applications for advanced Polyweb technology has dramatically widened, extending this technology to industries that were previously unable to capitalize on the myriad benefits of Polyweb screening. The broad array of panel openings—down to 100 microns—and material composition in our standard product offerings can meet the needs of most applications.