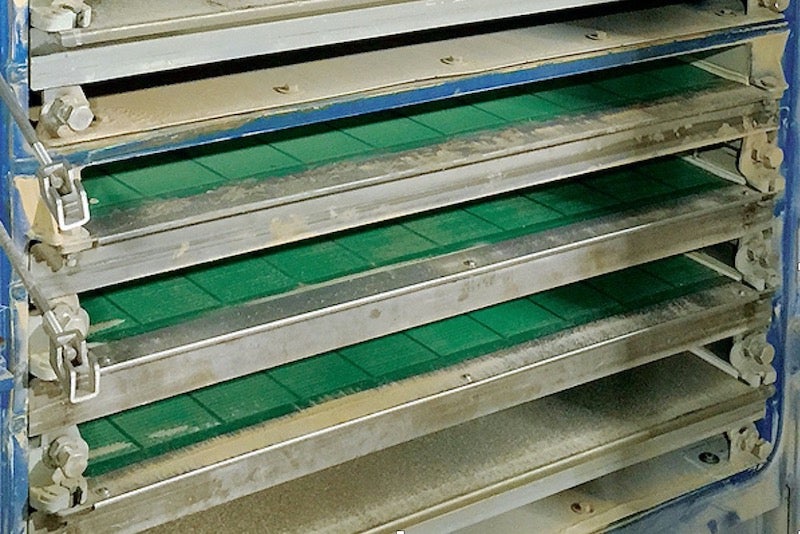 Derrick Corporation has led the mineral processing industry leader in high-frequency vibratory equipment and screening surfaces for more than 60 years. Derrick's unwavering commitment to developing and implementing cutting-edge technology into its screen surfaces and machines has helped companies around the globe to simultaneously lower their overall operating costs and increase production efficiency.
In keeping with its commitment to innovation, Derrick patented the first Polyweb®¹ high open area urethane surface for the sizing of industrial minerals in 1988. Before this technological breakthrough, the mining industry was limited to using either fragile woven wire mesh screens or urethane surfaces with a very low percentage of open area to make size separations. With these technologies, mineral processing facilities had only two options: a short life/high screening efficiency wire surface or a longer life/lower efficiency urethane surface. Derrick's Polyweb® surfaces changed this paradigm forever. Now it is possible to size materials down to 45 microns with a urethane screen at the same capacity and efficiency of a wire mesh screen, but with the benefit of up to 15 times longer useful service life!
Since 1988, Derrick's Polyweb® tapered/non-binding urethane surfaces have been installed on thousands of Derrick machines serving customers around the world. Tremendous results have been achieved with these screens installed on the Stack Sizer®, Superstack®, and Hi-G® Dewatering machine. This history of success has led Derrick to proudly offer customers its patented surface technology for installation on other types of non-Derrick vibratory or gyratory sifting machines used in various sizing processes. Derrick's Polyweb® screens are available for the Rotex® Minerals Separator™ and Megatex XD machines that are commonly used in silica sand applications around the world.
When these larger Rotex® machines are used in high tonnage silica sand applications with wire screens, screen damage or failures commonly occur within weeks after installation. This short wire screen lifespan leads to both extended machine downtimes and higher labour costs, which negatively affect the bottom line. An even more important issue than the profits lost during the multiple wire screen changes is the employees' increased exposure to respirable crystalline silica. MSHA's standards require employers to take steps to protect workers from this hazard, and constant wire screen changes make it difficult for facilities to keep maintenance personnel exposure low.
Silica sand producers around the globe have recognized the financial and safety advantages of using Derrick's durable Polyweb® high-performance urethane surfaces in their Rotex® machines. Because Derrick's durable high-temperature urethane surfaces can last up to one year of continuous duty at up to 300°F (149°C). Polyweb® users report a reduction of screen maintenance by up to 80%, which translates into 250 work hours saved every 6 months. The resulting increase in operational machine time added more than ten 24-hour days to one company's 6-month production calendar. The calculated average savings is more than $15,000 per machine in overall operating costs!
Clearly, Polyweb® screens can offer enormous financial benefits.
Disclaimer: Derrick and its products indicated by trademark symbols are trademarks and/or registered trademarks of Derrick Corporation. Rotex, Minerals Separator, and Megatex are trademarks and/or registered trademarks of Rotex Corporation. Derrick Corporation is in no way affiliated with Rotex Corporation.