Schneider Electric helps maximize mining stakeholders return and build a sustainable business that is responsible, efficient and profitable with integrated automation, power and process digital environment along a unified value chain.
Addressing critical mining challenges
Mining market faces a "make or break" moment on the industry impacted by trends such as sustainability, market volatility, shorten investment cycles, or workforce shift. How mining adapts, operationalizes and integrates those elements will define successful mining companies in the next years. It is a technological transformation but also a cultural one as these companies evolve to cleaner, decarbonized and integrated value chain practices.
Building a sustainable mining future through digitally integrated collaborative environments
Schneider Electric empowers our mining customers to maximize shareholders and community return by making data-driven decisions in a volatile business, to maximize operational excellence and energy efficiency, optimize production and value chain performance throughout the entire project lifecycle.
Our solutions are built on EcoStruxure, our IoT ready platform, which integrates different domains of expertise (automation, power, building, IT) in a seamless architecture and transform information collected from anywhere into actionable wisdom for optimized and paperless end-to-end operations.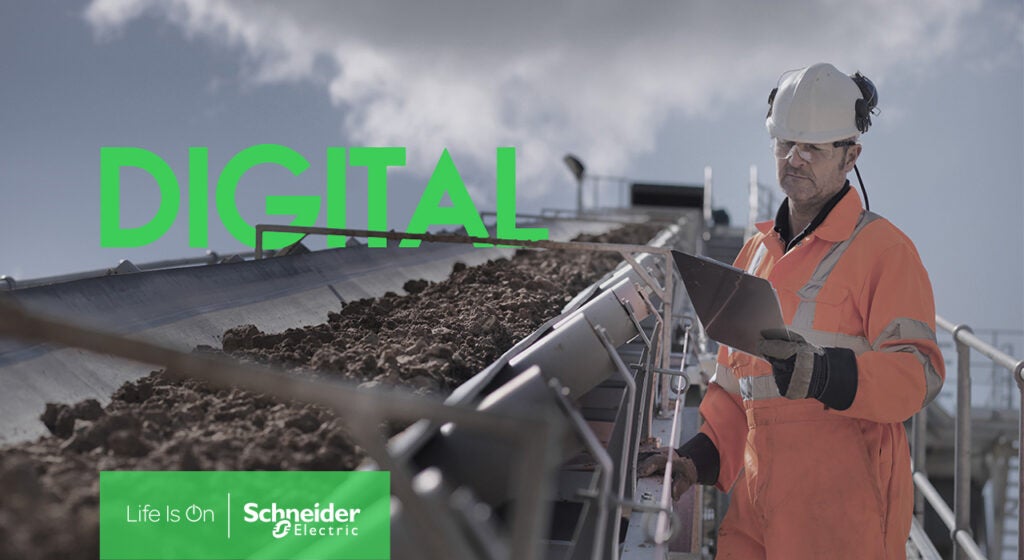 Together with Schneider Strategic Partner AVEVA, EcoStruxure for Mining creates integrated digital environments and redefines energy journey leveraging integrated power, process and automation to enable enterprise digital transformation and to install a culture of innovation for sustainable business. Global companies like Roy Hill, Tuprag, ArcelorMittal or Saint Gobain trust Schneider Electric to optimize every step towards this transformation.
Our solutions:
End-to-end Sustainability, Energy and Safety Management to achieve XXI century sustainability aims, safety and compliance and guarantee (social) license to operate
Integrated Operations Management to reduce cost/ton, and get closer to nameplate level for maximized assets efficiency and improved profitability
Integrated Value Chain Visualization, Automation and Electrification, to increase value chain flexibility to boost your competitiveness in a volatile environment
Secure Collaborative Tools to retain knowledge and eliminate info silos for better decision-making, in a context of workforce retirement
Proven benefits
Our customers work with us because we help them to:
Decarbonize their business with 100% consumed energy from renewables
Improve 20% process performance with unified operator center approach
Increase 20% value chain efficiency with unified supply chain
Improve 50% faster issues resolution with augmented reality instant diagnosis and maintenance
Why partnering with Schneider Electric:
Unrevealed capability to integrate power and process all along the value chain, – from design, planning, scheduling, to operation, production and maintenance
Demonstrated value through proven MMM-specific application portfolio and deep industry knowledge
We are recognized as the global specialist in Energy Management managing more than 300K sites in the world. Global Specialist in Energy Mgt with a unique thought-leadership approach to minimize power-related TotEx and improve energy efficiency, from design to maintenance
Unparalleled ability to build unified environments with our Strategic Partner AVEVA
EcoStruxure Open Interoperable IIoT creates collaborative environments that connectfield-enterprise.