Schneider Electric
Process Automation, Electrification, Supply Chain Management, Energy Management, and more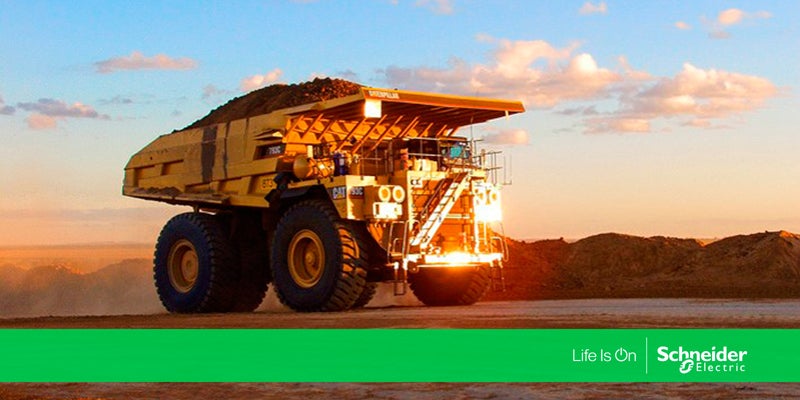 Schneider Electric helps our customers grow in a sustainable way by helping them to maximise their production resources, optimise industrial operations, improve overall efficiency, and enhance asset utilisation.
Innovative mining products and solutions to increase operational efficiency
Schneider Electric is a trusted partner with a complete portfolio of innovative products, solutions, and services that can help mining companies achieve better operational, value chain, and energy efficiency; exceed safety and sustainability goals; and maximise overall financial performance.
Addressing critical mining challenges
Facilitating sustainable growth and development
Protecting employees, plant assets, and the environment
Maximising output, revenue, and margin
Optimising OPEX and CAPEX
Attracting, developing, and retaining new talent
Safety and security
Protect valuable assets with some of the industry's most effective video security and advanced lightning detection systems, as well as integrated safety solutions for processes and machines.
Energy and sustainability
Obtain energy savings throughout the entire energy management life cycle and achieve sustainability goals with our expert consulting services and resource management.
Operational efficiency
Get total visibility into production processes and optimise operations from end to end, thanks to seamless integration between control and electrical systems.
Asset performance
Asset management solutions extend the useful life of assets, decrease downtime, and improve overall equipment efficiency.
Workforce efficiency
Achieve a highly effective workforce with advanced training solutions, enhanced operator simulation environments, mobile devices, business process management (BPM), and workflow software.
Value chain optimisation
Optimise the entire value chain, from resource to market, and produce the right quantity of materials, at the right time, in the right grade and at the right quality, at the lowest cost.
Community development and access to energy
Meet your social responsibilities with proven community outreach and training programs, and unique 'access to energy' solutions.
Schneider Electric Images
Schneider Electric North America
Schneider Electric SA (Global Company Headquarters)