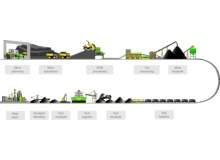 Mine sites are often in remote locations, or across a series of disconnected satellite locations, so hauling and transporting materials requires detailed planning.
Schneider Electric has a software solution for site to rail to port logisitical integration and visibility. The system offers:
A broad view of the complex value chain scenario for faster, dependable decision-making
Optimised planning and scheduling, through the consideration of mining, processing and logistics chain constraints
Disconnected 'silo operations' and dissimilar systems
Unsupportable spreadsheet proliferation
Schneider Electric's integrated planning and optimisation solution is a scalable project management platform that improves planning and execution, increases asset performance and reduces costs.
Optimised planning and asset management can improve multi-factor productivity by up to 20%, including tightening the performance of energy and materials. This significant swing enables the supply chain to respond, as the market and other external factors come in line with the changes in production.
Further benefits include fewer rail penalties and shipping demurrage, optimised throughput through the rail and port network, as a direct result of improved logistics. Port stockpile functionality ensures that materials handling is as efficient as possible.
Schneider Electric's intergrated planning and simulation solution optimises blending opportunities to maximise profits and customer service through real-time, reliable inventory data.