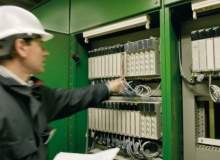 Schneider Electric's process control and automation products provide mine sites with greater control of their operations and improved safety.
Mine operators face many challenges in the delivery of production targets, which include reduced teams and skilled people shortage; the need to meet higher production levels with fewer staff and less time; pressure to minimise design and engineering time; to optimise the project cost and; to reduce operating and maintenance costs.
Schneider Electric's offers solutions through its integrated software and process hardware that reproduce the real mining environment. The systems provide:
A system configuration and design that has a view of the whole mine
Ethernet distributed communication service that connects the entire mine site
An object and process-orientated solution
Concurrent engineering, allowing workers to configuring different parts of the project simultaneously
Advanced functionalities, such as libraries and integration with energy management solutions
Not only can these tools reduce engineering development periods, but they allow sites to develop methods of best practice that, along with equipment, can be reused time and again on a range of projects. As communications are ethernet-based, they are built future-proof and versatile for use by different systems.
Schneider Electric's process control and automation systems save companies time and money.