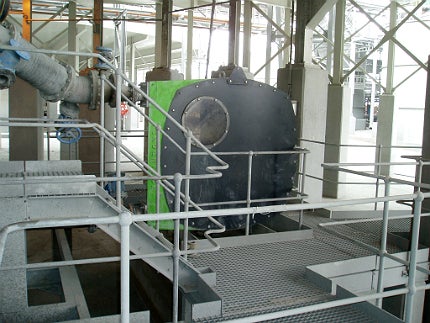 The Verderflex peristaltic pump range has gained worldwide prominence, particularly in applications involving abrasive, highly corrosive, shear sensitive, viscous and high solid content liquid products. The Verderflex peristaltic hose pumps are robust, reliable and cost effective.
The Verderflex peristaltic pump range is a comprehensive range of peristaltic hose pumps with hose diameters from 5mm (3/16in) to 125mm (5in)
The unique features of the Verderflex peristaltic hose pump help to reduce downtime, minimise maintenance costs and provide easy to operate and reliable solutions in difficult pumping applications.
VERDERFLEX PERISTALTIC HOSE PUMPS
Features of a verderflex peristaltic hose pump include: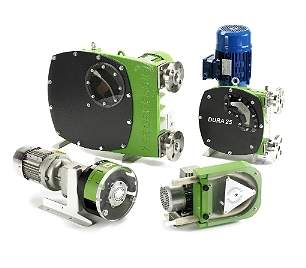 The Verderflex Industrial range of peristaltic pump thrive in those applications where other pumps fail. Water and wastewater industries, mining and chemical processing are all prime markets for this workhorse.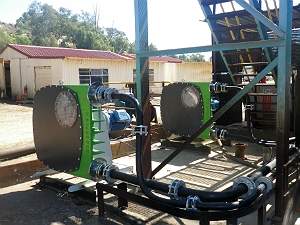 Peristaltic Hose Pumps play key role in rectifying the pH balance of mine water.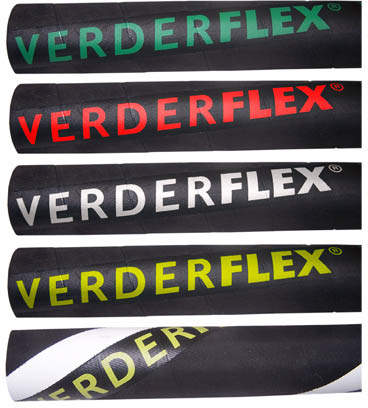 Verderflex hoses are constructed to offer strength and resilience under arduous conditions and are available in five different materials, making them suitable for an array of applications.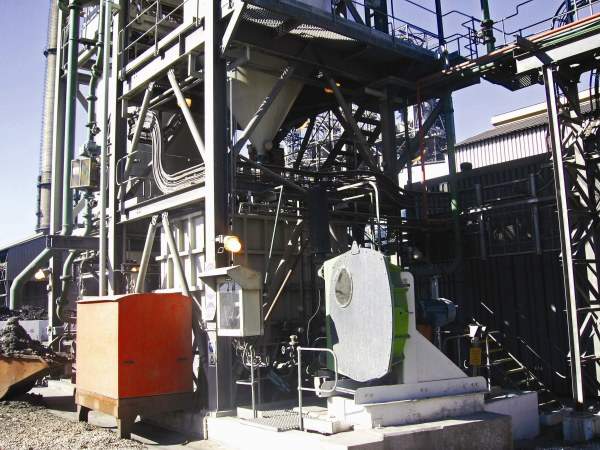 Pumping platinum slurry with the Verderflex VF125 peristaltic hose pump.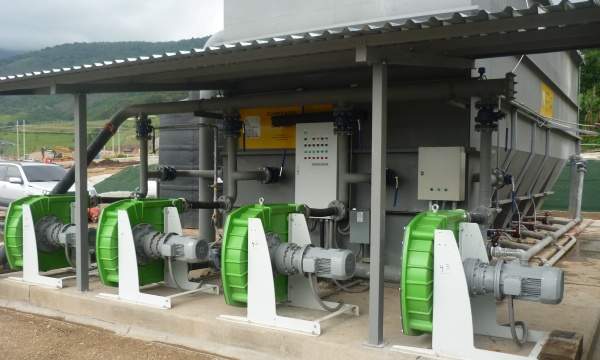 Drawing sludge from the bottom of the hoppers on the Clarifier has a tendency to cause clogging. The Verderflex Peristaltic hose pumps rotation can be reversed to unblock, causing no damage to pump components.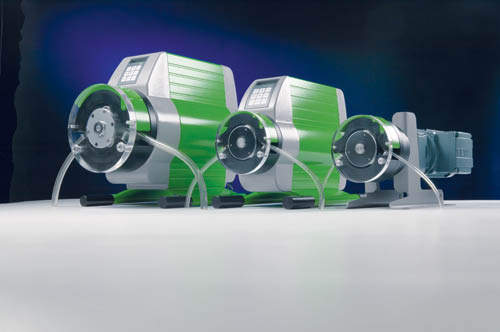 The Verderflex Smart series comprises reliable, flexible low pressure peristaltic pumps.
Pump at operating pressures up to 16bar/230psi and flow rates to 90m³/hr 390 US GPM
Delivery of repeatable quantities of products into the process, stabilising process variables
Resist abrasive wear – only the hose comes into direct contact with the product circulating through the pump
A self priming pump that can run dry without any damage
The ability to withstand normal pumped product or process variations
Controllable via plant control systems
Easy maintenance without the need for frequent attention
Do not affect overall levels of plant performance
PERISTALTIC HOSE PUMP APPLICATIONS
Typical mining process applications in which Verderflex peristaltic hose pumps are used include dosing process reagents, coagulants and flocculants.
Ores have varying mineral contents and recovery systems must accommodate such variations. Pumps must consistently vary their dosing rates to optimise chemical usage and maintain plant throughput.
Process reagents, such as cyanides and acids are often highly corrosive but as the chemically resistive hose of the Verderflex peristaltic pump is the only part in contact with the pumped product then there are no working parts exposed to the chemical.
Many process chemicals, including Powder Activated Carbon (PAC), are highly abrasive, creating continual wear problems for progressing cavity pumps, leading to ongoing high stator replacement costs and frequent maintenance
Verderflex peristaltic pumps have a linear flow-speed characteristic and excellent repeatability, an ideal complement to plant SCADA systems.
ABRASION RESISTANT HOSE PUMPS
Traditional low cost solutions such as centrifugal pumps can suffer from severe impeller wear, requiring frequent replacement. This causes consequent downtime and high maintenance costs which are often measured in days.
Alternative solutions using rotary lobe pumps rely on consistent close tolerances between the rotor and casing to maintain performance and similarly, require extensive maintenance.
Attempts to increase maintenance intervals, with such traditional solutions, often use expensive wear-resistant alloys, installing the more costly parts once the pump is in service.
The seal-free design of the Verderflex peristaltic pump eliminates leaks and the consequent risk of workplace or environmental contamination.
For aggressive activator solutions including Copper Sulphate, pumps as a special order can be fully nickel plated to maximise corrosion resistance and prolong the pump's operational life.
CHEMICALLY RESISTANT PERISTALTIC PUMPS
PH moderating chemicals such as lime are usually too viscous for diaphragm pumps, causing them to persistently clog up, resulting in continual downtime and maintenance requirements.
Verderflex peristaltic pumps have an exceptional record of dosing lime into process and waste, many being used for bulk dosing to remediate post-mining waste.
Reagents may be mixed at the mine or the processing plant, leading to less than perfectly dissolved solutions but such solids in the liquid stream are not a problem for a Verderflex peristaltic pump – mine operators can use pumping solutions that allow for mining realities.
VERDERFLEX HOSE PUMPS MAINTAIN FLOCCULENT PARTICLE SIZE
Flocculants and coagulants can be highly shear sensitive products, where excessive shearing noticeably affects plant performance. Verderflex peristaltic pumps have a gentle pumping action which produces a low shear rate. Mining industry studies have shown that Verderflex hose pumps maintain flocculent particle size.
The same studies showed that progressive cavity pumps reduced particle sizes by approximately 50% to 75%, reducing flocculation performance thereby increasing chemical usage to maintain throughputs requiring longer flocculation times.
PERSITALTIC PUMPS FOR PUMPING ABRASIVE SLURRY
Mining slurries often have sub-micron solid contents in excess of 80% by weight, and have slurry Specific Gravities (SGs) in excesses of 2.0 – these slurries are usually also highly abrasive.
A Verderflex peristaltic pump is ideal for pumping slurries of this type.
In addition to their abrasion resistant slurry pumping performance, Verderflex peristaltic pumps have a smooth liquid passage, so there is no opportunity for the product to settle as the peristaltic action keeps the product in suspension.
The Verderflex VF125, with a 125mm or 5in internal diameter hose, is the world's largest high pressure peristaltic hose pump with single pump slurry flow rates of more than 60m³/hour.
This allows the design of larger high SG thickeners, which maximises process plant yields.
Verderflex peristaltic hose pumps are renowned for providing top-quality solutions for a variety of problems within process industries around the world.
VERDERFLEX DURA – A NEW GENERATION OF HOSE PUMPS
The Verderflex Dura has exceptional dosing features created for industries such as brewing, ceramics, chemicals, manufacturing, mining, water and waste.