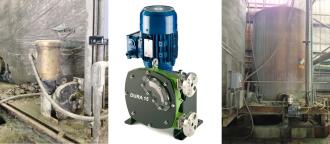 A US copper mining company recently replaced four progressing cavity pumps with Verderflex Dura 15 hose pumps for dosing reagent. Copper sulphate is dosed continuously into large thickeners where it helps to separate usable metal from stone. The mine runs 24/7, so uptime in this application is critical.
Operators at the mine faced efficiency problems from the existing progressing cavity pumps.
After a short time in service, the progressing cavity pumps began to lose flow due to a variety of reasons, including chemical attack and mechanical damage from abrasion. This caused the operators to constantly check the pumps' flow rates and adjust the speed, as needed.
Hose pumps are 100% volumetrically efficient and immune to abrasive wear. Additionally, the pump is seal-less and has only one wear part, the hose.
After the mine installed the Verderflex Dura hose pump, efficiency problems were solved.
---
Image: The Verderflex Dura 15 hose pumps installed at a copper mine. Photo: courtesy of Verdeflex.