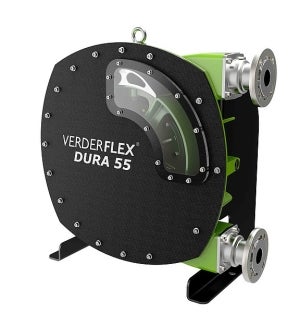 Verderflex has announced that it has expanded its Verderflex Dura 45 hose pump range with the Verderflex Dura 55.
This innovative, superbly engineered pump is designed to deliver over 20% more flow, increasing the Dura Hose pump family's flow-range.
The Verderflex Dura 55 is the class leader for this size of peristaltic pump, significantly outperforming its competitors in both continuous and intermittent duty applications. The addition of the Verderflex Dura 55 expands the Dura range's flow rates from <1 l/hr to 15.3 m³/hr at pressures up to 16 bar.
The Verderflex Dura 55 meets growing market demands for a pump that can reduce lifecycle costs, maximise plant uptime and incorporate special design features for arduous heavy-duty applications.
The Verderflex Dura 55 solves pumping problems associated with dry running liquid streams, shear sensitive polymers, high viscosity sludge and pastes, variable speed dosing, abrasive solids in suspension and off-gassing fluids.
This makes the Verderflex Dura 55 ideal for use in a wide variety of applications including; biogas production, brewing, fly ash recirculation, chemical manufacturing, industrial processing, mining and water treatment.
Low lifecycle costs
The Verderflex Dura 55 delivers more flow per revolution. This significantly increases hose life by decreasing the number of revolutions to pump a given volume for longer hose life and expanded maintenance intervals.
A key attribute behind lowering user's lifecycle costs is the renowned, premium quality Verderflex hose. Like all Verderflex hoses, the Dura 55 hose has the optimum design to maximise strength and longevity.
Maximise plant uptime
The Verderflex Dura 55 has a unique, patent pending port flange that totally encloses the hose. This unique flange design also includes an innovative quarter turn lock system, halving hose change times to maximise plant uptime. Normally, supplied in 316 Stainless Steel, this flange design also has optional PP and PVDF inserts for aggressive chemical duty options.
Heavy-duty design
The Verderflex Dura 55 heavy-duty design guards against blockages and chokes with its advanced stalled rotor protection technology, including visible slippage indicators.
This advance eliminates potential rotor, rotor shoe or gearbox damage when the pumped liquid settles out or a line chokes, reducing both maintenance costs and production downtime. This key design feature enhances the Verderflex Dura 55's suitability for pumping sludge, slurries and all kinds of vicious and waste liquids.
Reinforcing the heavy-duty design is the pump's casing and rotor, made from high tensile strength SG iron unlike the lower specification GG iron used by many competing products. The Verderflex Dura 55 pump's rotor shoes are fully supported, eliminating potential stress weak points.
Why use a peristaltic pump?
Abrasion-resistant
Can run dry
Self-priming
Pumps high SG, low water content slurries
Superior secondary containment, eliminating any risk of workplace contamination
No seals
Low-cost of ownership
No moving parts in the liquid stream