Strata Worldwide Safety Products
Solutions for Underground Communication, Tracking, Monitoring & Control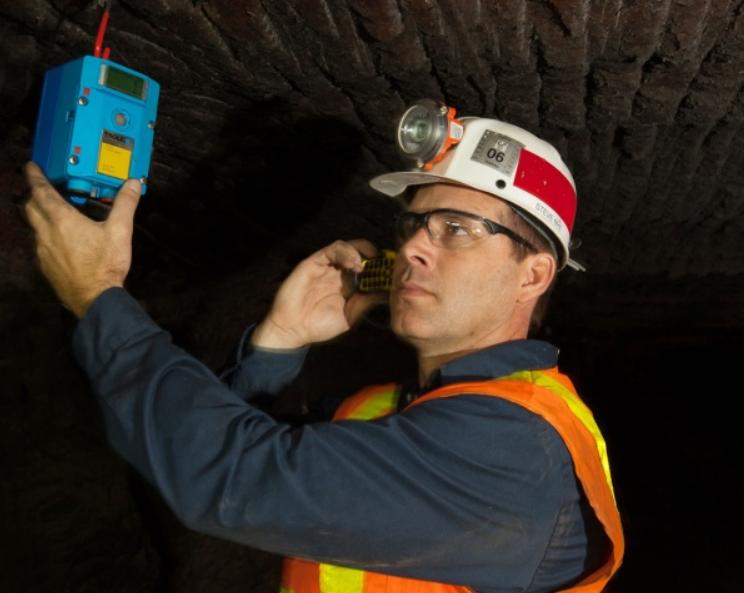 StrataConnect™ is a multi-functional underground data network that provides versatile options in day-to-day and post-accident mine monitoring, tracking and communications.
The wireless network is quick and easy to install and provides complete connectivity with digital voice, high-speed data, two-way texting, personnel tracking, asset tracking, gas detection, and atmospheric monitoring.
Tracking of mining personnel and assets
Strata provides real-time tracking of personnel and mobile machinery underground. Tracking is accurate to within 200ft (60m).
For personnel, the company offers a tracking tag worn on either the individual's belt or hardhat, which features a flashing location light with broadcast alerts, and uses commercially available batteries.
Another option, the tracking cap lamp, can come in either cordless or corded LED varieties, and includes a flashing LED notification light and two-way alert capabilities between the miner and the dispatch. This lamp uses lithium hydroxide rechargeable batteries.
Also available is the Miner Communicator, a multi-functional device for text messaging and tracking. The apparatus allows for two-way texting with dispatch, and broadcasts alerts. The communicator uses nickel-metal hydride batteries.
Strata also provides asset tracking solutions in the form of a tag permanently or magnetically mounted on to vehicles. The tag is intrinsically safe (IS) and low cost, though non-IS options are also available. The asset solution is powered by D-cell (IS) batteries or AAA-cell (non-IS) batteries.
Digital voice and data communications
Powerful Wi-Fi technology provides digital voice communications and high-speed data access underground. Strata Wi-Fi is compatible with any standard IEEE 802.11b/g/n Wi-Fi enabled device.
Wireless atmospheric monitoring in underground environments
Utilizing the Strata / Trolex Sentro Wireless, surface operators can monitor underground environments during real-time operations.
Fire and gas detection for post-accident situations
Strata also offers wireless gas and fire detection products, which monitor toxic and explosive gases during everyday operations in real-time; useful in post-accident situations and in the event of power or ventilation loss.
Reports on gas concentration levels are provided at pre-set intervals over a wirless network to dispatch teams.
If harmful gas levels are detected, units send alert / alarm notifications along with gas concentration levels and incident location.
The Sentro wireless unit is a truly wireless, battery-powered and intrinsically safe solution that utilizes commercially available D-Cell batteries for a battery life of 35 to 45 days.
A dual-wall housing provides maximum impact strength and protection against dust and moisture. The product is IP65 rated.
Emergency refuge chambers for mining applications
Strata's emergency refuge chambers and breathing air systems are constructed in many shapes and sizes, according to mine and application requirements.
The Strata Fresh Air Bay (FAB) does not require power. The inflatable chamber is stored in an explosion-resistant skid until needed. Optional wheel and hitch packages, along with a low and compact structure, the skid can easily be moved along with production and relocated around the mine.
Breathable air and other life-sustaining supplies are all stored in the skid, and supplies last a standard 96 hours.
The Strata Emergency Refuge Chamber (ERC) is a steel sided, walk in chamber with LED lighting, padded seats, breathable air and a private lavatory. These units have optional wheel and hitch packages for easier maneuverability.
The Strata Segmented Chamber (SERC) is identical in quality and functionality to the standard ERC, but is divided into equal segments for assembly underground. This unique design optimizes transportation and handling and overcomes entry shaft and/or handling restrictions at the mine site.
The Strata Change-Over-Station (COS) facilitates self-escape. It is a transitional unit that provides miners a non-toxic environment in which to rest, recover and exchange SCSR units during evacuation of the mine.
Strata Safe Rooms (SSR) are pre-constructed refuge rooms equipped with modular kits for breathable air systems, air-conditioning, battery back-up, storage and other essential supplies.
Strata Worldwide Safety Products Images