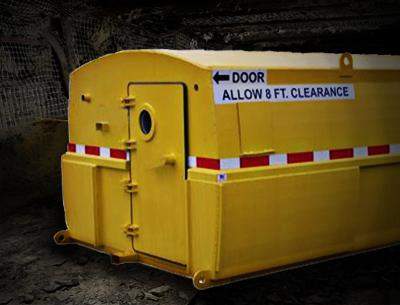 The Strata Safety Coal Refuge Chamber is a rugged, steel-constructed emergency chamber equipped with breathable air free of hazardous gases and smoke.
Built with explosion-resistant steel walls and reinforced doors, windows and hinges, the Strata Safety Coal Refuge Chamber can withstand up to 15psi of overpressure providing safe haven during an underground emergency.
Coal Mining Applications
The Strata Safety Refuge Chamber for Coal Mining is completely powerless and self-contained. This unit provides up to 96 hours of breathable air from compressed air and oxygen cylinders. An innovative, patent-pending Carbon Dioxide Scrubber, powered by compressed air, utilizes soda lime chemicals to remove carbon dioxide. If required, cooling is provided with the use of chemical cooling packs. The Strata Safety Coal Refuge Chamber is delivered with water, food, a first aid kit, and lavatory supplies neatly stowed on-board.
Highly reflective signage and an MSHA approved flashing location light assists miners in locating the chamber. MSHA approved, hand-held flashlights provide light inside the unit. The Strata Safety Coal Refuge Chamber is approved by the West Virginia Office of Miners' Health Safety & Training.
Technical advancements
Technical advancements of the Strata Safety Refuge Chamber for Coal Mining include:
Robust Construction – Engineered and constructed to withstand 15psi overpressure
Fresh, Breathable Air Supply System: provides up to 96 hour air supply from compressed oxygen and air cylinders
Patent-pending CO2 scrubber system powered by compressed air removes carbon dioxide using soda lime chemicals
Standard and custom sizes to meet individual customer needs. This includes custom length and heights of the structure
Air-tight design chamber design provides immediate supply of breathable air upon entry
Air-lock entry: minimizes contaminants entering the main chamber. Optional purge air system can be used to push the air in the airlock prior to occupants' entrance into the main chamber
Food and water in storage compartments.
MSHA approved gas detector for O2/CO/CH4/CO2 levels inside the chamber. A sampling pump can be used to test air outside the chamber
MSHA approved flashlights: for internal use
Highly reflective signage and an MSHA approved flashing light: assist in locating the chamber
Easy handling: built-in fork lift guides, lifting facility and skid base assist with moving & relocating the refuge chamber. Optional wheels and hitch
Environmental toilet: toilet and waste bags in a private compartment with external waste disposal
Cushioned seating and storage areas: cushioned seating for all occupants & storage areas for additional supplies/equipment
Strata Chambers meet the MSHA Breathable Air, Harmful Gas Removal and Air Monitoring Component requirements as specified in CFR 30 Part 7
Wheel and Hitch Package
In order to assist moving the chambers into and around the mines and in restrictive areas, Strata Safety has engineered a robust wheel and hitch package to be added during construction of the unit or retrofitted later. These additions will significantly reduce wear and tear during movement.
Each chamber is fitted with four smooth, solid rubber wheels and six wheel mounts (three on each side). The choice of wheel mountings is relevant to the direction the chamber will be pulled. Placing the wheels next to each other on each side facilitates easier turning and placing the wheels on the end most mounts allows the Chamber to balance itself. The wheel location can be changed while underground. Standard ground clearance is 5½in.
Custom set up to increase or decrease ground clearance is available.
The chamber hitch is a removable drawbar supplied at varying lengths. The hitch can be used on either end of the chamber to facilitate pulling in either direction.