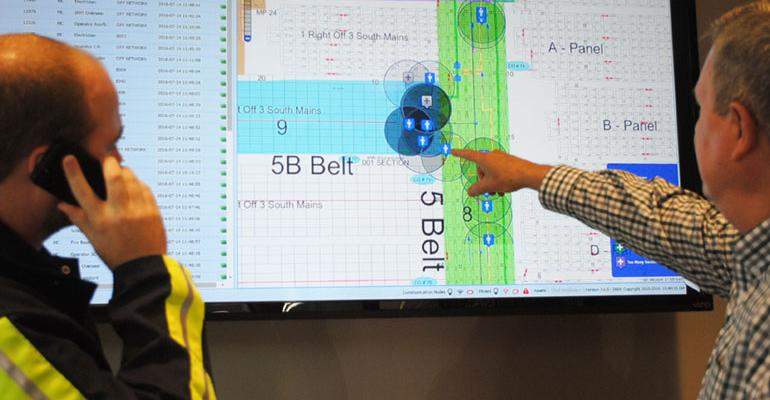 StrataConnect™ is a multi-functional communications network for underground working environments.
It provides versatile options in communications, tracking and environmental monitoring for everyday operations. Fully wireless and battery-powered options are available for both everyday operations and post-accident situations.
StrataConnect's flexibility enables operations to create and expand a communications network with functionalities that meet their specific needs.
Strata offers two infrastructures that are also fully interoperable.
Wireless CommTrac in your operations
CommTrac is a truly wireless and battery powered underground communications and tracking system that eliminates the expense and heavy maintenance associated with wired infrastructures.
Fast and easy installation with as few as one or two installers.
Simple suspension of Strata C-Nodes. Self-forming mesh network
Completely independent from other systems and power-sources
Remains fully operational post-accident
It is completely US MSHA approved for use in underground coal mines. CommTrac satisfies the Miner ACT requirements for having fully wireless post-accident two-way communication between underground and surface personnel, as well as electronic location tracking.
Functionality
Communications
Tracking
Monitoring and Control
StrataConnect Wi-Fi in your operations
Incorporate Strata Wi-Fi into your existing fibre-optic network to achieve powerful underground 'hotspots'.
Strata A-Node access points installed in desired locations along fibre
Establish up to 6,000ft (1,800m) of Wi-Fi coverage in each direction
(varies by location)
Strata B-Node wireless backbone installed to extend coverage beyond fibre
Up to 4,000ft per hop
Strata Wi-Fi is compatible with any 802.11 device for voice calling, texting, videos and high-speed data access.
Functionality
Communications
Tracking
Monitoring and control
Strata Wi-Fi A-Nodes are interoperable with CommTrac wireless and battery-powered C-nodes. This enables expanded wireless coverage for tracking, monitoring and remote control capabilities into areas not requiring voice communications.
StrataConnect™ server and GUI
StrataConnect™ Server and graphical user interface (GUI) provides monitoring, tracking and worker interaction between surface and underground operations. The Server integrates all underground systems into a single, multi-layered GUI to provide a comprehensive view and awareness of underground operations in real-time.
A digital mine-map or facility floorplan mark fixed nodes and other device location by latitude/longitude, as well as real-time location and tracking of mobile devices.
Reporting capabilities
Underground fixed node status history: Includes detailed network health reports
Event history: Includes location of event with timestamps, event description, miner/device name & serial number, and record of event been cleared
List of personnel checked-in or underground: Current data, or filtered back
Personnel activity history: Includes locations with timestamps and text message logs
Equipment activity history: Includes locations with timestamps
Section activity history: Includes personnel listings by working section/area
All files can be printed to PDF or exported to CSV file.