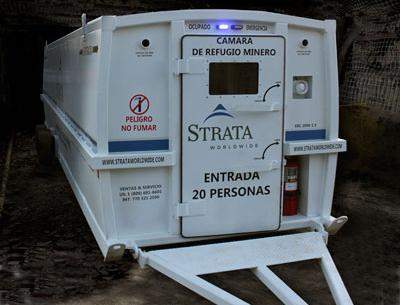 Strata Refuge Chambers are designed to attach to the mine's main compressor air lines and electrical power sources for an indefinite supply of breathable air and power.
The mine air passes through a specialized filtration system to perform a complete cleansing by removing any taste or odors and preventing CO2 and heat build-up. The entrance of air creates a positive pressure throughout the chamber and a non-return valve controls the pressure. Power attaches to operate the lights, siren, carbon dioxide scrubber, optional air conditioner and optional atmospheric monitoring system. Strata Refuge Chambers are equipped with a standard 48 hours of battery and air back-up supplies. These systems are upgradeable to 96 hrs. Backup power is a bank of fully automatic 24V batteries at the rear of the chamber and backup air is provided by on-board oxygen cylinders and an active soda lime carbon dioxide scrubber.
Technical Advancements and Customization
Technical advancements of the Strata Emergency Refuge Chambers include:
Robust Construction – Engineered and constructed to customer specifications.
Quality Air Supply System – High quality air filtration system purifies mine air. Backup air supply provides at least 48 hours of breathable air.
CO2 Scrubber System – Active CO2 Scrubber removes carbon dioxide using soda lime chemicals
CO Diversion System – Monitors air quality entering the chamber through compressed mine-air supply lines
CO Removal – Battery powered catalytic CO Converter
Air Conditioning – Optional DC Split Level air conditioner
Standard & Custom Sizes – Strata Safety Refuge Chambers are available in standard & custom sizes to meet individual customer needs. This includes custom length and heights of the structure
Air-Tight Rugged Design – Withstand harsh environments and provides immediate breathable air upon entry
AirLock Entry – Sectioned off area to help minimize the entrance of air contaminants into the main chamber. Optional purge air system can be used to flush the air in the airlock prior to occupants' entrance into the chamber
24V Lighting – Internal 24V LED lighting system
Drinking Water & Food – Includes food & drinking water in storage compartments under the seats
Easy Handling – Built-in fork lift guides, lifting facility and skid base assist with moving & relocating the refuge chamber. Optional wheel and tow hitch packages available
Lavatory-Chemical toilet and supplies in a private compartment
Cushioned Seating & Storage Areas – Cushioned seating for all occupants and storage areas for additional supplies/equipment
Fire Extinguisher – 20lb/9kg fire extinguisher
Escape Hatch – Built-in emergency escape hatch
External Location Lights – External location lights & warning siren
Customization
The dimensions of the Strata Refuge Chambers can be customized according to specific customer requirements. A few examples include:
Tunneling (reduced width)
Low Profile mines (reduced height)
Powerless (air-powered and MSHA-approved components)
Compact and mobile (small, lightweight, and equipped with wheels)
Strata Refuge Chamber Wheel and Tow Hitch Package
In order to assist moving the chambers into and around the mines and in restrictive areas, Strata Safety has engineered a robust wheel and tow hitch package to be added during construction of the unit or retrofitted later. These additions will significantly reduce wear and tear on the unit during movement. The wheels are made of solid, highly resistant rubber (non-air filled).
Atmospheric Monitoring
Continuously monitor the chamber's internal and external atmospheric conditions using the Strata Sentry Sensor station.
    Gas Monitoring: (O², CO2, CO, H2S)
    Battery Voltage Indicator
    Battery Temperature indicator
    Temperature inside & outside the chamber
    Door 'OPEN' Sensor (optional)
    Remotely Turn Emergency Chamber Lights on during emergency
    Remotely Turn Emergency Siren on during emergency
IP Fiber Camera
Remotely monitor the inside of refuge chamber in real-time. Data transmitted via mine's fiber network and relayed to the surface.