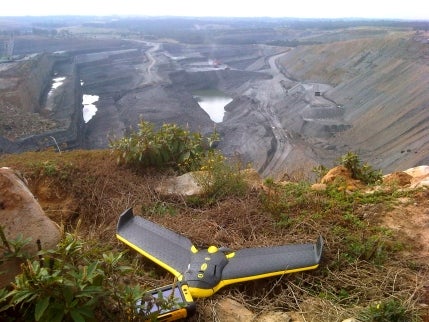 senseFly develops, assembles and markets autonomous mini-drones and related software solutions that have already proven themselves in the mining industry.
Our eBee product solution is one of the easiest to use and safest drone systems available worldwide. Being one of the lightest drones in the industry, weighing less than 700g (1.5lb), you can rest assured of safety onsite while still completing projects fast and efficiently.
Use our system to take aerial imagery of your site, any time, without complex infrastructure or long and complex preparation times. Our drone is a turnkey solution and includes all the accessories required for operation, as well as our control and monitoring software eMotion 2 and our image processing software Postflight Terra 3D-EB.
Lightweight Imaging Drones
Thanks to our integrated autopilot no piloting skills are required to fly the eBee. Our intuitive ground control software eMotion 2 allows you to plan, simulate, monitor and control your flight. The eBee is hand-launched and lands autonomously in either a circular or linear landing method depending on available space. With eBee you can take your own aerial imagery, and produce 3D models down to 5cm of precision.
eBee, the professional mapping tool. At less than 700g (1.5lbs) the eBee is one of the lightest and safest drones on the market.
An aerial view of a mining site, taken with an eBee.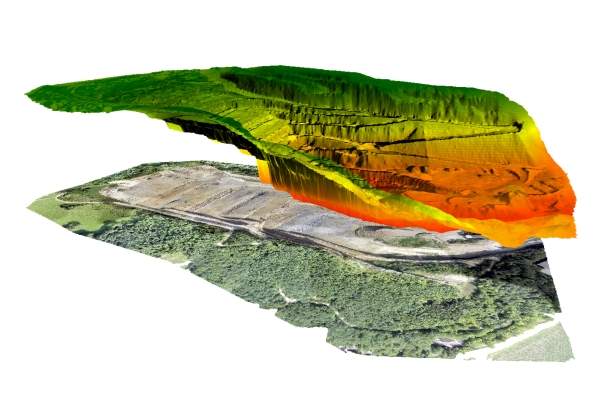 senseFly drones are the easiest way to get your own 3D models.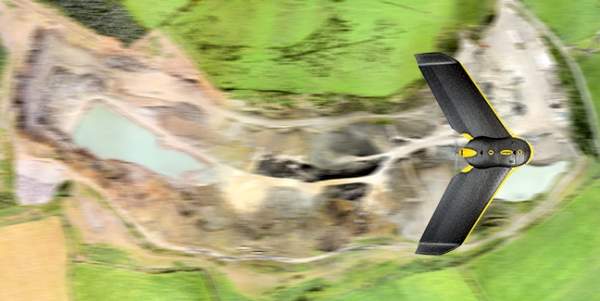 The eBee is a fully autonomous mini-drone - fly it whenever you need it.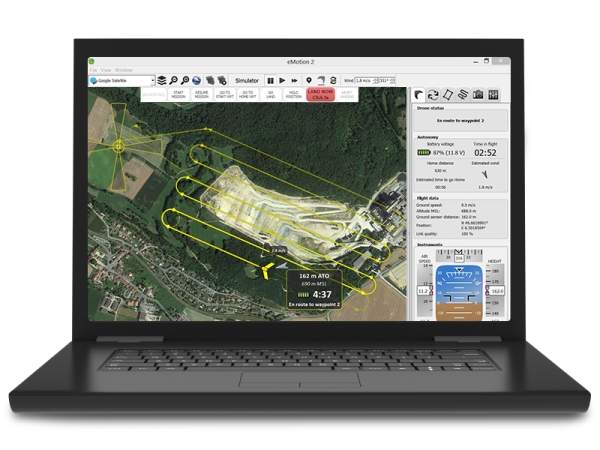 Use our ground control software, eMotion 2, to plan, simulate, monitor and control the operation.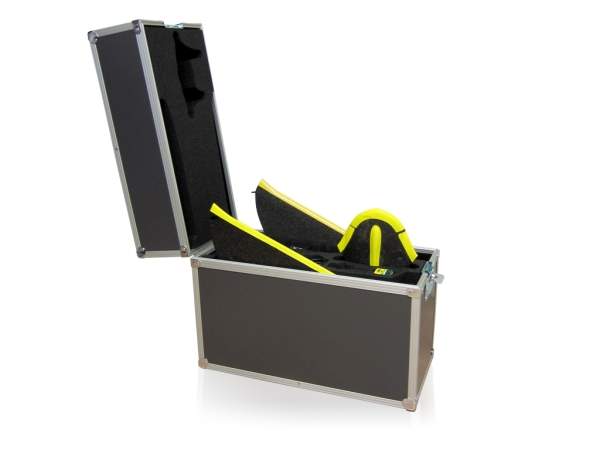 Store your eBee and accessories in its carry-on sized box.
Safety on mine sites is always a high priority and we take this very seriously. Our eBee drone has many safety and failsafe protocols built into it, such as strong wind warning, low battery, buffer zone restrictions and many others. In all these circumstances the system will notify the user and auto-respond according to the problem. The eBee drone has 45 minutes of flight time covering a maximum of 10km2 (1,000ha) and can handle wind speeds up to 45km/hr (28mph).
Pre-project and progress documentation, volume calculations, 3D modelling for risk analysis
Once the drone has landed you can immediately process the imagery onsite with our professional photogrammetry software Postflight Terra 3D-EB. This allows you to produce precise orthomosaics and 3D models for your project requirements, whether it is for spoil heap calculations, pre-project documentation, progress reports, imagery overlays or any uses. The key here is speed, efficiency and safety, which we make sure we complete effectively to get your project running as smooth as possible.
About senseFly
senseFly is a Swiss company that develops and produces autonomous ultra-light flying drones (also called UAVs) and related software solutions. The technology behind senseFly's solution first emerged in 2001, when a team of robotic researchers at EPFL (Lausanne, Switzerland) began investigating the control and navigation strategies of flying insects. This pioneering research enabled the development of a highly integrated autopilot employing smart control strategies similar to those found in flies and bees.
senseFly was founded in late-2009 and launched its first commercial product shortly after. In 2012, senseFly joined the Parrot Group and since then more than ever has pioneered the field of flying drones for mapping and GIS applications.
If you have an enquiry or if you want more information, do not hesitate to contact us directly or through the form below.