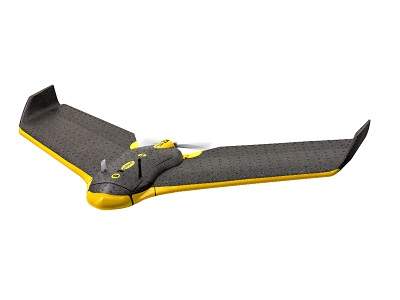 eBee is a fully autonomous fixed-wing drone used to capture high-resolution aerial photos that can be turned into accurate orthomosaics and 3D models.
The eBee is the easiest to use professional drone on the market, used by thousands of customers around the world. To launch it, just throw the eBee into the air. It then flies, captures images and lands itself.
The eBee can cover up to 12km² (4.6 square miles) in a single automated flight, while flights over smaller areas, flown at lower altitudes, can acquire images with a ground sampling distance (GSD) of down to 1.5cm (0.6in) per pixel.
Thanks to its ultra-light construction the eBee weighs just 700g (1.5lb), vastly minimising its impact energy. It also features a safety-conscious rear-facing propeller and senseFly's cutting-edge autopilot, which manages a wide range of intelligent failsafe behaviours.
The eBee package contains all you need to start mapping: a high-res RGB camera, batteries, radio modem and eMotion, our highly acclaimed flight planning and control software. Then just process and analyse the eBee's images using professional image processing software, such as Pix4Dmapper.