In 2018, Atlas Copco will grow into two separate global groups of companies. Epiroc Drilling Tools is a division within Epiroc which develops, manufactures and markets rock drilling tools worldwide. The division is headquartered in Fagersta, Sweden, and has production in six continents.
Epiroc Drilling Tools knows a thing or two about rock. Our earliest experience of mining and steel dates back to the 14th Century. In the intervening 700 years we like to think we've acquired a measure of expertise – a fact perhaps best reflected by our history of innovation and our comprehensive selection of rock drilling tools. Over the years Epiroc Drilling Tools has met the needs of mining and construction companies, quarry and water well drillers the world over with continuously improved products.
Lasting relations
Sustainability is basically a very simple principle: Everything that we need for our survival and well-being depends, directly or indirectly, on our natural environment. Sustainability creates and maintains the conditions under which we all can exist in productive harmony with the nature, fulfilling the social, economic and other requirements of present and future generations.
Sustainability is important to making sure that we have and will continue to have, unpolluted water, materials, and resources to protect human health and our environment.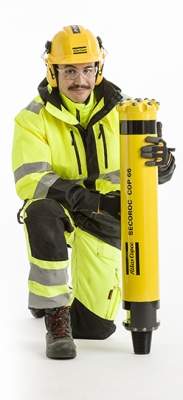 Minding that, our products are constantly in a developing state, where we strive to increase penetration rates, decrease the use of lubricant oils and increase the working life on entire drill strings. This means less influence on the surrounding environment as well as more lucrative business opportunities for all our customers.
We also take great pride in taking it all a step further by developing faster and more efficient grinding machines so that our customers can make the absolute most of our drill bits. Worn down button bits will slow down the whole drilling operation with escalating working hours and rig running costs as a direct consequence. Rapidly reground drill bits reduce the overall drilling costs by up to 30 percent. Grinding is therefore essential for productivity.
Fundamental for all of this is our commitment to all our customers. We have spent hours and hours on-site, listening, learning and helping our customers get the best out of their rigs and our Secoroc products. We have built up a service support resource, providing hands-on experience from all types of applications and by that – we have built lasting customer relations that cover everything from product and application training to stock management and customized contracts.
This is what we call sustainable productivity.
Secoroc Powerbit – new power in tophammer surface drilling
Powerbit is the all new range of tophammer drill bits for surface drilling from Epiroc Drilling Tools. They're built to take on any rock, from hard to soft, and from abrasive to non-abrasive. These bits last much longer. They give the drillers more meters before the first regrind, and many more meters between the regrinds. With Secoroc Powerbit, drillers are guaranteed to get more performance from each bit.
Secoroc Magnum SR – a revolution in drifting
The trend in tunnelling and drifting is clear: the hydraulic rigs are ever more powerful and the rounds longer. Naturally, this places rigorous demands on drillstrings. Enter Secoroc Magnum SR, the next generation of drifting equipment. The key is a patented design; the rods and bits may look like standard drifting equipment but the thread is actually conical in shape. For example, the Magnum SR35 thread has a rod end diameter of 35mm, while the tip is 32mm. This means more material at the rod end to prevent breakage and less tendency for deviation when collaring. There are currently three models available: Magnum SR28, and SR35 and the Magnum SR Straight for exceptionally straight holes.