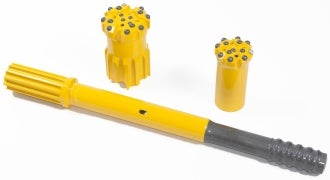 Atlas Copco Secoroc has added the T-WiZ60 to its T-WiZ range. The new drill string, with its combination of T-WiZ Speedrods and T-WiZ shank adapters, offers up to 30% longer service life providing fewer rod changes and more productivity per shift.
Wear out before breakage
T-WiZ is a tough thread system thanks to the greater thread stability. It is robust enough to prevent product breakage in the blast hole. This creates a shift in focus from the time-consuming rod and shank changes to maintaining a much leaner stock.
Boosts bench and production drilling
Whether underground, in surface mines or on construction sites, the difference is considerable. There is no better way to work through tough formations and fractured rock than with the T-WiZ60.
Trumps the competition
T-WiZ translates into a very real boost in productivity. Thanks to the increase in capacity, it drills more holes per shift, for quicker blasting and a more rapid advance. With lower labour costs, minimised stock, less administration and fewer rods and shanks in circulation the T-WiZ helps drillers stay on top of their projects.
The range
The T-WiZ drilling system comes in four dimensions, the T-WiZ38, T-WiZ45, T-WiZ51 and T-WiZ60, Speedrods and shank adapters designed for extension or drifting drill strings.
Secoroc's comprehensive range of top hammer bits match the T-WiZ drilling rods with the added benefit of being easier to release and change.
---
Image: Atlas Copco Secoroc's top hammer bits match the T-WiZ drilling rods and are easier to release and change. Photo: courtesy of Atlas Copco Secoroc.