Mining Machinery Developments (MMD) is a world leader in the design and manufacture of material processing equipment, in particular sizing (crushing) and feeding equipment. For over 40 years, MMD has delivered innovative solutions that improve the productivity, profitability and safety of operations while minimising environmental impact.
Twin Shaft Mineral Sizer™
MMD's core product is the Twin Shaft Mineral Sizer – a high capacity, compact crusher capable of accurately sizing any combination of wet, sticky, hard or dry material.
The unique breaking action subjects material to stress, bending, tension and sheer forces as opposed to compression forces used in traditional crushers. The result is an energy-efficient machine which can contain the structural forces in a low profile frame. The Sizer's three stages of breaking provide the ability to control the product size in all three dimensions while minimising the generation of dust and fine material.
Offering a range of primary, secondary and tertiary sizers, the largest machine is capable of processing rates in excess of 12,000tph.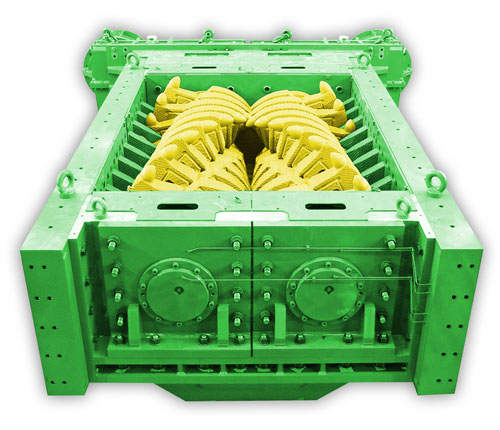 An MMD 1500 series three-tooth primary sizer, capable of capacities in excess of 10,000t/hr. <br/><br/><br/><br/><br/><br/><br/><br/>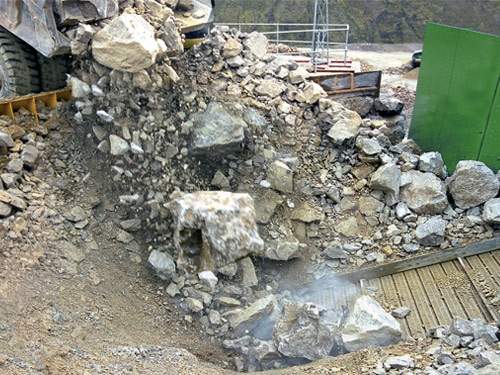 MMD heavy-duty apron plate feeders transport raw material to the crushing plant; standard widths available are 1,500mm, 2,000mm, 3,000mm and 4,000mm on D4, D7, D9 and D11 Caterpillar chains.<br/><br/><br/><br/><br/><br/><br/><br/>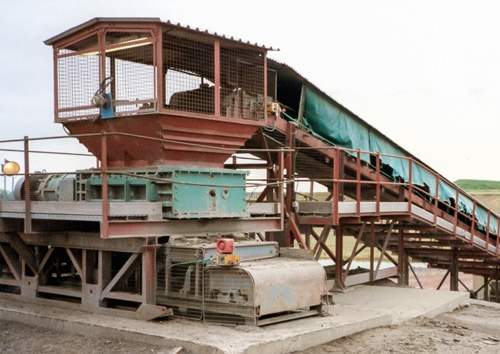 MMD 500 series twin-shaft sizer at a conveyor transfer point.<br/><br/><br/><br/><br/><br/><br/><br/>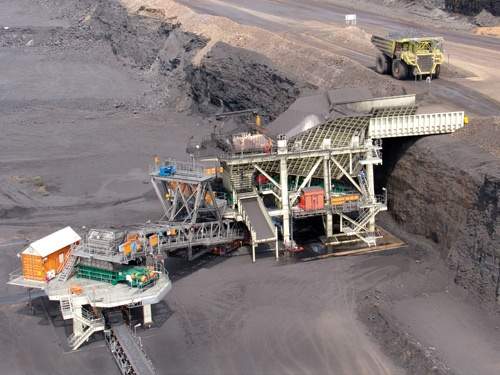 The latest 1300 Semi Mobile Sizer unit processes coal at 2,500tph. Relocated by MMD Transporter.<br/><br/><br/><br/><br/><br/><br/><br/>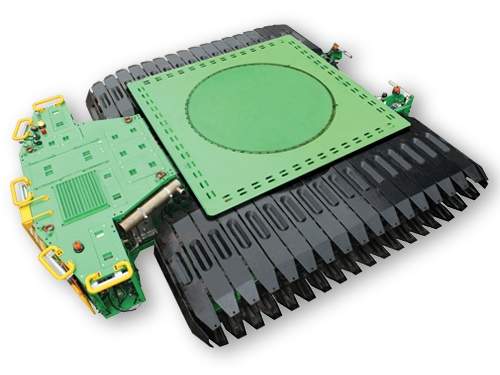 The MMD Atlas Transporter provides quick and easy relocation of heavy equipment around the mine. <br/><br/><br/><br/><br/><br/><br/><br/>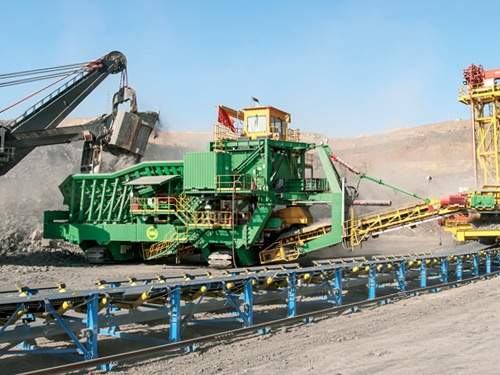 The latest Mobile Sizer is capable of processing 9,000t an hour directly at the mine face. <br/><br/><br/><br/><br/><br/><br/><br/>
Heavy-duty Apron Plate Feeders
MMD has designed and developed a range of Heavy-duty Apron Plate Feeders to complement the Twin Shaft Mineral Sizer.
Often arranged beneath tipping points, Feeders transport a steady flow of material to the crushing plant, optimising production whilst minimising wear. The MMD Feeder's unique design allows dumping of run-of-mine material even when the feeder is running empty. The ability to load at any time delivers continuity and flexibility of operation for maximum production and efficiency. The Feeder's combination of reliability and robustness has been proven to give many years of trouble-free operation with minimal maintenance.
Fully Mobile and Semi-Mobile In-Pit Sizing & Conveying (IPSC) Systems
IPSC systems enable the use of efficient conveyor haulage directly from the mine face for optimum cost savings, environmental mining and portability. MMD is a turn-key IPSC systems provider, offering Static, Semi-Mobile and Fully Mobile systems. Fully Mobile units move frequently to work directly with the excavator, whilst sizing and delivering conveyable material onto the conveyor, eliminating trucks and their associated costs, safety risks and environmental impact. The largest MMD Fully Mobile unit is proven at over 10,000tph. Semi-Mobile Sizing Stations are modular units, which relocate intermittently as the mine develops – leveraging the flexibility of truck haulage and combining with the efficiencies of conveyor haulage. MMD has been building Semi-Mobile units since the early 1980s, and have delivered a wide variety of designs all over the world.
Transporter
To support a growing range of Semi-Mobile sizer systems, MMD has developed a Transport crawler, facilitating the quick, safe and efficient relocation of Semi-Mobile structures. MMD's Atlas Transporter is unique in its auto-levelling capabilities, ensuring loads of up to 750 tonnes remain stable and level, even on gradients reaching 10%. For safe operation, the transporter is controlled by a fully featured wireless unit – providing live feedback and maximum control while travelling, lifting or slewing.
Fully Mobile Surge Loader™
The Surge Loader is a smart, fully autonomous, mobile feeder – designed to unlock the potential of existing truck & shovel fleets. The hopper enables the shovel to work continuously even when no trucks are present, and as a result, shovel utilisation is increased to circa 95%. The Surge Loader also provides faster and more accurate truck loading, with payload targets accurate up to 98%. This revolutionary machine from MMD is destined to change truck & shovel mining as we know it, delivering production rate increases of up to 40%.