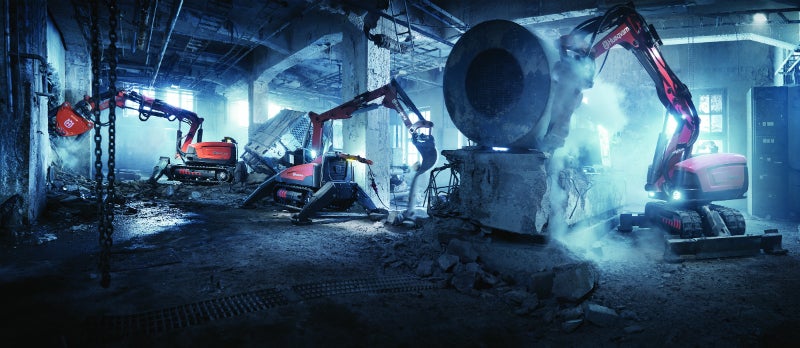 Husqvarna Construction Products supplies Bluetooth-enabled remote-controlled demolition robots to efficiently clean torpedoes, ladles and tundish trays, tear brick out of pit ovens, and de-slag the ditches of blast furnaces.
The company is focused on efficiency and safety, understanding that the right equipment can make the difference.
Remote-controlled demolition robots for the mining industry
Husqvarna Construction Products' demolition robots are some of the most innovative on the market. They are not only easy to operate, but also easy to service. They feature a sturdy design and responsive controls, and are built to last, as well as to deliver precise demolition power where you need it most.
Below is a short introduction of each machine. For more details on all of these demolition robots, please click the products / services tab: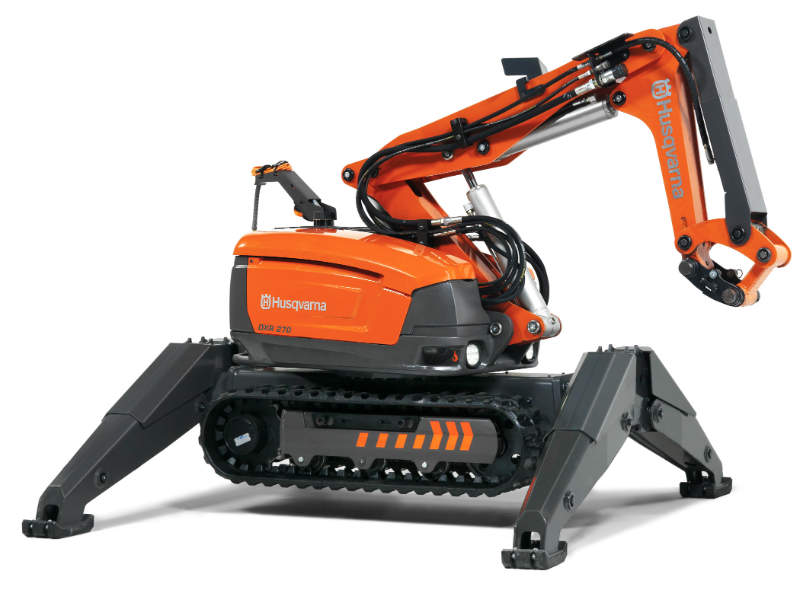 The Husqvarna DXR 270 remote-controlled demolition robot is efficient in adverse environments, such as the processing industry.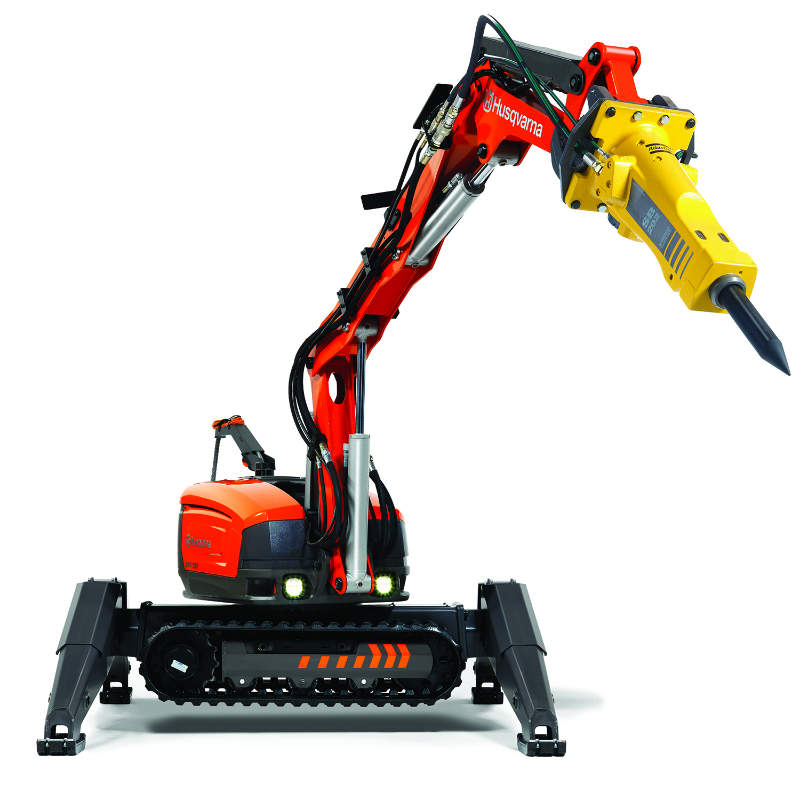 The Husqvarna DXR 300 is the strongest demolition robot in its weight class, 4,321lbs (1,960kg) with 30hp (22kW). A highly productive robot even when performing heavy job applications.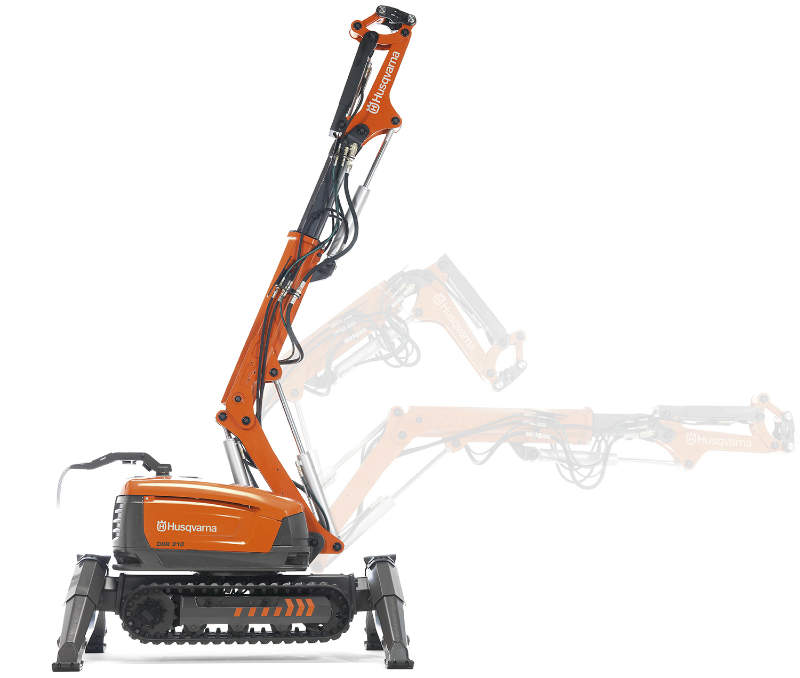 Husqvarna DXR 310 showing off its 18ft telescopic arm (including breaker).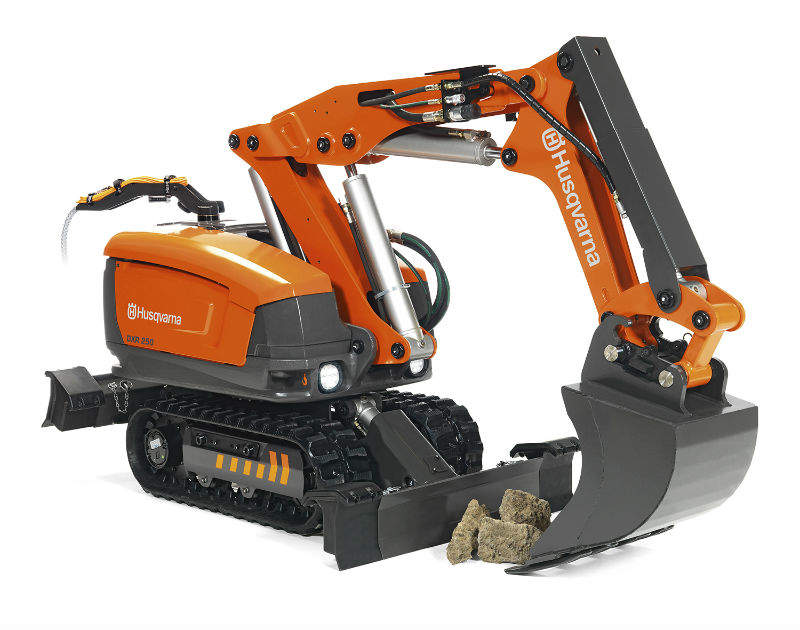 Husqvarna DXR 250 with bucket and practical dozer blade quickly cleans up debris.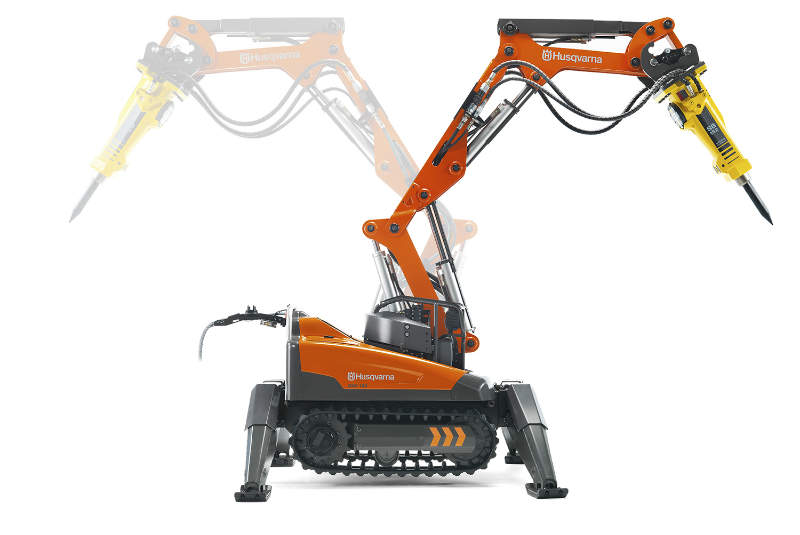 Husqvarna DXR 140's arm can be rotated 360°, while the machine stays in the same position.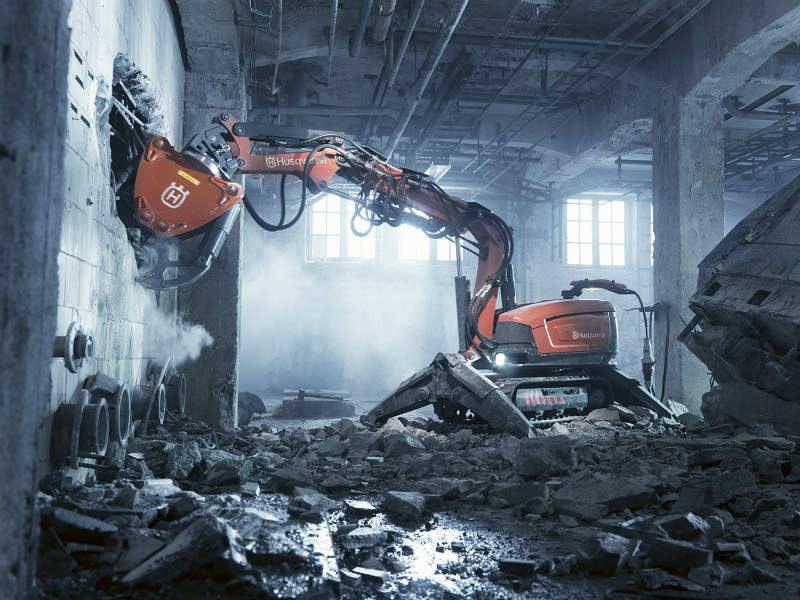 Husqvarna Construction Products' remote-controlled demolition robot with DCR 300 crusher / cruncher attachment. The crusher is perfect for demolishing hard and thick concrete.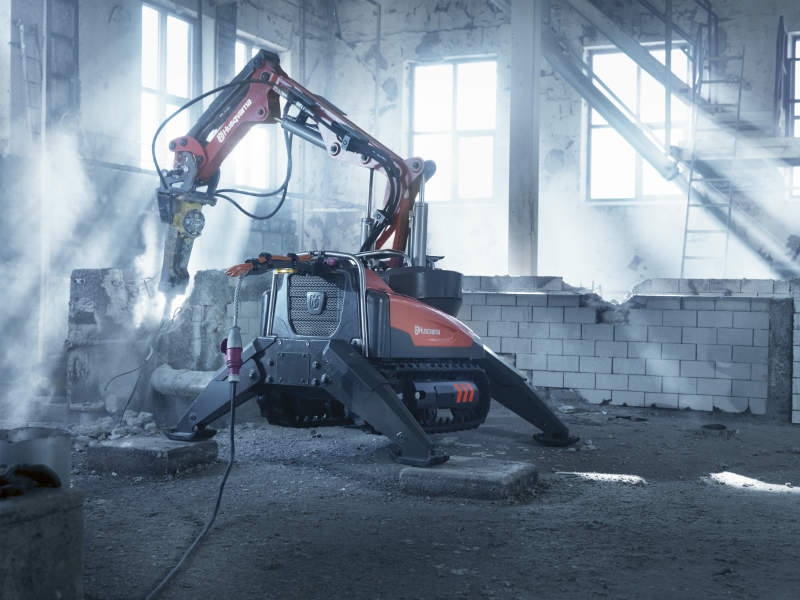 The Husqvarna DXR 140 features a 360° rotating arm.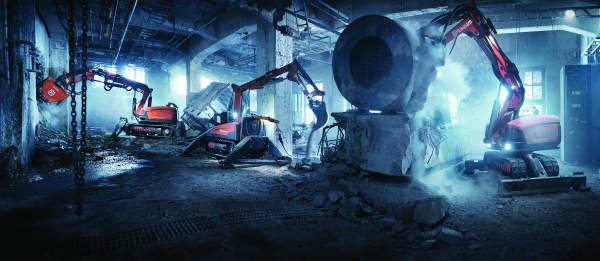 Three of Husqvarna's remote-controlled demolition robots in action.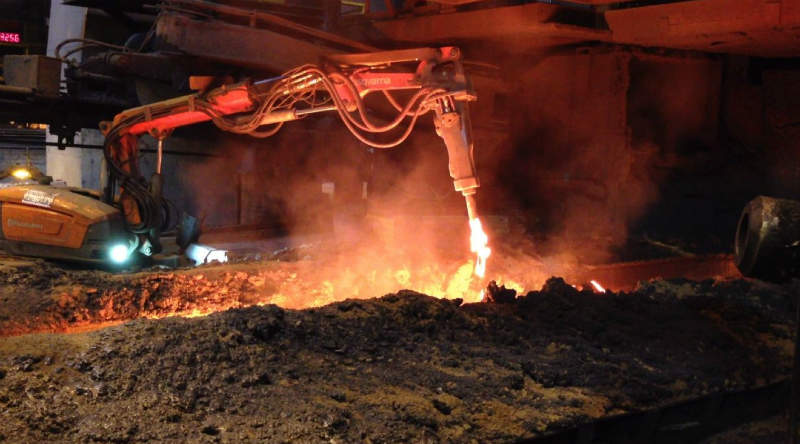 A Husqvarna DXR 310 equipped with the Heat Protection package performs de-slagging work in a steel mill furnace.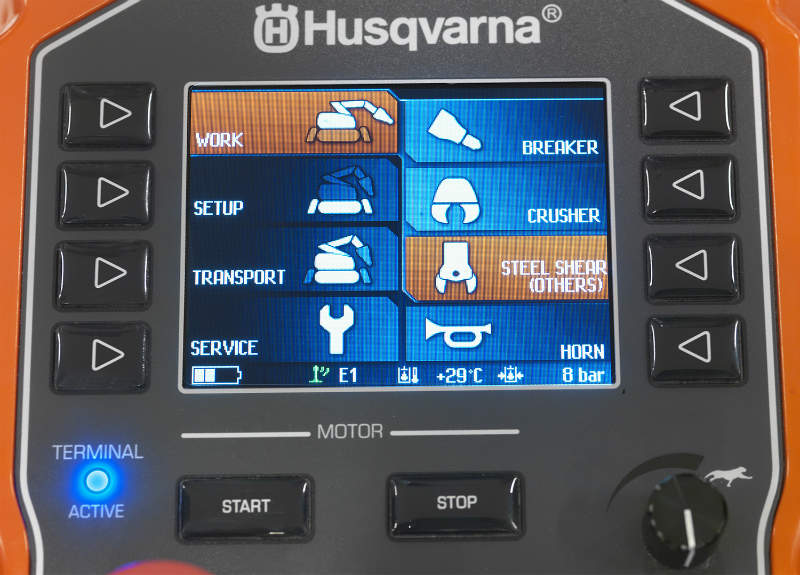 A close-up of Husqvarna's intuitive remote. The 3.5in LCD display gives the operator full control of the machine's functions, operational status, warnings and ease of selecting different operating modes and tools.
Husqvarna DXR 310: 18ft-long (5.5m) telescopic arm of high-quality steel and slow-motion operation to deliver maximum precision. Perfect for tough, demanding environments such as steel processing plants
Husqvarna DXR 300: the strongest in its weight class, making it a demolition workhorse capable of handling heavy job applications with high productivity
Husqvarna DXR 270: the same footprint as the DXR 310 and DXR 300 but in a lighter weight class, the DXR 270 provides 16ft (4.8 m) of reach while keeping the weight down for sensitive environments
Husqvarna DXR 250: one of the only demolition robot with a dozer blade that functions as a support for the machine and also makes it easy to pick up debris when using the bucket attachment
Husqvarna DXR 140: 360° of rotation on the arm allowing operators to position the machine in one place and hit multiple targets by rotating the arm in any direction
Robust tracks, LED lighting and independently controlled outriggers
There are several features that are included on all Husqvarna remote-controlled demolition robots.
Independently controlled outriggers are available on all robots except the DXR 250, and enable the machines to be properly supported in almost any position.
Rubber tracks (or steel if an applicable add-on package is selected) enable the machines to climb stairs easily and gives them a solid footprint while moving.
With the outriggers up and tracks under the robot, the robots are approximately 31in (787mm) wide. This means they can move through most normal-size doorways. After passing through, the tracks can be manually widened to create a stable footprint.
LED lights illuminate work areas to ensure everything is visible. The robots are also low to the ground, which gives the operator a better line of sight.
The Bluetooth control is one of the market's most modern and easy-to-use controls, with a unique user-friendly interface. A curved aluminium bar with padding fits over the operator's shoulders, making the remote easy to take on and off, as well as more comfortable and ergonomic than a conventional strap.
Tailored mining robot packages to ensure product efficiency
Husqvarna Construction Products has developed additional packages to help ensure its demolition robots continue to operate at top efficiency levels, even when in adverse environments. Additional packages can be added at the factory, or installed in the field.
The Hydraulic package adds the ability to precisely control one extra hydraulic function, such as axial rotation of grapplers or shearers. It also comes with protection shields for outer hydraulic cylinders.
The Enhanced Cooling package keeps machine cool while working in higher ambient temperatures, allowing for higher productivity in applications such as cement kilns and steel factories. Not available on DXR 140.
The Heat Protection package protects vital parts of the robot from damage caused by radiant heating, as well as conduction heating. Not available on DXR 250 or DXR 140.
Customisable demolitions product attachments
Husqvarna demolition robots can be outfitted with a variety of attachments, including:
Breaker, standard
Breaker, heat protective kit (two options to choose from)
Crusher
Steel Shearer
Grapple
Bucket, narrow, standard or wide
Break attachments are also available with moil point, cross cut flat point, wide chisel or deck buster tools.
About Husqvarna Construction Products
Husqvarna Construction Products is a market leader in machinery and diamond tools for the concrete construction industry. The product range includes power cutters, floor saws, ultra-early entry™ saws, tile and masonry saws, wall and wire saws, core drilling machines, surface preparation equipment, demolition equipment and diamond tools for these and other applications.
The company provides clients with advice and after-sales service. Skilled and dedicated support staff are available to help, so operators always have access to servicing and product / application specialists for any questions.
If you are thinking about purchasing a demolitions robot, contact Husqvarna Construction Products for a demonstration.