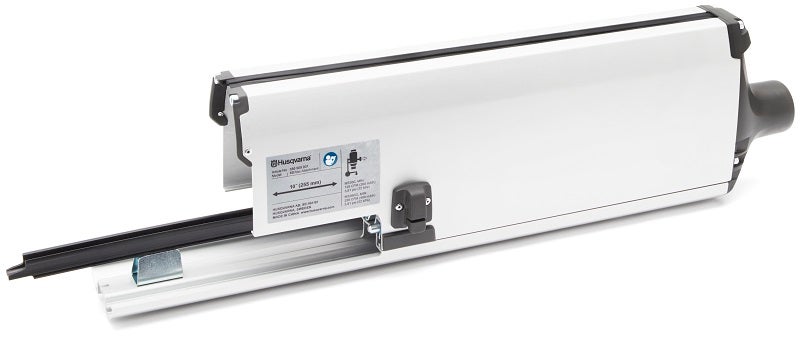 Masonry contractors know how much dust flies when dry cutting bricks and blocks. That is why Husqvarna has developeda new dry cutting vac attachment for our popular masonry saw, the MS 360 (available in both gas and electric versions).Contractors can now make dry cuts cleanly with the new MS 360 Vac Attachment.
The new MS 360 Vac Attachment enables dust to be collected the moment it is created and pulled into a vacuum, creating a cleaner work environment.
"Our MS 360 and MS 360 G are highly efficient machines for cutting bricks and blocks, outdoors as well as indoors. The addition of the vac attachment makes it possible to cut dry. We developed the attachment to be as easy-to-use and to be as effective as possible when collecting dust. The vac attachment is easy to install and once attached, it can stay on the saw at all time," says Jamie Krueger, product manager for masonry equipment.
The vac attachment affi xes to the conveyor cart by lining up two pins to two holes on the conveyor cart. A dust trough fits in the groove on the cart to catch and easily remove dust produced while cutting. It almost completely surrounds the blade and can be adjusted for different material sizes. Once attached to the conveyor cart, the MS 360 Vac Attachment is then connected to a 250 CFM (cubic feet per minute) or more vacuum equipped with a HEPA filter, such as a the Husqvarna S 26 or S 36, to meet OSHA silica regulations.
Husqvarna is one of the world's leading developers and manufacturers of diamond tools for cutting and drilling in concrete and other construction materials.