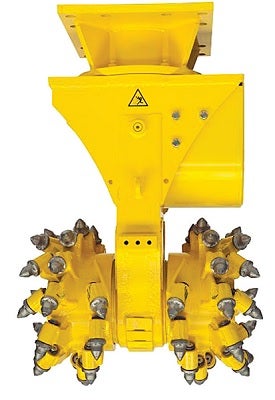 Husqvarna introduces the DC 200 drum cutter, a new attachment for the DXR demolition robot product line.
The DC 200 is a versatile attachment made for surface profiling rock or concrete, trenching, excavating frozen soil, soft rock excavation in quarries, demolition and dredging. The 56 tungsten carbide-tipped picks on each side of the machine rotate and chip away at the surface material to the desired depth or complete removal. If the material is not completely removed, a smoother, more uniform surface results, as well as smaller, finer grain sizes so material can be removed more easily or used as back fill without additional crushing. The DC 200 is suitable for use on restricted jobsites and sensitive urban areas due to the low noise and low vibration levels.
Main benefits
Versatile: excellent choice for trenching, surface removal and profiling in rock, concrete or hard soil
Improved efficiency: unique software solution enables sufficient flow and pressure for maximum working efficiency and mobility
Low noise and vibrations: suitable for use in sensitive areas
Precise: produces an even surface and smaller grains
Technical specifications
Total width cutting head: 20in (500mm)
Diameter of cutter drum: 9in (240mm)
Number of picks: 56
Max cutting force @ 5,075psi: 2,835lb (1,286kg)
Max torque @ 5,075psi: 1,900lb (862kg)
Max rock hardness, psi: 2,900
Service weight: 441lb (200kg)
In a remote part of Colombia, surrounded by muddy waters and dense, humid jungle, there...