Brokk
Remote-Controlled Demolition Robots and Machines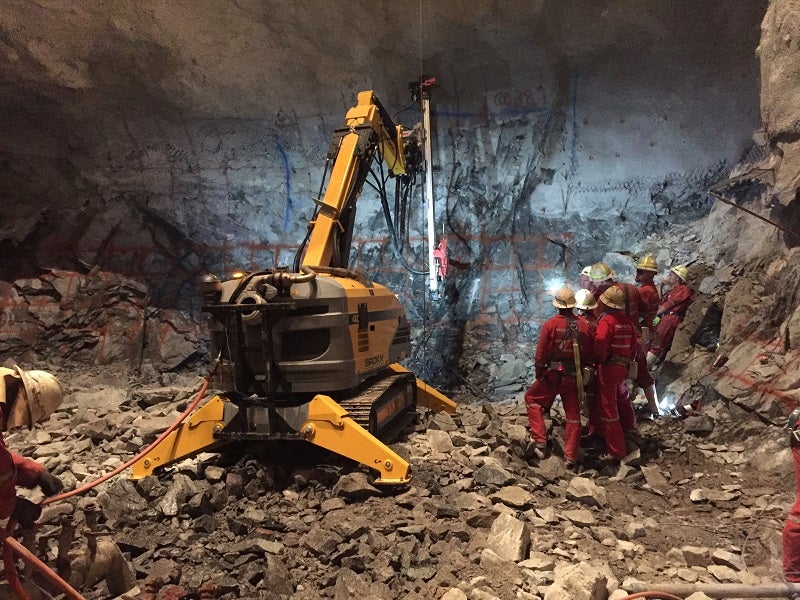 Brokk is a manufacturer of remote-controlled demolition machines for use in the mining industry. Designed to be compact, adjustable and easy-to-operate, Brokk's machinery is ideal for a wide range of mining tasks, including drilling, scaling, digging, breaking and grizzling.
Founded in 1982, the company is focused on making machines that are small but very strong, making them ideal for underground mining situations. Today, there are more than 5,000 Brokk machines being used around the world.
The remote-controlled nature of Brokk's machines means workers can operate them from a safe distance. Brokk has been awarded ISO 9001 by Lloyd's for the company's quality management system for the manufacture of remote-controlled demolition robots.
Diesel-driven machine for enclosed and open-space demolition
The Brokk 400D is a popular choice for underground mining applications as it features an excellent power-to-weight ratio and can be used in areas that do not have a power supply.
It is 160cm wide and 186cm tall, making it very compact, but it has a high motor output of 70.6kW. This means the 400D is ideal for both enclosed and open spaces, making it a highly versatile choice for many mining operations.
The Brokk B400D can also be fitted with a stainless-steel hood, heat-resistant hoses, additional protection for cylinders and an air-cooling system, enabling it to withstand even the toughest of mining environments.
Compact remote-controlled demolition machines
Brokk's machines are designed to be very compact but highly effective, making them ideal for small, enclosed spaces that other machines would be unable to reach.
The smallest of Brokk's machines, Brokk 60, is designed to fit through doorways that are 60cm wide, and is less than 90cm tall. It features a 5.5kW motor and can easily move through small spaces, even being able to climb stairs if required.
The slightly larger Brokk 100 is still very compact, but packs a punch with a 15kW motor output. Only 78cm wide and 115cm tall, the machine can be easily transported in a standard trailer and will fit in an elevator.
For applications that require more power, but still need a very compact machine, the Brokk 160 is ideal, featuring a motor with an 18.5kW output, but a width of only 78cm and a height of 125cm. Attachments available for the 160 include a hydraulic drill, hydraulic breaker and a sorting grapple.
Remote-controlled tunnelling and heavy demolition machinery
Brokk also manufactures a range of larger machines, which are ideal for tunnelling projects and high-demand demolition projects. The Brokk 800 S has a reach of 9.4m, and is highly effective, with attachments including an MB 1200 breaker, beam grapple and shot crete.
Machine attachments for mining applications
Brokk supplies a selection of attachments for specific applications, which are designed to enable to machines to undertake a range of tasks. These vary in size depending on machine size, and include:
Breakers (from SB 52 up to MB 1200)
Side angling device for medium-sized machines
Buckets and clamshell buckets, available in volumes from 20l up to 500l
Multi-purpose, sorting and demolition grapples
Scabblers
Planers
Hydraulic drilling equipment
Beam grapple
Shot crete
Cut-off saw
Rock-splitters
Custom-made remote-controlled demolition robots
If you require a machine with specialist equipment or features, Brokk can custom-make your ideal product. As part of our bespoke service we offer design, mock-up, commissioning and final testing, and will provide complete operator and maintenance training.
Features that have been installed on previous custom-made products include, for example:
Camera
Long arm
Side angling device
Cable drum
After-sales, spare parts and operator training
Brokk has a dedicated and highly knowledgeable team that can provide extensive after-sales support for any purchase. All machines are supplied with detailed, accessible manuals, and all distributors engage in continuous training to ensure they are up-to-date with the latest machine developments.
Should you require any spare parts, we provide quick delivery and offer troubleshooting to ensure any problems are quickly resolved. Brokk will also tailor-make any specialist spare parts that are required.
Our machines are designed to be easy to learn how to use, but for operators and maintenance workers looking to gain in-depth knowledge, we operate the Brokk Academy. This is a provider of training courses for Brokk equipment where participants are taught efficient methods, handling and maintenance techniques and tips and tricks to get the best performance from your machine.
To find out more about Brokk's products and services, or to make an enquiry, please contact us using the details below.