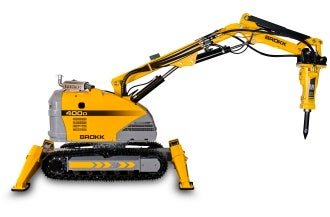 The new Brokk 400D is primarily aimed at meeting the ever increasing demands of the process, tunnelling and mining industries. The 400D is one of two diesel-driven models in Brokk's demolition machine range and will replace the older Brokk 330D for applications where electrical supply is limited or non-existing. The Brokk 400D is a great step forward; it is bigger, faster and stronger.
The Brokk 400D has an impressive reach of almost 7m and is heavier than its predecessor, but with a footprint only 100mm wider than the Brokk 330D. This is possible by a new larger undercarriage, new outriggers and other more robust design choices.
Faster operation of the Brokk 400D
The Brokk 400D boasts faster maneuvering and positioning for improved productivity. Its tracking speed has increased by 60% over the Brokk 330D, which makes it the fastest Brokk model and a perfect fit for applications where movement over longer distances is required.
Stronger and more powerful crusher
Compared to Brokk 330D, the new Brokk 400D is designed for heavier attachments like the hard-hitting SB 552 breaker and other popular attachments available only to owners of the electric-powered Brokk 400. The powerful CC700 crusher, drills, grapples, scabblers and beam manipulators are just some of the other attachments available.
Hidden values of the Brokk 400D
In addition to the visible exterior changes, the Brokk 400D also comes with a number of important intrinsic improvements. The new control system allows the operator to control the machine with quick, precise movements for accurate demolition and carrying out intricate tasks.
Brokk AB CEO Martin Krupicka said: "The Brokk 400D will enable our clients to perform new jobs that require its improved strength and reach, whether that is in construction, process, tunnelling or mining."
"And the improved speed will prove very valuable in applications where the machine is required to move around a lot."
"With the launch of Brokk 400D, we have now incorporated the latest technology and over 35 years of knowledge into also the diesel part of our product line-up. It is truly exciting as Brokk today has the broadest and strongest line-up of machines in the history of the company. Our mission is to provide our customers with the very best equipment in order to maximise their productivity, safety and profitability. And the new Brokk 400D delivers on all fronts."
Visit the company website for more information.
Brokk has released a brochure for the series 800 mining equipment. Download the free brochure or visit the company website for more product information.
In line with their strategy to create value by extending the lives of group mines, Sibanye embarked on a project to mine the many support...