Brokk was founded in 1976 in a small industrial town in the north of Sweden known as Skellefteå, some 300 kilometres (or around 186 miles) from the Arctic Circle. Today, Brokk is a multinational company with over 40 years of innovation and is still continuing to grow.
With the help of our global network of subsidiaries, distributors, and agents, we are proud to provide our customers with safe and effective solutions in a number of industries including construction, cement, mining, processing, tunnelling and nuclear. Finding efficient solutions to the challenges faced by these industries is what drives us forward; it is the reason why we have been supplying companies all over the world with demolition robots since our founding.
Safe, efficient, versatile
Brokk robots may appear small compared to traditional mining machines, but they pack a powerful punch in relation to their size. The electric motor generates impressive power with no exhaust fumes and, thanks to our remote-controlled system, can be operated safely and ergonomically at a safe distance from dangerous work areas.
Robust construction capabilities in combination with a large range of attachments allow one single Brokk robot to perform a variety of tasks such as scaling, rock breaking, drilling, digging, and shaft sinking. The three-part arm system provides precision and outstanding reach while the hydraulic outriggers gives the robot excellent stability in all directions.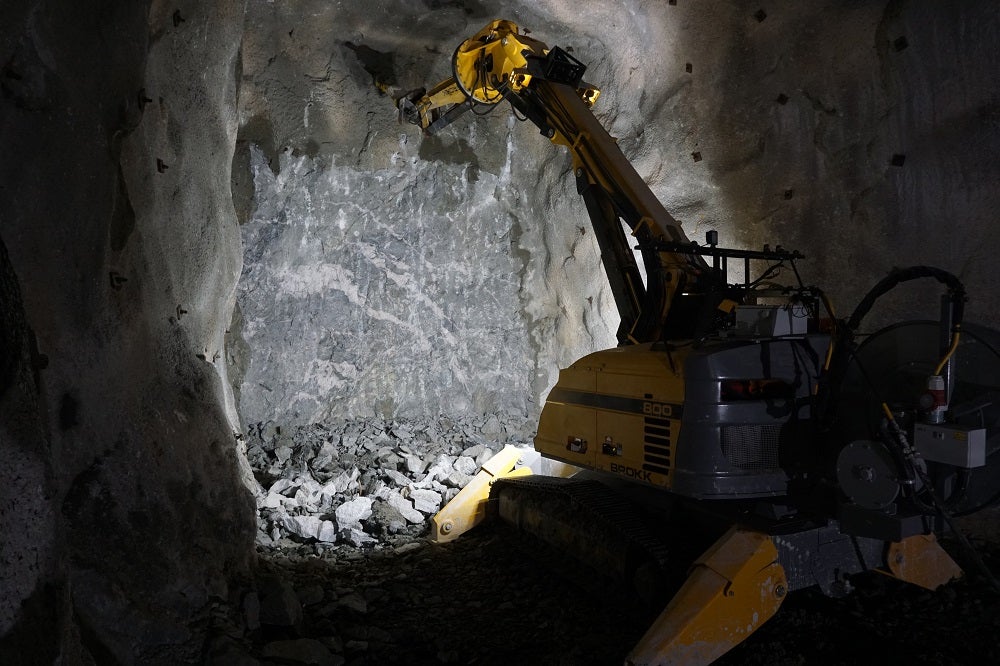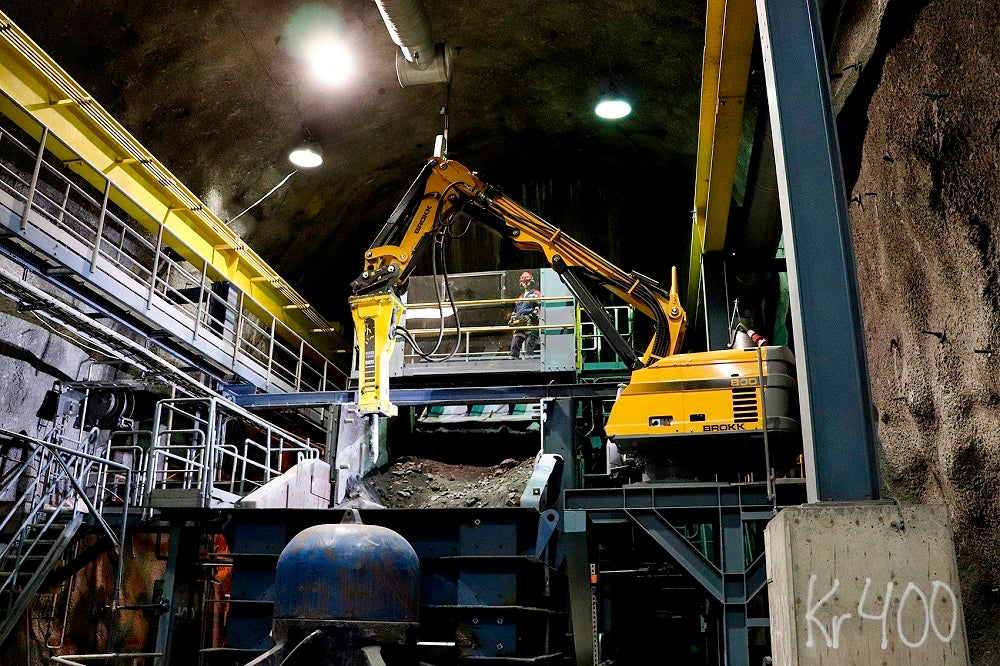 The advantages of a remote-controlled Brokk robot are especially clear when it is put to work underground. The Brokk robot is the most versatile investment for mines worldwide, providing a compact machine without compromising in power and flexibility. Above or below ground, Brokk is an obvious choice for the mining industry.
Mining applications:
Scaling – Scaling is considered a dangerous job and keeping operators away from dangerous areas is essential. The smallest robot can enter areas where no other scaling machine can and complete tasks that have previously been done by hand. In more open areas, a larger Brokk may be used as well. Because of the remote control, the operator can always be placed at a safe distance – away from the danger zone, but close enough to see what they are doing. Our three-part arm system allows for the precision required for safe scaling.
Boulder breaking – Some areas in mines often have large boulders that need to be demolished in order to fit into underground loaders. These boulders can be located in dangerous areas, where the risk of falling rock is serious. Brokk machines are here to break up these boulders safely. Because our machines can be fitted with a variety of tools such as drills, breakers, buckets, and rock splitters, there is never a challenge too big for a Brokk.
Pedestal solutions – Breaking rocks at the grizzly is a tough job that requires a tough machine. Precision, power, and reach are all required to break rocks at the gyratory and/or jaw crusher. Brokk offers a wide variety of boom solutions for all rock sizes and grizzlies. The powerful hydraulics that power a Brokk robot provides unmatched hitting power at every angle. The flexible arm and precise control system make raking an easy task. Brokk's pedestal booms are built with integrated hydraulics and electronics, as well as the ability to easily change locations, making it the perfect "plug and play" solution to grizzlies and crushers.
Drilling – A Brokk robot can transform into a small but powerful drill rig with ease. From our smallest 1 ton machine to our biggest 12-ton machine, all Brokks can be fitted with a rock drill. Because of our powerful hydraulics system, the drilling capacity of a Brokk robot is exceptional in all directions and proven to be the obvious choice for rock drilling in confined spaces, safety niches, cross passages, and for secondary roof support drilling.
After-sales and operator training
Brokk has a dedicated and highly knowledgeable team that can provide extensive after-sales support for any purchase. All machines are supplied with detailed, accessible manuals, and all distributors engage in continuous training to ensure they are up-to-date with the latest machine developments.
Should you require any spare parts, we provide quick delivery and offer troubleshooting to ensure any problems are quickly resolved. Brokk will also tailor-make any specialist spare parts that are required.
Our machines are designed to be easy to learn how to use, but for operators and maintenance workers looking to gain in-depth knowledge, we operate the Brokk Academy. This is a provider of training courses for Brokk equipment where participants are taught efficient methods, handling and maintenance techniques and tips and tricks to get the best performance from your machine.
To find out more about Brokk's products and services, or to make an enquiry, please contact us using the details below. 
R&D – Leading the Way with Real-Life Solutions
For over 40 years, Brokk has been the leading innovator in the demolition robot industry. Brokk was originally created to address real-life worksite challenges and even today, our problem solving-centred way of thinking forms the foundation for current research and development at Brokk.
Adapted for reality
When refining and developing our products the rough conditions in which a demolition robot is utilized are where we start. By understanding the challenges that exist in real work sites, we can deliver solutions that make a real difference.
New concepts, features, design alternatives, and modifications are reviewed based on criteria designed to facilitate improvements in productivity, safety, and ergonomics. In short, at Brokk we design and build robots that can be applied in real life.
Leading technology
By implementing the latest and most advanced technology in the development of our products, we secure our leading position in the market. Our work within R&D has rewarded us with a series of patents for unique innovations, including ergonomics, hydraulics, and electronics. Our technological development at Brokk has resulted in SmartPower™, SmartDesign™, and SmartRemote™. Brokk SmartPower™ is a unique electrical system that nearly doubles the demolition power of Brokk's robots or, in some machine models, can reduce power for operation on a smaller fuse in workplaces where power is limited.
The future
Our products are developed by a team of experienced engineers in Skellefteå, Sweden – the very same town in which Brokk started. It is here where we develop new technologies and products with great focus on every detail. From the reliability of the control box, to the service friendly features of our robots, to the high demolition power and the entire user experience. In the process by which we strive towards the ultimate demolition robot, we don't only deliver products; we develop solutions.