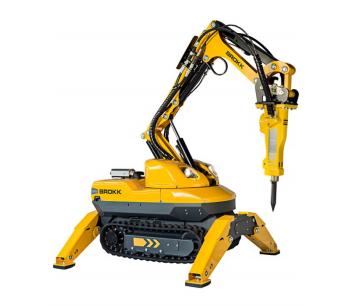 Brokk, a leading manufacturer of remote-controlled demolition machines, has announces the all new Brokk 120 Diesel; the world´s smallest diesel-driven demolition robot. This compact machine can operate independently and un-tethered for over eight hours, and effectively tackle jobs that no other machine can.
The Brokk 120 Diesel will be officially introduced at Bauma, on the 11-17 April 2016 in Munich Germany, but a preview is possible at World of Concrete on 2-5 February 2016 in Las Vegas, US.
Independence without compromises
The Brokk 120 Diesel is the world's smallest independently-powered demolition machine. Its compact size (only 780mm wide) enables it to enter through any standard door opening and makes it easy to manoeuvre in tight spaces. Meanwhile its low weight of only approximately 1,200kg gives it access to work even on weak floors and makes it easy to transport to and from work sites.
Powered by a compact but powerful diesel engine it has a minimum of eight hours of operation without refuelling, making it truly independent from any power source for at least a full work shift. And all this flexibility comes without sacrificing any of the power and performance of its similar-sized electrical sibling Brokk 100. The Brokk 120 Diesel uses the same tools and attachments, and has the same hydraulic power.
Broad range of applications
The Brokk 120 Diesel is designed for use in a variety of applications. In the rescue area (eg disaster response, explosive ordnance disposal (EOD), fire fighting), as well as in the nuclear area there is a need for a compact independent ROV with power enough to carry out tough jobs. In the construction industry there is a use of the flexibility of easy movement and relocation of the machine between work sites. And finally in the process and underground industries there are areas where the use of a power cable could be an obstacle or where the needed electrical power simply isn't available.
"The Brokk 120 Diesel is developed based on the needs communicated to us by our customers facing especially challenging situations, where they need a very compact machine that is completely independent from a fix power source. We are therefore convinced that this new model will bring great value to a variety of difficult applications" says Martin Krupicka, CEO of Brokk Group.
Three diesel-powered Brokk machines
The Brokk 120 is the third, and by far the smallest, diesel-powered machine in Brokk's lineup. The Brokk 400 Diesel and the Brokk 800 Diesel machines have been available in the market for several years, but they are significantly larger machines. The Brokk 120 Diesel weighs less than a quarter of the Brokk 400 D. Thus, the Brokk 120 Diesel breaks new ground by establishing an entirely new segment, the compact diesel-powered demolition robot.
Brokk has released a brochure for the series 800 mining equipment. Download the free brochure or visit the company website for more product information.
In line with their strategy to create value by extending the lives of group mines, Sibanye embarked on a project to mine the many support...