Pacific Data Systems Australia
Site Monitoring Solutions for Operational and Environmental Compliance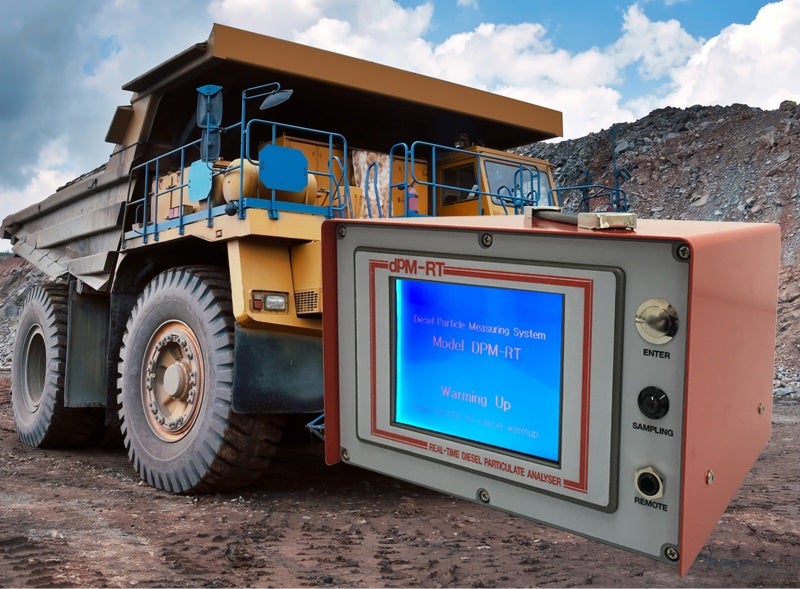 Pacific Data Systems Australia provides custom environmental monitoring, data acquisition and systems integration solutions across a broad range of industries, including mining, oil / gas / energy, construction, manufacturing, agricultural, government, transport , health, security, and waste management.
We work in close consultation with our clients to design, develop, install and commission systems and solutions that implement the latest technology, lowering clients' total cost of ownership (TCO), which will ultimately assist them in managing and maximising their organisations' performance and capabilities.
In addition to custom solutions and systems integration, the company is also a major specialist provider for off-the-shelf scientific and industrial instrumentation.
Real-time diesel particulate analysers
Locally designed and manufactured by Pacific Data Systems, the dPM-RT Real-time diesel particulate analyser is a rugged, practical and easily operated DPM analysis instrument was specifically designed for measuring particulate concentrations in the exhaust of mining engines.
Using advanced laser light-scattering technology, the DPM-RT can accurately and instantly measure particulate mass concentrations in the exhaust from all engine types.
Automatic weather station solutions for mining applications
Our WeatherCast Automatic Weather Station is a robust and reliable solution designed to provide clients with fast, accurate updates on local weather conditions for operational or environmental compliance.
Whether you simply want to monitor wind speed and direction only (for noise / odour compliance), or require the full sensor suite to monitor rainfall, wind speed / direction, temperature, humidity, and barometric pressure, we have a WeatherCast model to suit your application.
This solar-powered solution is mounted in a rugged, powder-coated stainless steel enclosure. Ingress protection from on-site dust and water is assured.
Remote 3G / 4G access for real-time data visibility and download via an internet-enabled device, such as a smartphone, tablet, or PC is also available.
Remote satellite monitoring systems
Remote monitoring and data acquisition is often impractical or potentially unsafe in hard-to-reach locations, especially those outside of standard 3G / 4G coverage areas.
For this reason, we have developed SatVUE, an off-the-shelf remote satellite monitoring solution.
With up to two analogue, digital or MODBUS I/O protocol inputs available, the SatVUE system can integrate with a broad range of application-suitable sensors, making it the perfect plug-and-play solution, regardless of the parameters you are required to monitor, these include water level, pH, turbidity, EC, flow, rainfall, temperature, relative humidity, CO2, SO2, O2, volatile organic compounds, soil moisture, leaf wetness, and hydrocarbons.
Remote access is available for a secure web portal anywhere, anytime utilising the Inmarsat Data Pro Satellite Network Communications.
Pacific Data Systems is a part of Inmarsat's Certified Application Partner (CAP) programme, which ensures our SatVUE product is certified for use over the IsatDataPro Satellite Network.
Systems integration for local and remote monitoring applications
We specialise in providing systems integration built around the premise of plug-and-play or turnkey solutions.
Each application is approached with the same premise while considering the client's requirements.
Collaborating with the client will help us to determine the best data logging platform, sensing technology, power (mains or solar) requirements, and whether remote communications (3G / 4G or satellite) is required.
Intrinsically safe air velocity meters
The Kestrel 1000-IS Intrinsically Safe Air Velocity Meter is a critical piece of equipment for monitoring air flow in underground mine ventilation operations.
This portable, handheld device holds the Certificate of Conformity for Explosion-Protected Electrical Equipment AUS 02.2538 (to Ex ia 150°C IP55), issued by the Safety in Mines Testing and Research Station (SIMTARS).
Every unit is fully tested for measurement accuracy and waterproof integrity, and is calibrated to National Institute of Standards and Technology (NIST) traceable standards.
Workplace breath-alcohol detection devices
When it comes to Breath-Alcohol detection instruments, some devices on the market underestimate breath alcohol concentration (BrAC) readings, which falsely indicate the user is under the 0.050 limit.
We only offer highly-accurate, fuel-cell technology breathalysers for mining, law enforcement and workplace safety applications.
The AlcoVUE® is a state-of-the-art, highly accurate, industrial-grade breath-alcohol testing solution offering both quantitative (direct) and qualitative (passive) sampling to detect ethyl alcohol from a valid breath sample. The AlcoVUE is Australian Standard AS 3547-1997 certified.
The ALCORapid alcohol-screening analyser is suitable for zero-tolerance environments, providing a rapid, non-contact (qualitative) method of detecting the presence of ethyl alcohol from a valid breath sample.
Drug detection solutions for mining environments
The Secure4 multi-drug test cup is a lateral flow, rapid, qualitative, competitive immunoassay for the determination of drug-of-abuse (DOA) and / or their metabolites in human urine.
Secure4 detects tetrahydrocannabinol (THC), methamphetamines, amphetamines, morphine, and cocaine, and includes a key-activated split urine cup, which allows the specimen to be shipped directly to a laboratory for further testing.
The cup features a tamperproof seal and temperature control, as well as complying with Australian standards (AS/NZS 4308:2008).
The SalivaScreen Oral Fluids testing kit is a lateral flow, chromatographic immunoassay drug test for qualitative, simultaneous detection of DOA in saliva. SalivaScreen detects THC, methamphetamines, amphetamines, morphine, and cocaine.
About Pacific Data Systems Australia
Since 1984, Pacific Data Systems Australia has been providing reliable, cost-effective and timely solutions in the areas of environmental monitoring, data acquisition, scientific and industrial instrumentation, remote computing and systems integration.
Please contact us today to discuss your monitoring or data acquisition application via the following contact details.
Pacific Data Systems Australia Images
Pacific Data Systems Australia Pty Ltd