Modular Mining Systems
Intelligent Mine Management Solutions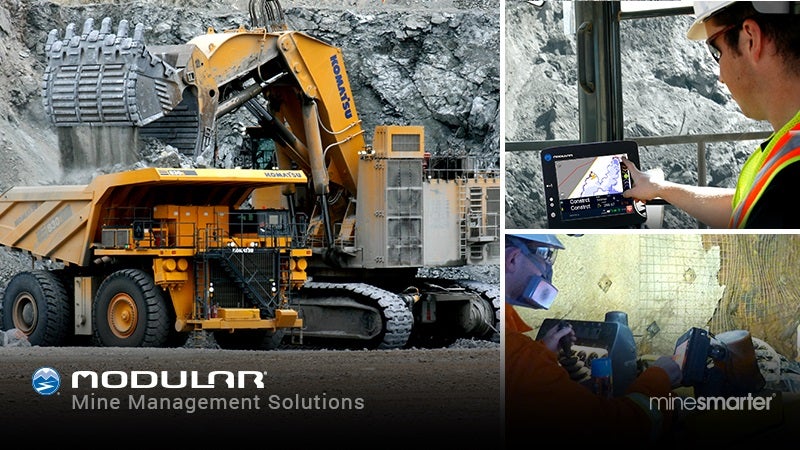 Modular Mining Systems (Modular) develops intelligent software solutions to facilitate operations, planning, maintenance, and safety in the mining industry.
The company offers the IntelliMine® suite of products, the MasterLink® wireless communications solutions, and its Performance Assurance Program to ensure every customer receives maximum, ongoing value-in-use from their Modular investments.
End-to-end fleet management for surface and underground mining operations
Modular's DISPATCH® fleet management system (FMS) introduced the concept of computerised dispatching to the mining industry. Today, surface mines of all size and type rely on the DISPATCH FMS to optimize their haulage cycles, maximize production, and increase equipment utilization. Considered the industry standard for fleet management systems, Modular's customers have reported productivity improvements ranging from 5% to 34%, with an average improvement of 11%, for more than 35 years.
Specifically designed to address the unique challenges of the underground mining environment, the DISPATCH Underground FMS automates all development and production processes, and supports all common underground mining methodologies.
The DISPATCH Underground FMS gives mines the visibility they need to track, manage and efficiently utilize mobile equipment below the surface.
High-precision GPS for accurate guidance capabilities
The ProVision® machine guidance solution utilizes high-precision GPS technology to provide continuous navigation and guidance to equipment operators, increasing productivity and the realization of planned targets and tasks.
The solution enables operators to position their buckets, blades and components to within 1cm of the intended location, resulting in decreased dirty loads, more accurate material blending, and more effective blasts.
The ProVision solution is available for shovels, loaders, dozers, and drills.
Collision awareness solutions for increased workplace safety
The MineAlert™ Collision Awareness system (CAS), an early warning system that alerts the equipment operator of potential collisions with other CAS-equipped vehicles, is designed to improve operator awareness and reduce vehicle-to-vehicle collisions.
Predictive algorithms analyze the location, speed, and trajectory of all vehicles in the monitored vicinity and generate warnings and alarms only when hazardous or potentially hazardous conditions exist.
Unlike other collision awareness systems on the market, Modular's CAS focuses on minimizing false or nuisance alarms to provide operators with critical decision-making safety information only when it matters.
Proactive, real-time equipment maintenance management for increased availability
The MineCare® maintenance management solution enables mines to increase fleet availability and uptime, while reducing mobile equipment lifecycle costs.
The latest version of Modular's real-time maintenance management product, MineCare Cloud, represents the company's initial entry into the cloud-based, software-as-a-service (SaaS) market.
The MineCare Cloud provides an alternative to the traditional on-site software installation model, which reduces costly capital expenses such as server hardware.
While beneficial for mines of all size, the minimized IT infrastructure and support staff requirements make the MineCare Cloud solution an especially attractive option for smaller mines with limited budgets.
Secure and reliable communication networks for open-pit mines
The MasterLink® wireless communications solution provides fast, high-quality, low-maintenance communications for open-pit mining operations.
Modular's MasterLink Enterprise solution delivers maximum network capacity, seamless worksite mobility, enterprise level security and high-network availability.
Since its introduction in 2015, numerous sites have reported positive results following the implementation of MasterLink Enterprise.
About Modular
In 1979, Modular released the DISPATCH fleet management system, marking the first computerized dispatching solution for the mining industry.
Nearly four decades later, the company has expanded in size and capability, with more than 700 employees in ten countries, supporting all major mining locales.
Modular's systems are deployed at more than 250 globally-distributed sites, including 18 of the 20 largest mines in the world.
Modular Mining Systems Images
Modular Mining Systems, Inc. (Global Headquarters)
3289 E Hemisphere Loop
Tucson, Arizona 85706
United States of America
+1 520 746 9127
+1 520 889 5790
www.modularmining.com