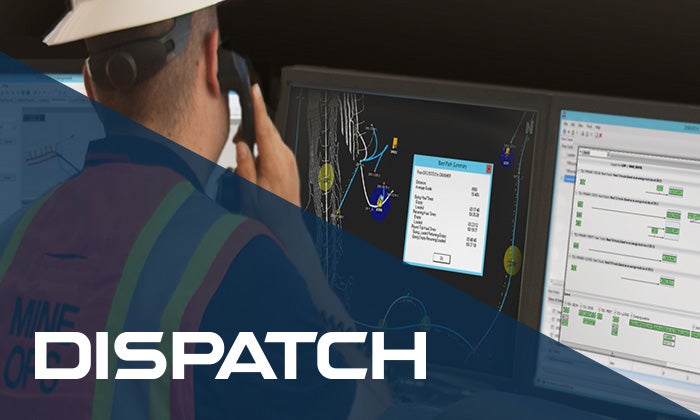 Introduced 40 years ago as mining's first computer-based dispatching tool, the DISPATCH® Fleet Management System (FMS) revolutionized the way mines work in real time. Today, the DISPATCH system is the most trusted FMS in the industry.
In open-pit environments, the DISPATCH system maximizes productivity and efficiency while simultaneously increasing safety and control. Using state-of-the-art field hardware and communications software, and proven proprietary algorithms, the DISPATCH system delivers unrivaled haulage optimization.
Additional features of the FMS include GPS-based equipment positioning, asset health monitoring, maintenance tracking, material blending, and production reporting. With four decades of recognition for its optimization capabilities and more than 250 deployments worldwide, the DISPATCH system is considered the industry standard for fleet management.
Speed Management
Most mines have established best practices that specify how units in the mobile fleet should be operated to help ensure driver safety and prolong equipment life. The DISPATCH system's Speed Management module can help mines identify speed violations in effort to avoid costly incidents and prevent equipment abuse.
The Speed Management module uses GPS technology to accurately measure equipment velocity. When equipment units pass through monitored zones, the equipment's current speed is compared with the configured speed limit values for the specific location. Speed violations can be reported in real time to the supervisor and dispatcher in the central office, facilitating timely behavior modification and necessary risk mitigation.
Tire Management
The Tire Management module helps mines plan and manage haul truck tire duty cycles and operating environments. TKPH/TMPH planning utilities enable mine planners to evaluate the TKPH/TMPH impact of prospective haulage paths. TKPH/TMPH limits can be managed on a tire-by-tire basis. The onboard suspension interface logs instances when the tire experiences rough roads.
Truck operators can report spillage on haul roads and can flag the position of these locations via their mobile devices. By plotting the location of rough roads and spillage locations in the FMS' MineGraphics view, the dispatcher can efficiently allocate roadwork resources. If the optional FastFeedback and Auxiliary Task Management modules are also in use, cleanup tasks can go directly to an auxiliary equipment work list.
Product Features
The system can be configured to meet a wide variety of operational constraints and is in use in mines of all commodity types. Where standard functionality does not meet existing business requirements, the DISPATCH 6 system can be extended to create a truly fit-for-purpose tool.
Key features of the FMS include:
Haulage Optimisation
Fuel Service Management
Ore Blending Control