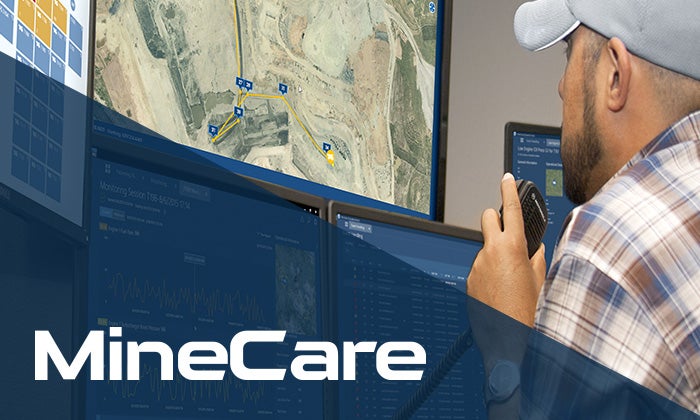 The MineCare® system improves every aspect of the maintenance management process, providing the information and tools you need to monitor the health of your entire fleet in real-time.
Prevent catastrophic equipment failures by turning data into information, and information into action.
MineCare 3
Modular introduced the mining industry to real-time maintenance management in 2002 with our MineCare® Maintenance Management system, which provides mine personnel the necessary tools to respond to, track, document, research, and predict mobile equipment health issues.
Since then, the MineCare system has continued to evolve, building upon this field-proven foundation to help mines proactively reduce component degradation and prevent catastrophic failures.
Our third-generation system, the Cloud-based MineCare 3 Maintenance Management System, includes enhanced features, benefits, and capabilities to help mines:
Increase Equipment Reliability and Uptime
Maximize Equipment and Labor Utilization
Reduce Maintenance Costs
Enhance Operator Safety
Promote a Proactive Maintenance Approach
Monitor Equipment Remotely
Intuitive, Easy-to-Use Dashboards
User-configurable dashboards provide a one-stop asset health overview of your mobile mining equipment, and serve as a central hub from which to access individual MineCare system applications. Dashboard screens can be configured to display:
Maintenance, equipment, and operator key performance indicators (KPIs)
Application tiles with summary information
Goal-oriented user progress tracking
A visual overview of maintenance tasks
The MineCare system also leverages Microsoft's PowerBI functionality to generate automated charts for reporting purposes, providing maintenance teams the ability to dig deeper to improve their equipment performance and maintenance practices.
Integration with the DISPATCH® Fleet Management System (FMS)
The MineCare system offers access to all core applications, and fully integrates with our DISPATCH Fleet Management system, allowing you to access and utilize operational data to help achieve maintenance goals. Additional benefits of DISPATCH FMS integration include:
Ability to monitor operator performance, location, and status
Reduced need for manual operational data correlation
Consolidation of operations, location, and OEM data
The MineCare 3 system is also available as a standalone version for mines who do not have the DISPATCH FMS.
Product Features
Cloud-based, Software as a Service (SaaS) deployment for lower capital investment and simplified management
Remote real-time monitoring for early detection of potential equipment problems while in operation
SQL database, Microsoft Reporting Services engine
Time tracking by component, root cause analysis
User-configurable dashboards and KPI's for at-a-glance information
More than 175 OEM alarm interfaces
Multi-equipment monitoring and trending to predict potential failures and assist in proactive planning
Trending and user-defined alarms
Event handling application for viewing and processing abnormal OEM events
Live Map event notification and tracking for fast diagnosis
DISPATCH system integration provides operations data