On 24 February 2022, Russia invaded Ukraine, reflecting a significant turning point in the Russia-Ukraine War that began to take shape in 2014. The impacts on the global commodity markets have been rises in prices of several metals including gold, due to its position as a safe haven, and nickel, due to supply concerns. In the equity markets shares of several mining companies operating in Russia and Ukraine such as ALROSA, Evraz, Ferrexpo, and Polymetal International, were slashed on Thursday. Simultaneously, the ruble depreciated against the US Dollar as the war began.
In retaliation, Japan, the EU, the UK, and the US have introduced sanctions against Russia. However, so far mining operations do not appear to be impacted. Polymetal and Kinross both reported that their operations remain unaffected and continue as usual. Kinross stated that the majority of procurement is within Russia and, "Approximately 98% of the employees of Kinross' Russian subsidiaries are Russian locals, and given the ice road supply season, its operations have a full year of supplies on hand." It also refines its gold produced in Russia within the country. Polymetal has also advised that: "Contingency planning has been initiated proactively to ensure business continuity, including the selection of key equipment suppliers, liquidity management, debt portfolio diversification and securing sales channels." The company has reiterated its production guidance for the year.
However, there is expected to be a significant impact on the mining industry's supply chain, as Russia is among the top three producers of diamond, gold, platinum group metals (PGMs), and nickel. It is also a key supplier of seaborne and met coal (to European markets), iron ore, and aluminium. As for Ukraine, there is expected to be disruption in the supply of coal, iron ore and uranium. For instance, Arcelor Mittal has ceased operations at underground iron ore mines in Ukraine while slowing down production at Kryvyi Rih's steel plant.
Anticipating shortages from Russia and Ukraine, Japan's Nippon Steel is looking for alternate sourcing of feedstock from Brazil and Australian mining companies. Also, Ferrexpo announced Force Majeure due to concerns over the temporary suspension of the Pivdennyi port terminal, following the Russian invasion.
India, which is the world's-largest diamond cutting and polishing hub, anticipating supply disruptions, has slowed down manufacturing activities in the Indian state of Gujrat. The diamond industry is currently experiencing concerns over rising production costs alongside increasing rough diamond prices.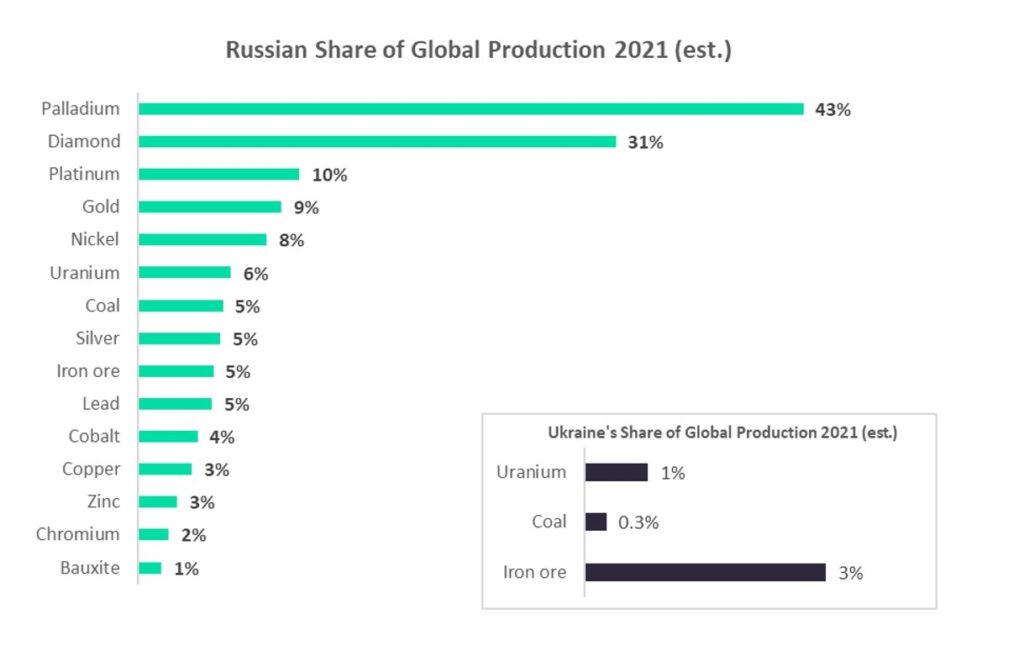 The gold price, which declined in the second half of 2021, has increased sharply in February 2022 as investors have sought out gold as a safe haven, attributing supply uncertainty linked to the Russian-Ukraine crisis. Likewise, prices of silver, nickel and palladium have also increased significantly linked to fear of shortage.