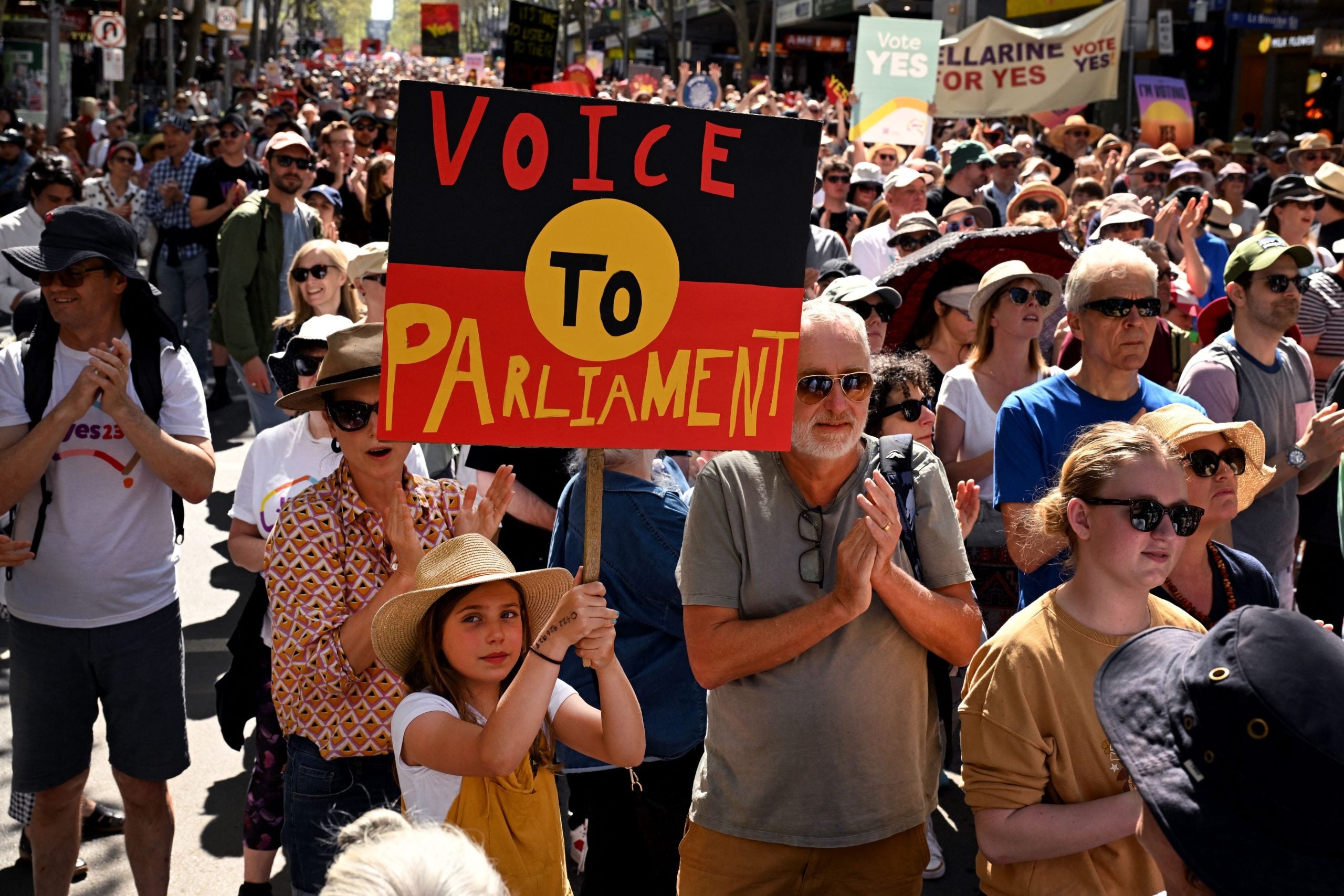 When taking office, Australian Prime Minister Anthony Albanese promised a referendum to change Australia's constitution. The proposed change would create a parliamentary role for Aboriginal peoples and Torres Strait Islanders, giving them a more vocal role in legislation: a "First Nations Voice to Parliament".
The Voice was recommended by a convention of indigenous Australians in the Uluru Statement from The Heart, a joint statement made in 2017. This highlighted the inherent rights of indigenous peoples to Australia and inequalities around incarceration as well as the "structural nature of our problem".
Foremost, it called for "the establishment of a First Nations Voice enshrined in the Constitution", and a commission to oversee "a process of agreement-making between governments and First Nations and truth-telling about our history".
While these words hold clearer meaning to indigenous communities, a lack of specifics has formed the centre of debate in the run-up to the Voice Referendum. The campaigning has started, and both sides have made promises, warnings and general noise about the referendum. So, what could it practically mean for Australian businesses and people?
The Yes Campaign, and an unknown opportunity
The referendum question was set in law on 19 June. It asks: "A Proposed Law: to alter the Constitution to recognise the First Peoples of Australia by establishing an Aboriginal and Torres Strait Islander Voice. Do you approve this proposed alteration?" Voters must give a simple yes or no answer at the ballot box on 14 October.
Such a change would allow an appointed Voice to present the views and concerns of Aboriginal and Torres Strait Islander peoples to parliament, without handing the office any legislative power. The Voice would have a right to speak, but there is no guarantee that they would be heard, and they would not be able to block or introduce legislation.
How well do you
really

know your competitors?

Access the most comprehensive Company Profiles on the market, powered by GlobalData. Save hours of research. Gain competitive edge.
Company Profile – free sample
Thank you!
Your download email will arrive shortly
Not ready to buy yet? Download a free sample
We are confident about the unique quality of our Company Profiles. However, we want you to make the most beneficial decision for your business, so we offer a free sample that you can download by submitting the below form
By GlobalData
Albanese's governing party support the change, with Albanese himself saying: "This will not impact most Australians directly, but it might just make life better for the 3% of Australians who happen to be the most disadvantaged group: the First Nations people. I think it will be a moment where we can show respect to them, where we can feel better about ourselves as well as a nation and where the world can look at us and say, 'Australia is a mature, grown-up nation'."
The "Yes" campaign has simultaneously emphasised the small size of the change and the wide-ranging implications it would have. In its John Farnham-riven campaign material, it has suggested that Voice members would come from all states and territories, chosen by indigenous groups there, and serve for fixed terms. Aside from improvements to government, Yes promises that the Voice would improve the lives of indigenous Australians and highlights the backing it has from a majority of said people. Such a system would be reasonably unique among global governments, so there is little evidence of how effective such a change may or may not be.
The No Campaign and unknown consequences
Given this lack of precedent, the "No" Campaign has suggested that courts would not know how to handle the Voice's comments and whether they should be accounted for in deciding specific interpretations of legislation.
As a result, some No campaigners have suggested that a Voice could have too much power, while others have suggested that a consultative Voice would not have enough influence over lawmaking.
If the Voice does not pass, Leader of the Opposition Peter Dutton has pledged to hold another referendum, asking for support in acknowledging Aboriginal people in the constitution. Dutton said he "believes very strongly that [another referendum] would be the right thing to do", but has not given any more specifics to the promise. All sides have criticised potentially adding unnecessary costs in a tough economic climate, while indigenous people have said that such a change would give little more than "symbolism".
Some have described the change as giving "a Voice of Division", arguing that the Voice would move parliamentary representation for indigenous peoples away from elected MPs, as if in a separate system. As such, some First Nations MPs support the No Campaign. Former columnist Jacinta Nampijinpa Price has become one of the faces of the No campaign, saying that the referendum could "nurture a national self-loathing about the foundations of modern Australian achievement" and that indigenous peoples face "no ongoing negative impacts of colonisation".
At the same time, some on the No Campaign have sought to distance themselves from aspects of their campaign that both sides describe as "racist". There have been various reports of animosity between the two sides, with insults hurled at protests and personal accusations made in both directions. There have also been allegations of foreign state interference as disruptors attempt to sour the debate.
What will the Voice mean for miners?
As with referenda, many other issues have become part of the discussion. Some have suggested that a Voice might imperil Australia Day, or that government agencies already represent indigenous peoples. However, these are entirely separate suggestions for what is on the ballot. That said, nobody can yet be certain of the specific powers of the Voice, as these have not yet been specified or decided.
If the Australian Parliament implemented a Voice tomorrow, likely nothing would change. Meaningful legislation would still follow the same process, taking months to construct and pass while consulting relevant parties.
In time, the Voice would push for better legal representation of indigenous peoples through law, which would affect permitting and planning proposals. As an example, current legislation recently caused oil and gas company Santos to reapply for permits after native Tiwi Islanders proved they were not properly consulted on pipelines as part of the Barossa project. In the same manner as existing MPs who support indigenous rights, a Voice would highlight rare conflicts of interest between extraction industries and indigenous peoples.
The destruction of Juukan Gorge has become the most notorious recent clash between mining interests and indigenous rights. In this case, Rio Tinto destroyed a site of cultural significance to First Nations people without knowing, as the company had consulted with local indigenous people. There is no certainty that events would have transpired differently with a Voice in place, as the destruction of Juukan Gorge and several other transgressions against indigenous peoples came about through a lack of communication between industry and locals.
In the case of Rio Tinto and Juukan Gorge, the mining company has changed its policies to allow for greater indigenous consultation. Ultimately, these incidents can only be wholly prevented by better consultation structures with indigenous peoples, and the Yes Campaign has cited this sort of consultation as a cost-saving measure. Aunty Pat Anderson AO, co-chair of indigenous coalition Uluru Dialogues, described this for the Yes Campaign: "When you involve people, you make better decisions, and the money you spend goes where it's needed most: to the people on the ground." The Government hopes that this willapply nationally as well as in business.
At the same time, the No Campaign says that the Voice would risk delays in legislation. Former WA Supreme Court judge Nicholas Hasluck told the No Campaign: "The Voice will almost certainly become a lightning rod for protracted debate about a vast array of current issues."
How likely is it to pass?
After the fact, the Voice would not have the power to compel legal action against companies or to insist that parliament passed legislation preventing another incident. However, they would be able to mandate change and provide a direct communications channel for indigenous peoples to make their feelings on the matter known: hence, a voice to parliament.
As mentioned, such a system of government would be entirely new and without precedent, meaning its implications for the interpretations of law remain unknown. As a modern democracy, lawmaking and law enforcement are separate. That being said, both influence each other, and a Voice would more vocally highlight the want for reparatory action against those disrespecting indigenous culture and traditions.
Much of the country's mineral wealth comes from Queensland, and the state is generally much more sceptical of the proposal than the rest of the country. As such, do not be lured into thinking that a miner's opinion matches that of the rest of the country or vice-versa.
Over the past 12 months, support for the Voice has slid from a reasonably consistent 65% to around 45% at the time of writing. To pass, it will require an overall majority of voters, as well as a majority of voters in four of the six states. The referendum will take place on Saturday, 14 October, giving more than a month for the campaigns to further their cause. While postal votes will come in until 27 October, much of the result will be clear when votes come in on referendum day.