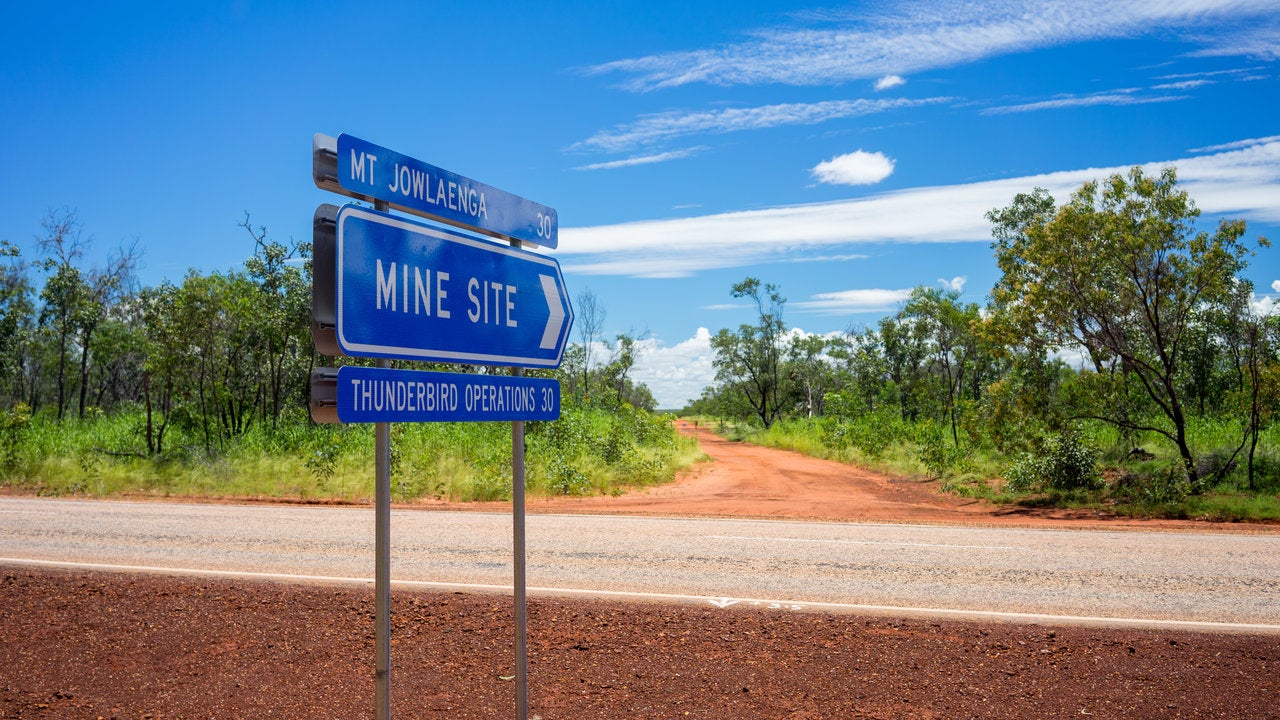 Set up in 2015, the Northern Australia Infrastrcuture Fund (NAIF) was established with the aim of 'transforming northern Australia' through financing the development of both existing and new infrastructure. The A$5bn fund now has a total of A$3.6bn to lend before mid-2021, and the new mandate, introduced in April last year, has eased restrictions on projects the NAIF can back.
Speaking at last year's International Mining and Resources Conference in Melbourne, NAIF executive director Peter Ross told delegates the fund is now not only able to provide more debt finance (up from the previous 50% allowance) but can also "consider smaller projects below A$50m in value, where they meet other criteria." Such criteria include the project's provision of public benefit, incorporation of an Indigenous Engagement Strategy (IES), and an ability to repay the loan taken.
As a result of the fund's new mandate, opportunities are opening up for the mining sector in the northern regions, and several projects are already beginning to feel the benefits.
What is the NAIF offering mining projects?
Since June 2017, a third of projects considered for due diligence by the NAIF have been resources-related. Recent schemes on the receiving end of loans include Pilbara Minerals' Pilgangoora lithium-tantalum mine and Sheffield Resources' mineral sands project Thunderbird, receiving A$19.5m and A$69m respectively.
Pilgangoora is one of the biggest new lithium ore (spodumene) deposits in the world, set to be a two million tonnes-per-year operation that will increase to five million tonnes-per-year following a Stage 2 expansion. Money received from the NAIF will help the project's progression into Stage 2, as well as upgrading the Pippingarra Road, a 70km public road to access the mine near Port Hedland.
The loan to Sheffield Resources was announced in September last year and, according to a stock exchange release from the firm, will be used to build storage, accommodation and power facilities at the site on the Dampier Peninsula in Western Australia, as well as upgrading existing road and port infrastructure. While the company is still finalising a full deal for the estimated A$260m building costs, the NAIF's contribution will help to bring the project significantly closer to fruition and means it will no longer require a A$25m facility from Taurus Mining Finance Fund. The loan will also pave the way for Sheffield owning its asset infrastructure at the mine, and allow for lower operating costs.
Anticipated benefits of the schemes include increased job opportunities, with Thunderbird's 40 year life span and promise of 'intergenerational' job opportunities in the Kimberley region said to be a primary reason for its gaining funds.
Head of policy and public affairs at the Australian Resources and Energy Group (Amma) Tom Reid says the NAIF "encourages much-needed investment in the resources and energy industry", adding that projects supported by NAIF funding "will create significant job opportunities", as well as allow Indigenous people to enter the industry.
"As capital becomes increasingly mobile in the international marketplace, initiatives such as NAIF send a promising signal to the business community that Australia is open for business," he adds.
As awareness of the NAIF's new capacity has risen, so the number of submitted projects has spiked, with the fund saying it has experienced a 320% increase in projects undergoing due diligence since September 2017. However, while the NAIF seems to be nothing but good news for the mining industry, it has not gone unchallenged.
Why isn't everyone happy about the NAIF?
Concerns over the NAIF were first raised in 2016 following the news that it would fund an access railway for the controversial Carmichael coal mine in Queensland. While a veto from the Queensland Government prevented it from going ahead, fears over the motivation behind NAIF investments remained.
A senate inquiry was requested in July last year, with the Australian Labor and Green parties calling for more information on any connections between NAIF board members and the mining industry. As a result, the majority recommended that within 30 days of each investment decision, the NAIF should publish information on any conflicts of interest and how they were managed; environmental and native title approvals needed for a project; and how projects met the criteria for loans.
Despite the recommendation, a lack of transparency in investment decisions seems to remain a major problem.
"As the NAIF manages billions of dollars of public money, the public have a right to know how it is managing this money," says Transparency International Australia CEO Serena Lillywhite. "The current lack of transparency means Australians have no way of seeing how NAIF decisions are made and cannot effectively hold decision-makers to account to invest public funds for public benefit."
According to a report from The Guardian, Freedom of Information (FOI) refusals in Australia are at their highest level since records began in 2010-11, and the NAIF has the highest rate of any agency with an FOI rejection rate of 99.4%. This means they released documents in response to only one of the 1,340 FOI requests received between 2017-18. This problem was also highlighted by Greenpeace Australia in June 2017, when it created an online tool to coordinate a flood of FOI requests to the NAIF board – a to which the fund responded that answering all requests would "substantially and unreasonably divert the resources of the agency".
According to Lillywhite, the NAIF should investigate and make known the 'character and track record' of companies behind potential projects, including overseas operations.
"It's important to lift the veil of secrecy over those who ultimately own or control companies", she says, adding that such amendments "will help ensure those with a record of corruption and/or non-compliance are prevented from mining for natural resources in Australia."
Another criticism against the NAIF is that it follows a developmentalist model that is no longer appropriate for northern Australia. University of Queensland economics professor John Quiggin, who co-authored a 2017 public assessment of the governance and operation of the NAIF, labels the fund a 'failed political solution to a non-problem'.
"In operation it has proved to be little more than a slush fund, dribbling out modest amounts of assistance to a grab-bag of projects with no coherence," Quiggin says. "The NAIF should be wound up, and the funds allocated to a coherent programme of infrastructure investment based on national needs rather than arbitrarily geographical distinctions."
Pilbara Minerals, Sheffield Resources and the NAIF did not respond to requests for comment.