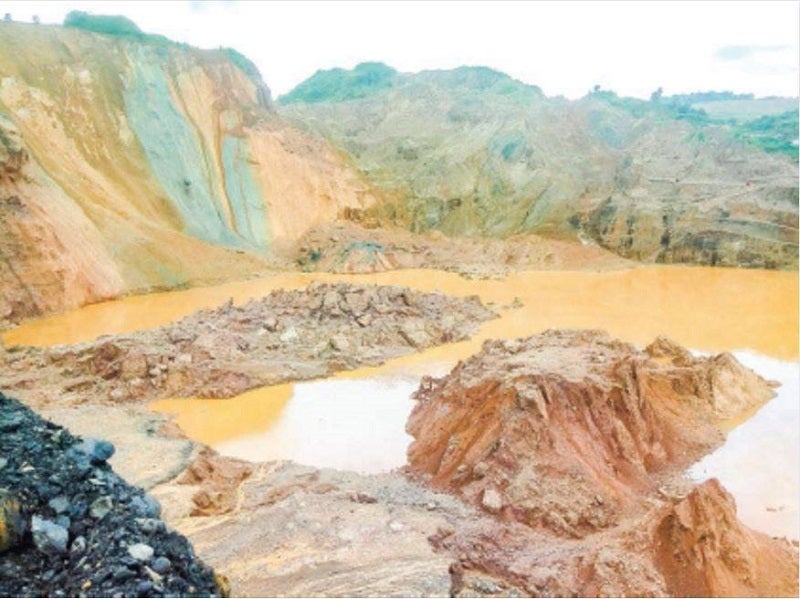 A landslide that occurred at a jade mine in the Hpakant region of Myanmar's Kachin state claimed the lives of 19 people.
Myanmar's Ministry of Information revealed that the cliff along the mine collapsed, falling around 500ft into the lake.
It is believed that 16 of the victims were working as security guards at the site, while three were police officers.
Two Canadian mines are to pilot a research project led by the University of British Columbia (UBC) that combats greenhouse gas (GHG) emissions by locking carbon dioxide (CO₂) in mine waste tailings.
UBC says the technology could drastically reduce GHG emissions created by mining operations and establish the world's first emission-neutral mine.
The project is a collaboration between UBC, the University of Alberta, Trent University, and Institut National de la Recherche Scientifique (INRS), along with three mining companies. It received $2m in funding from Natural Resources Canada's Clean Growth Programme.
Mining giant BHP has committed to invest $400m as part of its Climate Investment Programme over the next five years to reduce greenhouse gas emissions.
The company's Climate Investment Programme is aimed at developing technologies to reduce emissions generated from its own operations and through the use of its resources.
BHP CEO Andrew Mackenzie said: "Over the next five years this programme will scale up low-carbon technologies critical to the decarbonisation of our operations. It will drive investment in nature-based solutions and encourage further collective action on scope three emissions."
The electrification of mines offers a lot more than lower carbon emissions and improved worker benefits, according to a recent survey of miners and original equipment manufacturers (OEMs).
Commissioned by multinational professional services firm EY, the survey was conducted by the Sustainable Minerals Institute at The University of Queensland (Australia) and The Norman B Keevil Institute of Mining Engineering at The University of British Columbia (Canada).
The survey demonstrates that reaping the full benefits of an electricity-powered mining future would require rethinking of mine design fundamentals.
Russian mining company Alrosa has signed a joint venture (JV) agreement with Zimbabwe Consolidated Diamond Company (ZCDC) to develop diamond deposits in Zimbabwe.
Under the terms of the agreement, Alrosa will own a 70% controlling stake for the development of greenfield projects and ZCDC will hold the remaining 30% interest.
The JV will be initially engaged in the geological exploration of greenfield deposits. The two parties will then focus on diamond mining and the independent sale of rough diamonds in external markets.
The Minas Gerais State Court in Brazil has convicted Vale and declared that the company is responsible for reparation of damages caused by the rupture of a tailings dam that claimed the lives of more than 240 people.
Judge Elton Pupo Nogueira said that Vale should fix all damages caused by the breach of the Brumadinho dam in Córrego do Feijão in January, although he did not set a monetary value for compensation, reported Reuters.
US digital solutions provider Wabtec is set to collaborate with Canada-based Hifi Engineering in an effort to bring advanced sensing and monitoring solutions to mine operators.
Under the collaboration, the companies will enhance digital technologies which monitor asset health to forecast and prevent failures at mine sites.
Incorporation of Hifi's fibre optic sensing technologies with Wabtec's Digital Mine solutions will enhance the user experience of mine operators.
Lundin Mining has closed the acquisition of a 100% ownership stake in Mineração Maracá Indústria e Comércio, a firm which owns the Chapada copper-gold mine in Brazil.
Production at the Chapada mine started in 2007. It has additional gold production developed by Yamana and is expected to produce 54.5kt of copper and 100koz of gold this year. Last year, it produced approximately 58.6kt of copper and 121koz of gold.
Lundin and Yamana initially signed an acquistion agreement in April.
Metso Minerals and Finnish technology company Outotec have signed an agreement to create a new leading entity in process technology and services for the mineral and metal industries.
The combined company will be named Metso Outotec and does not include Metso Flow Control.
Under the terms of the agreement, Metso Flow Control, which is a part of Metso Minerals, will be operated as a pure-play listed entity under the name of Neles.
The world's oceans could face severe and irreversible harm from the deep-sea mining industry as companies set sights on extracting minerals from some of the most important ecosystems on the planet, according to environmental group Greenpeace International.
In its report 'In Deep Water: The Emerging Threat Of Deep Sea Mining', Greenpeace noted that drilling the seabed could cause damage and worsen climate change.
The report further reveals that exploiting the deep sea for minerals could not only destroy biodiversity hotspots but also endanger organisms.