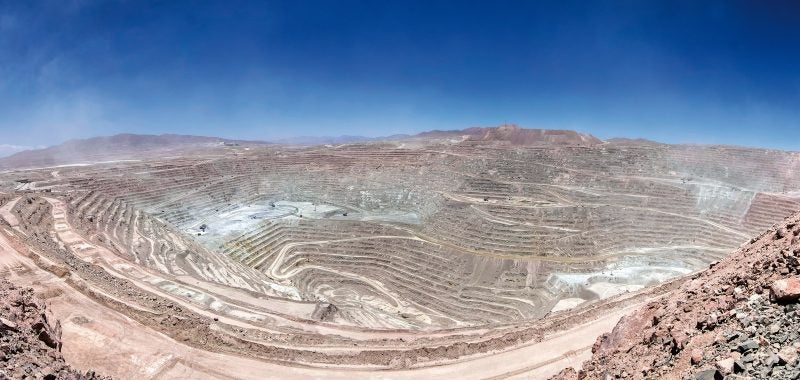 Share price in Anglo-Australian mining multinational BHP hit the lowest point in a month, with London Stock Exchange stock prices dropping by 4% from £17.80 to £16.99. By the end of January, they had fallen a further 0.54% with prices going as low as £16.93.
Such a steep decline in prices, analysts say, can be linked to the growing concerns over the impact of coronavirus on China's economy.
GlobalData analyst David Kurtz said: "With tens of millions of people under lockdown, concerns over the impact of coronavirus are leading to a decline in prices of key commodities, such as copper and iron ore."
---
Chile's copper producer Codelco raised $2bn in bonds to secure financing for its multibillion-dollar upgrade projects, as well as to refinance debt and maintain a significant cash position.
The state-owned company has sold $1bn in ten-year bonds and obtained a further $1bn in 30-year bonds issued in September 2019, yielding 3.175% and 3,958% respectively.
Codelco has secured the funds under a new financing strategy that includes loans and the sale of non-structural assets.
---
The Cooperative Research Centre for Optimising Resource Extraction (CRC ORE) and the National Research Council of Canada (NRC Canada) partnered on a project to bring the benefits of laser-induced breakdown spectroscopy (LIBS) technique to mine sites.
LIBS is a rapid chemical element analysis technique that is used in a variety of applications, including soil analysis, effluents, alloy, scrap metal and molten metals.
This technique works through a focused laser pulse striking the sample surface and removing an amount of material to produce a high-temperature plasma plume.
---
Apple started using its Daisy robot to disassemble its iPhone to recover and recycle minerals.
Reuters reported that new mines will still be needed by producers to address the increasing demand for electronics.
The robot has been designed to break apart iPhones to extract and recycle 14 minerals, including lithium.
---
Anglo American advanced its discussions with Sirius Minerals, which has plans to develop a polyhalite mine in North Yorkshire, UK.
Under the project, polyhalite will be extracted from the mine, which is touted to hold the world's thickest and highest grade polyhalite resource.
In September 2019, Sirius Minerals was reportedly forced to cancel a $500m bond issue after the UK Government refused to support its potash mine in the North Yorkshire Moors.
---
The Initiative for Responsible Mining Assurance (IRMA), a certification programme which ensures ecologically and socially responsible mining products, partnered with BMW, its first member in the auto sector.
IRMA works with industrial-scale mine sites and as a member, BMW will be participating in responsible mining programmes.
Member of BMW management board Dr Andreas Wendt said: "Sustainability is an important aspect of our corporate strategy and we are fully aware of our responsibility in mineral value chains."
---
Anglo American made an offer to purchase Sirius Minerals, which values the entire issued and to be issued share capital of the latter at £404.9m ($526.5m).
Anglo American noted that Sirius Minerals shareholders will now be required to vote on the proposed transaction at a general meeting.
The company noted that Sirius Minerals' North Yorkshire polyhalite project, which has the potential to become a low-cost and long-life asset, will be a complementary addition to its portfolio upon the completion of the deal.
---
The Environment Ministry of India gave its clearance to ten coal mining projects with an annual capacity of 160Mtpa. Four washeries, which can handle 31Mtpa, also received clearance.
The government's approval is provided for Coal India's projects comprising seven mines (141Mtpa) and two washeries (15Mtpa). Overall, the ministry cleared 14 of the total 23 projects it considered, reported The Economic Times.
Coal India subsidiary South Eastern Coalfields' Kusmunda open-cast coal mine in Chhattisgarh is the largest project to receive clearance. This mine is capable of producing 62.5Mtpa when operating at full capacity.
---
Mitsubishi Alliance (BMA) will invest $455m on autonomous haul trucks and AI-based data analysis in an attempt to reduce production costs, improve efficiency and decrease CO2 emissions.
BHP Mitsubishi Alliance (BMA) – a 50/50 partnership between  Anglo-Australian BHP Group and Japan's Mitsubishi Corporation –  is Australia's largest producer of coal. It will use 90 autonomous dump trucks in one of its mines in the Bowen Basin, home to one of the country's largest coal reserves, according to a report by the Nikkei Asian Review.
The trucks, whose number is set to increase to 350 in the next two years, will be manufactured by several companies, including US-based Caterpillar and Japanese Komatsu. The trucks will be conventional manned trucks retrofitted with a communications system that will enable remote control and cut down costs by 15%.
---
The Indian Government granted environmental clearance for state-owned coal company Coal India to proceed with 17 projects, which will produce an additional 150 million tonnes of coal in five years.
Indian coal minister Pralhad Joshi said in a tweet that these developments are part of Prime Minister Narendra Modi's ambitious Power For All plan – a joint initiative between the national government and state governments to provide power to every household and business.
Joshi said that the new environmental clearances will enable Coal India to produce an extra 150 million tonnes in the next five years, increasing the company's washing capacity to 25 million tonnes per annum (Mtpa) and allowing it to achieve one billion tonnes of coal production by the 2023-2024 financial year. Coal washing is the process that separates coal from minerals, rocks and sand.
According to a report published by the Australian Department of Industry, Innovation and Science (DIIS), India is the world's largest producer of coal and Coal India is the nation's largest producer, generating 83% of the total output.