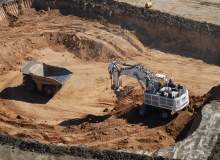 On the 1st of the month, Xstrata recommended its shareholders should accept a revised merger deal with commodities trader Glencore.
Glencore improved its earlier bid of $34bn to $36bn in September, just as the deal looked set to collapse.
One of the most contentious issues with the merger has been a $227m retention package for top managers, with several large shareholders threatening to block the tie-up unless the bonus scheme is toned down.
But Xstrata has agreed to give shareholders a separate vote on bonuses, allowing the deal to move forward.
EU antitrust regulators have set 8 November as the deadline to decide on whether to let Glencore's $33bn takeover bid of mining group Xstrata go ahead.

Also in October, Australia's mining and materials company Arrium rejected a A$1.01bn ($1.02bn) takeover offer from a consortium including Noble Group and POSCO.
The bid was made by Steelmakers Australia, which also includes National Pension Service of Korea, Korea Investment and Korea Finance, to acquire all shares of Arrium for an indicative price of A$0.75 ($0.77) a share on September 28.
But, the offer was deemed too low and too "conditional" by the board of Arrium.
A A$0.75 ($0.77) indicative offer placed the company's valuation at A$3.2bn ($3.3bn) and presents an eight percent premium over the volume weighted price of Arrium's shares during the last three months.
Anglo American Platinum (Amplats), the world's biggest platinum producer, dismissed 12,000 South African miners who chose to strike over pay and working conditions.
The move was an attempt to hit back at the workers whose unrelenting strikes have crippled the mining industry in the country.
The company said in a statement that as a result of the illegal industrial action at its five mines in the Rustenburg area, total lost platinum production has amounted to 39,000 ounces, resulting in approximately R700 million ($78m) of lost revenue.
Australia-based miner Rio Tinto has sought to revive its 17-year old joint venture with Indian state-owned Odisha Mining Corporation (OMC), a venture valued at around INR110bn ($2bn).
The two companies signed a deal on 24 February 1995 to develop the Gandhamardhan and Malangtoli iron ore deposits located in Keonjhar and Sundergarh districts in the state of Odisha, India.
Following a disagreement, a legal battle ensued, wherein the OMC lobbied the Odisha High Court in 2003 to cancel the deal.
Rio Tinto iron ore chief executive Sam Walsh is now seeking to open fresh talks with Chief Minister Naveen Patnaik and Chief Secretary BK Patnaik on the issue.

The Australian state of Queensland lifted a 23-year ban on uranium mining, a decision experts say could pump up to $900m worth of royalties into the economy.
Queensland Premier Campbell Newman said the decision to overturn the ban followed strong support for the uranium industry from the Federal Labor government and Australia Prime Minister Julia Gillard's recent visit to Delhi to discuss the sale of uranium to India.
Uranium mining has been prohibited in Queensland since 1989 because of fears that the activity could harm the thermal coal industry.
Queensland Resources Council (QRC) CEO Michael Roche said the decision will unleash "the significant potential" of a uranium mining industry in Queensland.

Meanwhile in Brazil, mining company Vale reported a 66% decline in net profits for the third quarter ending 30 September 2012 to $1.67bn, compared to $4.94bn last year.
Operating revenues were reported at $11.0bn, 9.8% less than the $12.2bn reported in the second quarter of 2012.
A significant fall in income, resulting from a decrease in iron ore prices, has prompted the company to consider asset sales and postpone major mining projects.

Government-owned Coal India (CIL) said it will expand its coal production capacity by 180 million tons during the next five years.
The miner's current estimated target for the 2012-2013 financial year is pegged at 464 million tons, having reached 435.84 million tons of coal in 2011-2012.
Coal India chairman S Narsing Rao told reporters in the area that the company is planning an eight percent capacity growth in the 12th plan period that runs from 2012 to 2017.
"We had a cumulative production of 180 million tons during the last three five-year plan periods," Rao said.
---
Related content
---
While China witnessed two mining disasters, India ordered the closure of six coal mines and commodities trader Glencore improved its bid to takeover Xstrata.
While violence between mining unions broke out in South Africa, BHP Billiton shelved expansion works at its Olympic Dam mine.
---