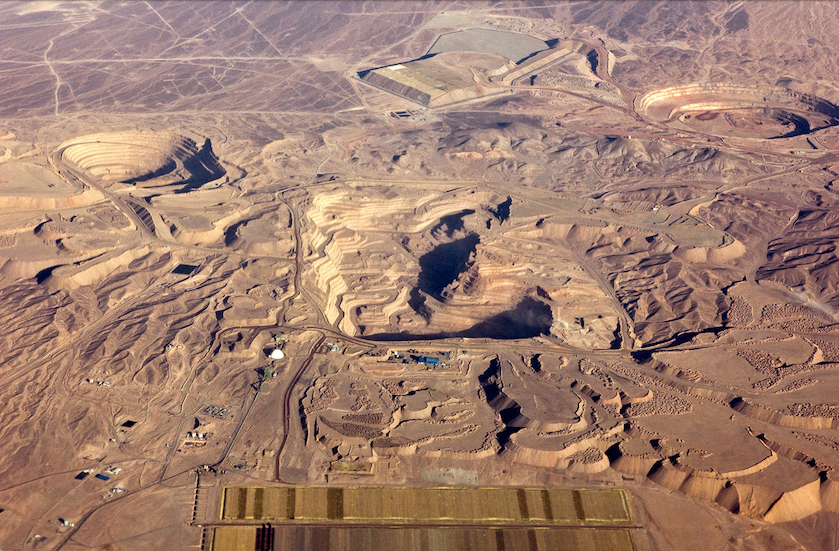 Every day, 160km south-east of Antofagasta in Chile, some 2,500 miners don their overalls and head to the Escondida copper mine.
Meaning "hidden" in Spanish, the name Escondida comes from the mine's main orebody, which does not outcrop on the surface but is concealed by hundreds of meters of overburden. Escondida is also the world's largest copper mine, producing 2,904 tonnes of copper each day.
It is very much unhidden, as are Chile's three other surface "supermines" (Collahuasi, El Teniente and Chuquicamata), which make up four of the ten largest copper mines worldwide. In fact, seven of the world's ten most prolific copper mines are found in Latin America, with mines in Peru, Mexico and Panama joining Chile's quartet.
Together, Chile, Peru and Mexico control 36.4% of the world's copper reserves – and account for 40.8% of the highly-conductive metal's global production.
In 2021, Chile produced 56.25 million tonnes of copper from its 2 billion tonnes of reserves. This represents 26.5% of global copper production from Chile's 21.3% of global copper reserves.
But if Chilean copper production exemplifies how resource-rich Latin American countries can carve out a role as leaders in the global energy transition, the current state of Chile's lithium production serves as a contradictory warning.
How well do you
really

know your competitors?

Access the most comprehensive Company Profiles on the market, powered by GlobalData. Save hours of research. Gain competitive edge.
Company Profile – free sample
Thank you!
Your download email will arrive shortly
Not ready to buy yet? Download a free sample
We are confident about the unique quality of our Company Profiles. However, we want you to make the most beneficial decision for your business, so we offer a free sample that you can download by submitting the below form
By GlobalData
A carbon copy of Mexico's lithium model?
Chile is one of Latin America's richest nations, but growth has stagnated in recent years. Nearly one-third of the Chilean population is economically vulnerable, according to the World Bank.
Over half of the world's lithium is found in Chile – but it only oversees 26.4% of global production.
Capitalising on untapped resources has become a leading priority for Chile's President Boric, as global geopolitics is increasingly shaped by critical mineral supply lines.
Australia puts Chile's disproportionate gulf between actual and potential production into context. In 2017, Australia leapfrogged Chile as the world's biggest lithium producer, producing 51.7% of the world's lithium despite possessing little over half (57 million tonnes) the amount of lithium as Chile (92 million tonnes).
Debate is ongoing in Santiago over the ownership of Chile's lithium industry. On 20 April, Boric announced plans to form a state-owned company for lithium production, as already exists in Chile's copper industry.
This echoed a previous decision in April 2022 by Mexican President Andrés Manuel López Obrador, that legally declared his country's lithium deposits as national property. Obrador established a decentralised state company, LitioMx, in August 2022. He later cast further doubt over the future of private and foreign investment in the country's lithium industry by signing a new decree in February 2023 ordering Mexico's energy ministry to accelerate nationalisation efforts.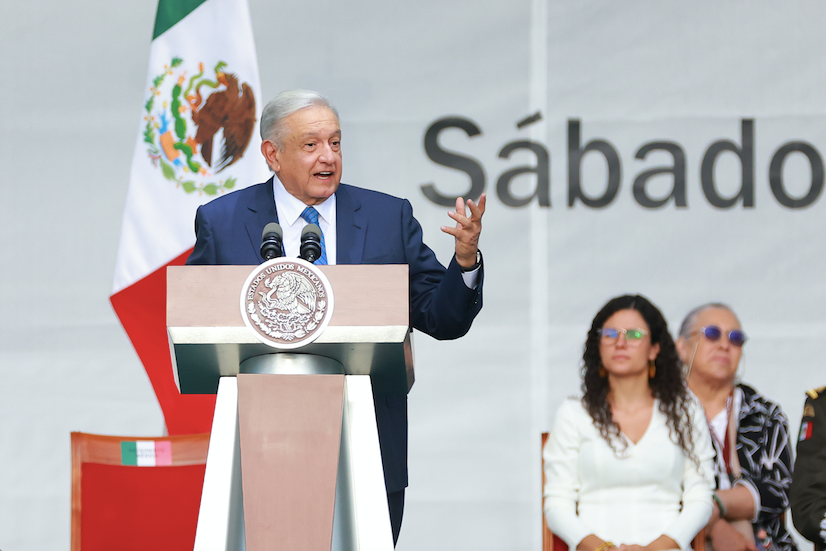 Amid the current marea rosa – "pink tide" - of leftist governments sweeping Central and South America, nationalisation is the most direct tool with which Chile, Mexico and others are constructing plans for mining industries that go beyond raw commodity supply. "By increasing state participation or limiting exports, the Latin American domestic downstream industry has the potential to flourish," says Isabel Al-Dhahir, senior analyst at Mining Technology's parent company GlobalData.
Santiago may initially control the largest copper and second-largest lithium supplies, but "little in the way of a domestic downstream industry has developed", according to Al-Dhahir. "This weakens Latin America's geopolitical influence, limiting the region to exporting raw minerals to Chinese and other foreign investors."
A Lithium Triangle alliance
Remarkable gulfs between potential and actual production in Latin America are limited to neither copper nor lithium, nor to one country. But lithium remains the resource with the largest untapped potential to catalyse economic and geopolitical influence for Latin America.
Bolivia is the region's main player, holding supplies almost comparable in size to today's global lithium production, a position reflected by the enshrinement of lithium nationalisation in Bolivia's constitution.
Bolivia, Chile and Argentina sit atop the so-called "Lithium Triangle" of Latin America, which contains 60% of all lithium reserves worldwide. Political conflict and lack of infrastructure have hampered production, but Latin American heads of state are fast tightening their grip.
Nationalisation aside, the lithium trio are also discussing a strategic regional alliance, or, in the words of Bolivian President Luis Arce, "a kind of lithium OPEC".
"Such a union could expand the region's capabilities beyond lithium mining to processing and refinement as well as technology development such as batteries and electric vehicles," says Al-Dhahir. "Considering that Brazil already has substantial experience within the automotive industry as the eighth-largest producer of cars globally, this move has the potential to be very disruptive."
If a lithium cartel brought Mexico and Brazil into the fold, it would control 65% of the world's lithium reserves and 35% of current production. But, more significantly, it would integrate Latin America's two largest economies.
Extractivismo: the outside world eyes up Latin America's minerals
Standing in the way of the proposed association is potential political upheaval. In Argentina, for instance, far-right presidential candidate Javier Milei has promised to abolish the Central Bank and replace the Argentinian peso with the dollar. A self-professed Trump admirer and climate change denier, Milei won the highest share of votes in Argentina's primary election on August 13, causing a further slump in the prices of bonds, stocks and the peso.
Milei's ideology juxtaposes Brazilian President Lula's. Since gaining office earlier this year, Lula has led calls for "de-dollarisation", removing the practice of keeping all reserve funds in US dollars. This has been warmly received in Beijing, ever since Lula proclaimed that the countries should form a partnership to "balance world geopolitics" during a three-day visit in April.
The potential for political and economic discord leaves Latin America's minerals susceptible to the clutches of foreign powers.
Increasingly protectionist government policies indicate rising concern around resource over-exploitation, which stems from a long history of extractivismo. A concept which emerged in the late 1900s, extractivismo highlights foreign nations, predominantly European ones, removing large quantities of natural materials from Latin America for export.
The dominance of China in the lithium market
But protectionist policies have so far resulted in a rise in green energy dealings with China, rather than self-sufficiency.
In January, Chinese manufacturer CATL announced a $1bn lithium project in Bolivia. Electric vehicle giant BYD built a $290m lithium cathode plant in northern Chile in April, before, in July, committing to invest $625.9m (4.5bn yuan) for another new facility in Camacari, a city in eastern Brazil.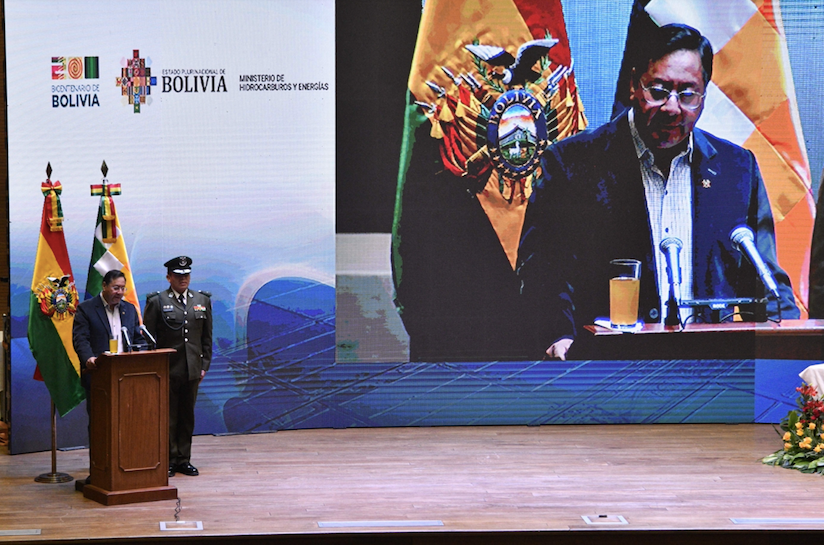 These deals represent unprecedented Chinese investment in overseas minerals, which reached record levels in the first half of 2023. But they also resemble the mining successes of Indonesia, Zimbabwe and Namibia. Al-Dhahir says these countries have "restricted exports of raw critical minerals to compel downstream investors to develop processing plants and factories within their borders". Indonesia has subsequently become the world's largest nickel producer and attracts billions of dollars in investment from LG and CATL.
Europe and the US have also taken steps to maintain influence in Latin America. In March, US Climate Envoy John Kerry led delegations in Brazil and Panama, while EU President Ursula von der Leyen visited Mexico, Argentina, Chile and Brazil in June.
Both demonstrate gradual recognition by the Western world of the key role Latin America will play in the green energy transition, as well as a reliance on the region's natural resources. The EU, for instance, depends on Chile for 78% of its lithium, and has been watching President Boric's nationalisation broadcasts with interest.
Latin America has made its intentions clear. Lithium exploration spending more than doubled over the last decade, from $44m in 2010 to $91m in 2021. Presidents are closing ranks, both regionally and domestically, aiming to maximise the wealth in their nation's metal reserves while pitting China and the West against one another in a bidding war.
For Latin America to succeed in developing a downstream critical minerals market, it must encourage foreign investment while preserving regional self-sufficiency and maintaining the goodwill of local people, who can now influence extraction with their vote.
Properly doing so will aid the economies of Chile, Mexico, Argentina and others, many of which are still floundering post-Covid, and accelerate the world's transition to a green economy.
This article is the first part in the 'Critical Mineral Geopolitics' series. As the global energy sector desperately seeks new sources of critical minerals, this series dissects the geopolitical flashpoints disrupting supply chains of green energy technologies.