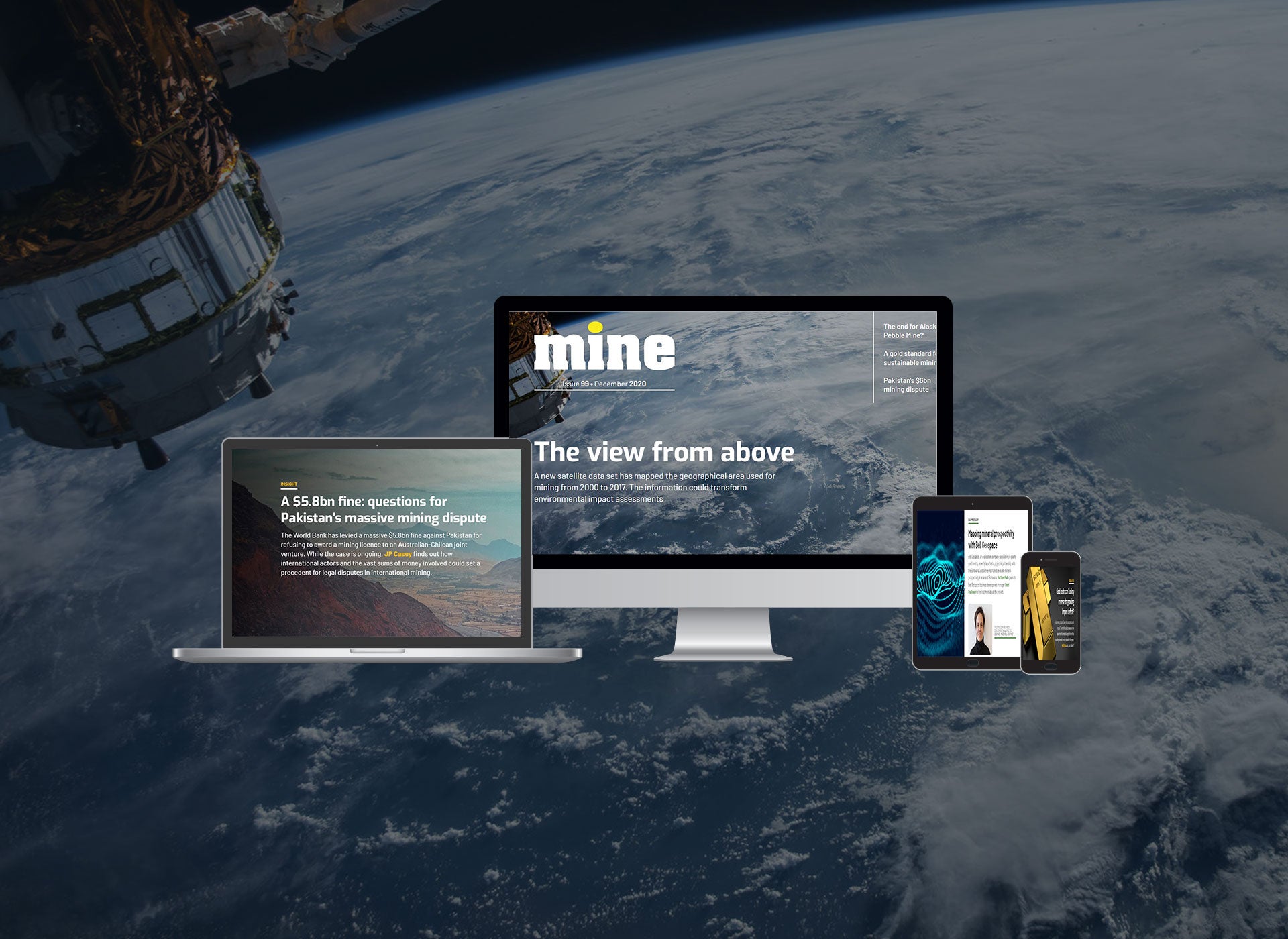 We've put together a new look for the magazine, with a new structure that should hopefully enhance your reading experience. What's not changing is our commitment to bringing you top quality coverage of the mining industry, along with new analysis and insight from GlobalData.
In this issue, researchers from Vienna University of Economics and Business (WU Vienna) have mapped geographical area used for mining using satellite imagery. The data set, which covers more than 6,000 mining sites across the world that had mining activity taking place between 2000 and 2017, could be used to improve environmental impact assessments and as a benchmark for further monitoring.
Also, the proposed Pebble mine in Alaska, US has seemingly been subject to some new controversy every other week. From being targeted by short sellers to President-elect Biden's open opposition to the project, the fate of Pebble is still very much mired in uncertainty.
Elsewhere, the World Bank has levied a $5.8bn fine against Pakistan for cancelling a mining licence granted to an Australian-Chilean joint venture after the company invested $220m into the proposed mine in 2011. Amounting to around 2% of the country's GDP, the incident has raised awareness of the difficulties of international agreements in mining and raised questions about the burden of such a fine on a developing economy.
Whether you are on a desktop, tablet or smartphone, you can read the magazine for free online, and join the conversation on Twitter.
In this issue 
Mapping mineral prospectivity with Bell Geospace
Bell Geospace, an exploration company specialising in gravity gradiometry, recently launched a project in partnership with the Botswana Geoscience Institute to evaluate mineral prospectivity in an area of Botswana. Matthew Hall speaks to Bell Geospace business development manager Gaud Pouliquen to find out more about the project.
Full disclosure: mapping mining at the global scale
A team of researchers from the Vienna University of Economics and Business recently created the first comprehensive global-scale mining data set using satellite imagery. Yoana Cholteeva spoke to the team to find out how the project came to be and how it could help to better understand the impact of mining activity on the environment.
The class of 2020: can e-learning unlock South Africa's mining potential?
Johannesburg-based learning software and solutions company New Leaf Technologies is pioneering e-learning within the country's mining industry. Julian Turner talks to managing director Mike Hanly about the online learning revolution, South Africa's struggling mining industry, and global aspirations. 
Has Alaska's Pebble Mine project reached the end of the road?
South-western Alaska's Pebble deposit holds world-class resources of copper, gold, silver, rhenium, and more, but the project to develop it has been mired in controversy for years. Chris Lo asks, what are the key points of contention in the Pebble Mine debate?
Platinum potential: how batteries could open the door to a mining rush 
Lion Battery Technologies, a company formed by Anglo American and Platinum Group last year, is being awarded a US patent, alongside Florida International University, for using platinum group metals and carbon nanotubes in lithium batteries. Scarlett Evans speaks to Lion to hear more about the project.
Gold rush: can Turkey reverse its growing import deficit?
A currency crisis in Turkey has prompted a rush for gold. The trend has piled pressure on the government to meet its target of more than doubling domestic production within five years. Heidi Vella asks, can it deliver?
The gold standard: what can the industry learn from gold miners' SDG efforts?
A report from the World Gold Council has found that gold miners are contributing significantly to the advancement of the United Nations' Sustainable Development Goals, even in light of the challenges posed by the Covid-19 pandemic. Matthew Hall looks at what the gold mining sector has accomplished, and how it could provide a path for other mineral sectors to advance sustainable development.
A $5.8bn fine: questions for Pakistan's massive mining dispute
The World Bank has levied a massive $5.8bn fine against Pakistan for refusing to award a mining licence to an Australian-Chilean joint venture. While the case is ongoing, JP Casey finds out how international actors and the vast sums of money involved could set a precedent for legal disputes in international mining.
Preview – Mine Magazine January 2021
Royalty financing usually involves a funder making an upfront payment to a mining company – for developing a project, covering costs or building up working capital – in return for regular royalty payments (which might be in the form of cash or the mined commodity). How has this alternative funding model fared in 2020? We discuss the matter with Anglo Pacific Group.
Also in this issue, we investigate new research that could make rare earth elements more discoverable, speak to the company overseeing the world's highest-grade ilmenite deposit, and ask what the results of the US election mean for mining.
Plus, we examine Spain's proposed ban on uranium mining, catch up with CEO of Gemini GIS Services Andiswa Silinga on the importance of geospatial data, explore the impact of Covid-19 on artisanal miners, and consider the mineral potential of the Caribbean.