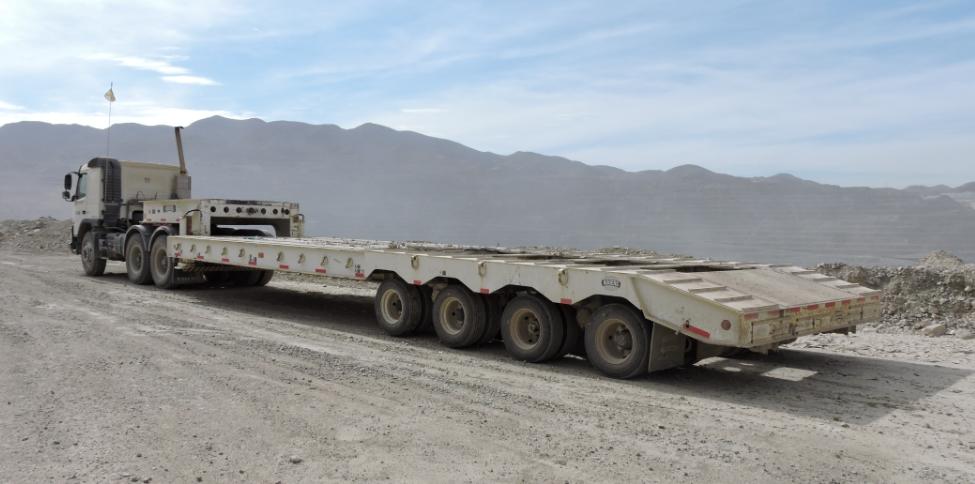 Rogers Brothers is a leading manufacturer of on- and off-highway lowbed semitrailers. Located in Albion, Pennsylvania, US, Rogers has been designing and manufacturing heavy-duty trailers for more than 100 years. For the open pit mining industry, we offer trailers with capacities ranging from 68t (75st) to 200t (220st).
Trailers can be fixed gooseneck rear loading or detachable gooseneck front loading depending on the needs of our customer. In addition to the mining industry, we also design and manufacture trailers used in the construction, paving and heavy haul industries, to name a few.
All Rogers trailers are constructed using carrying members designed and fabricated with high-strength steel in order to provide maximum capacity and durability while minimising operating weight. When properly operated and maintained, Rogers trailers have been shown to provide decades of dependable service to our customers.
Fixed gooseneck off-highway mining trailers
Combining durability with convenience, Rogers fixed gooseneck mining trailers are especially useful for hauling medium-sized mining equipment (up to 115t) for longer distances. Hydraulically-operated rear ramps provide a simple, yet effective, means to load and unload various types of equipment. A variety of deck lengths and widths are available to meet each customer's specific requirements.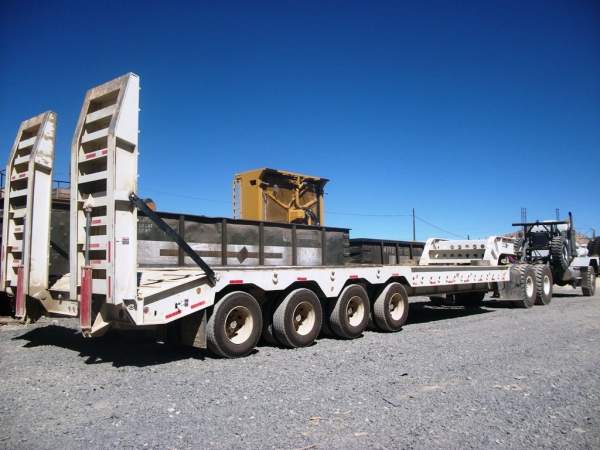 Rogers fixed gooseneck off-highway mine trailers provide durability and versatility for hauling a variety of mining equipment.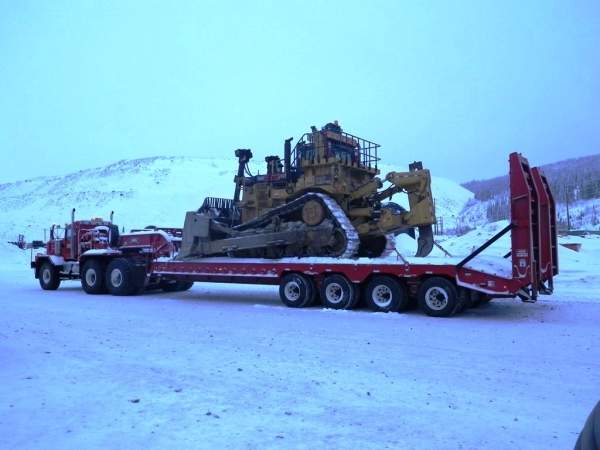 Machinery can quickly and efficiently be moved from one location to another using this simple, but effective design.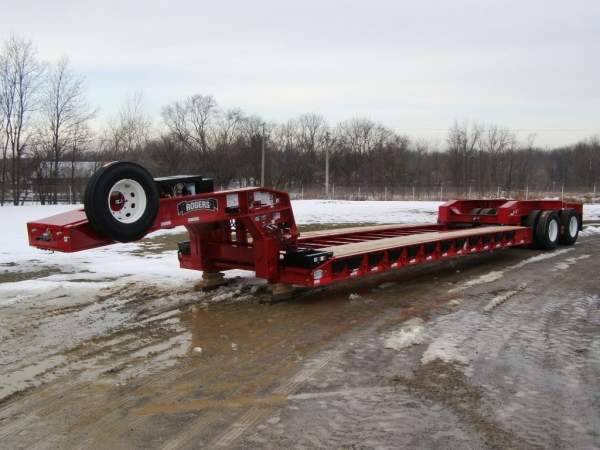 Detachable gooseneck off-highway low loaders provide a gradual incline for loading or unloading and a heavy-duty, stable platform deck for hauling.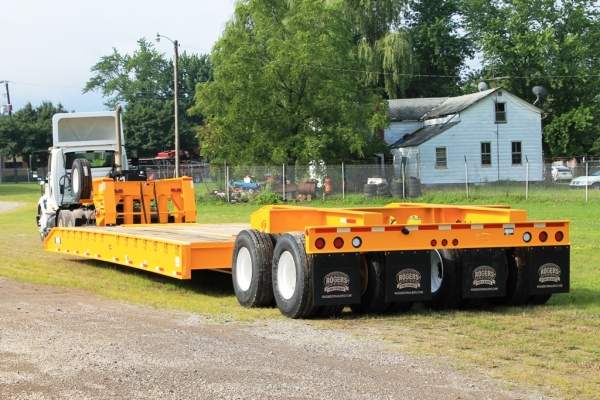 Sturdy cantilever suspension and high-capacity low-profile tires combine high performance and low maintenance costs for years of dependable service.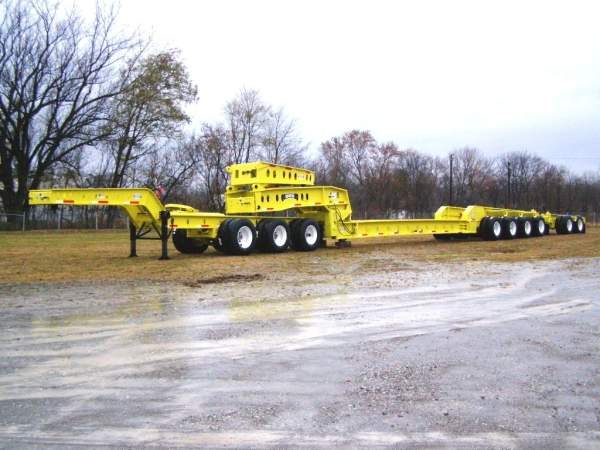 On-highway design and modular construction make this I-beam deck-detachable gooseneck trailer suited to a variety of hauling jobs. Optional platform or dropsides decks may be used with this trailer as well.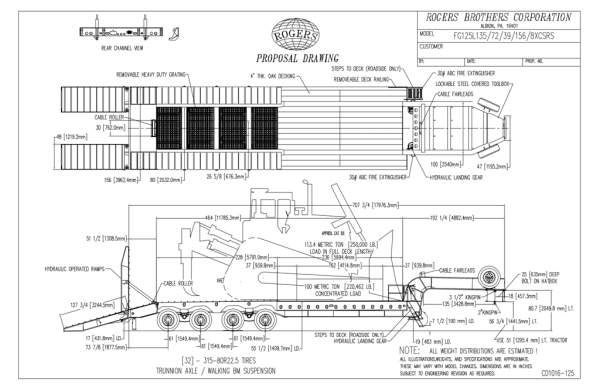 As part of the specification and design process, a customer drawing of the proposed trailer can be provided to show critical dimensions and other details.
Pre-designed models are available in capacities from 85t (94st) to 115t (127st). A severe duty cantilever suspension equipped with high-capacity, low-profile tires provides a durable, stable ride and minimises tire replacement and maintenance costs.
Detachable gooseneck off-highway low loaders
Equipment that requires a more gradual incline for loading will work well with Rogers' detachable gooseneck mining lowboy trailers. Loading angles of as little as ten degrees can be provided by reducing the depth of the carrying members at the front of the trailer frame. The use of front-folding ramps can further facilitate the loading and unloading of machines.
The gooseneck is operated by heavy-duty hydraulic cylinders which push off the ground to detach and reattach from the front of the trailer frame. This simple design is the most durable and efficient method available to operate the detachable gooseneck. A gooseneck design that does not contact the ground to operate is also available when required.
Shims can be added to both the gooseneck and detachable rear frame of the trailer to raise the trailer bed, providing additional ground clearance. A support jack operated by hydraulic cylinders allows the gooseneck to be carried by the tractor frame when detached from the trailer deck.
Trailers of this design are available in capacities from 70t (77st) to 120t (132st) in a variety of lengths and widths.
Detachable gooseneck heavy-haul trailers for on- or off-highway
Rogers also offers many trailers that provide excellent hauling capabilities within the mining industry while also meeting the specifications for over-the-road hauling, especially in North America and countries with similar transportation regulations. The capacities for these trailers range from 60t (66st) to more than 90t (100st).
To conform to transportation regulations, these trailers are generally narrower and longer than their off-road counterparts. Additional axles may be required to spread the load over a greater distance to comply with national bridge formula requirements. Jeep dollies and/or booster axles may also be needed to meet these requirements.
Custom trailer design and engineering
At Rogers, we offer a number of pre-designed trailer models but we also understand the hauling needs of each customer are often unique and can require custom solutions. Sometimes a custom trailer specification may be as simple as adding additional length to an existing trailer design. Other times a customer may want a trailer designed to carry a specific machine or be towed by a specific tractor.
Our sales and engineering personnel will work with the customer to gather information and design the trailer that meets those specifications. Along with a price and specification quote, a trailer proposal drawing is often provided. This drawing can include critical dimensions, optional equipment, axle and kingpin loads and even a specific machine loaded on the trailer.
We welcome the opportunity to work with you to provide the best trailer for your hauling needs.