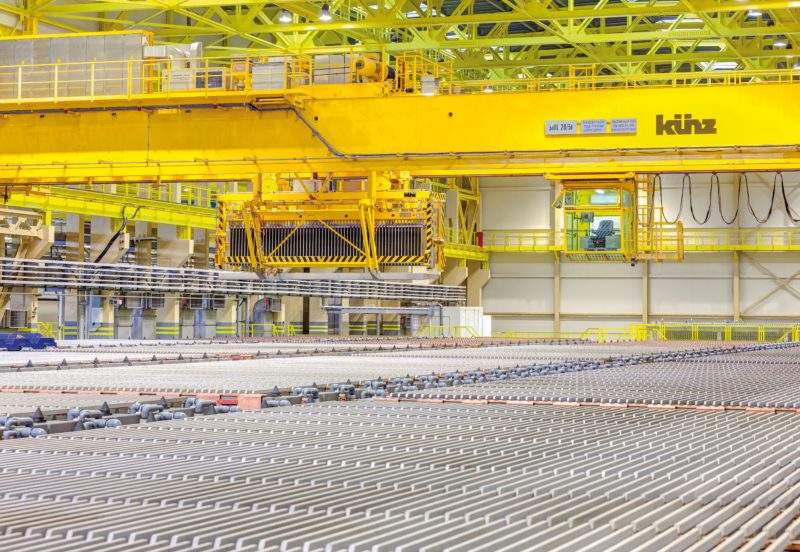 Founded in 1932, Künz is the competent partner for designing innovative handling technology for the mining industry. No matter if copper, zinc or nickel, either electro winning or electro refinery, Künz delivers customer-orientated crane solutions. Modular systems and experienced products guarantee safety, the highest quality and optimised performance.
Automated tankhouse cranes
Künz automated tankhouse cranes have been manufactured since 1987. Best practice in our unique designs is the result of more than 20 years of Künz experience in the non-ferrous metal business, from which our customers benefit greatly. This specific knowledge is gained through each installation and implemented in new projects using continuous improvement.
Modular concepts, high reliability and availability, positioning accuracy and degree of automation are the driving factors of the system to be used. Today, Künz is well-known for manufacturing products of excellent quality using proven technology worldwide.
Fully and semi-automatic crane systems
Künz designs fully and semi-automatic crane systems for copper, zinc, cobalt and nickel refineries. These cranes operate in very harsh environments and their solid Künz quality guarantees efficient operation, long-lasting product life and perfect functionality.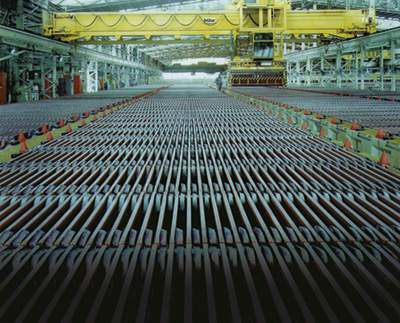 Accurate positioning of anodes and cathodes shown at the Xstrata Copper Refinery in Townsville, Australia.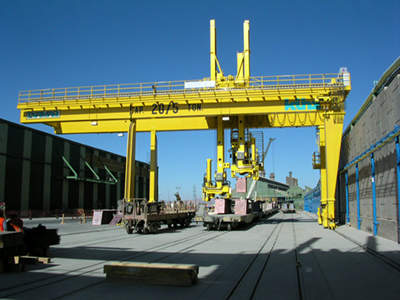 Multi-purpose yard crane for cathode, andode and scrap container handling for the Chuquicamata Copper Refinery in Chile.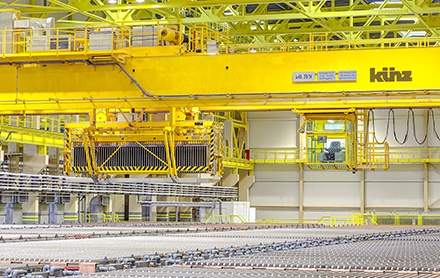 Handling of anodes and cathodes shown at JSC Uralelectromed copper refinery, Russia.
Copper refinery in Pirdop, Bulgaria.
Zinc refinery at Hindustan Zinc Ltd, Chittoragh, India.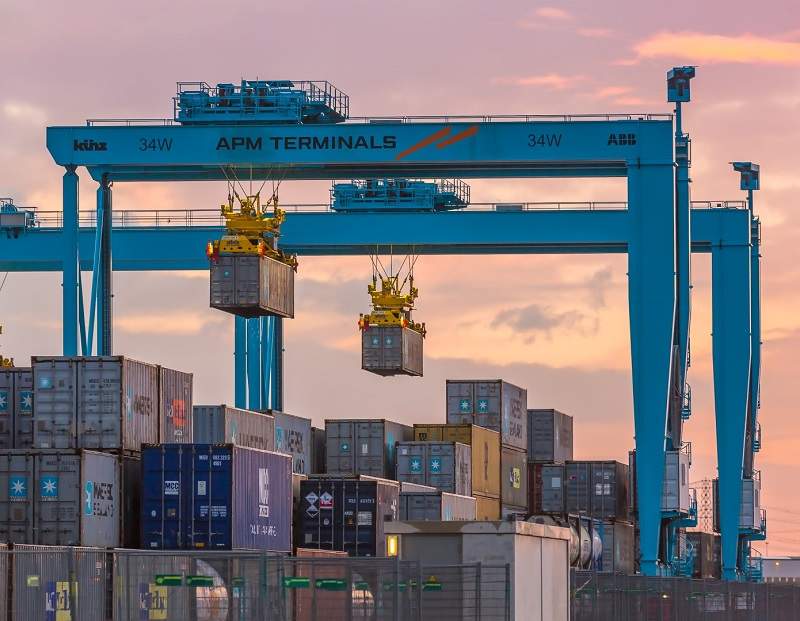 APM Terminals, Maasvlakte II – Fully Automated Stacking Cranes (ASC) by Kuenz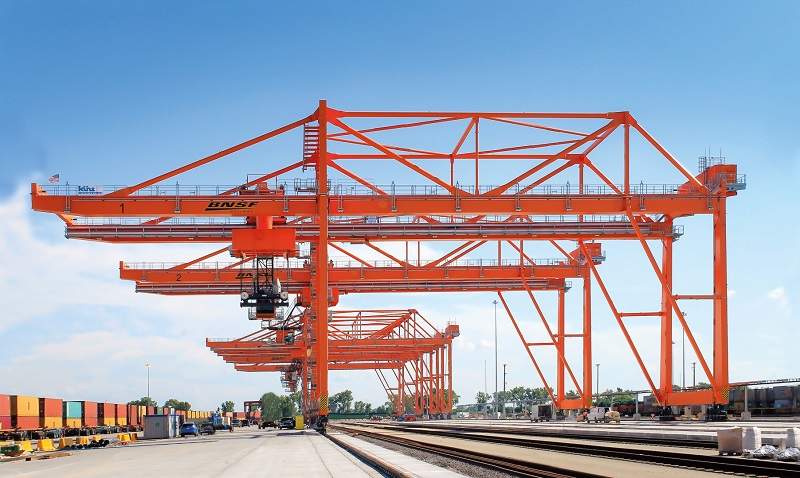 BNSF in Chicago, US.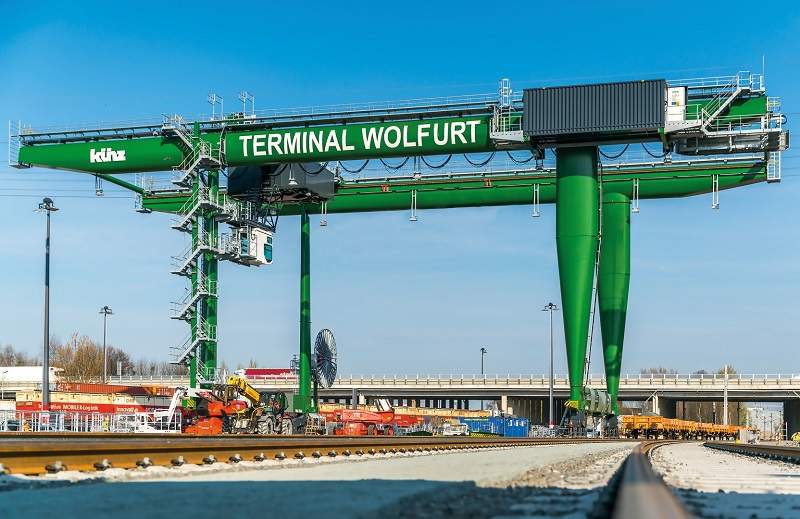 ÖBB Terminal Wolfurt, New Innovative Crane Design.
Efficient gripper systems with high positioning accuracy are the basis of an optimized integration in a safe and efficient production process. Künz tankhouse cranes are tailored to individual customer needs.
Tankhouse cranes and containers from one source
Our major strength is controlling the entire process from design, in house production, installation, automation and commissioning to after-sales support.
We support our customers worldwide by using the following best-practice standards: innovation and competence, certified quality, utmost reliability and the excellent knowledge of our engineers, who account for more than 25% of the entire workforce.
Worldwide experience
Künz tankhouse cranes are used worldwide. Well-known companies all around the globe have become long-term partners of Künz:
Kenecott Utah, US (electro refinery copper)
Xstrata Zinc, US (zinc)
Vale Newfoundland & Labrador, US (electro winning copper, nickel, cobalt)
Zijin Copper, China (electro refinery copper)
Guanxi Jinchuan Non-ferrous Metals, China (electro refinery copper)
Asturiana de Zinc, Spanien (zinc)
Boliden Mineral, Schweden (electro refinery copper)
Codelco del Norte, Chile (Anode and cathode handling)
El Abra – Phelps & Dodge (electro winning copper)
Montanwerke Brixlegg, Austria (copper)
Met Mex Penoles, Mexico (zinc)
Aurubis, Germany (electro refinery copper)
Aurubis, Bulgaria (electro refinery copper)
Spence, Chile (electro winning copper)
Thai Copper, Thailand (electro refinery copper)
Xstrata Townsville, Australia (electro refinery copper)
YCC Yunnan Copper Corp. China (copper refinery)
Vale Voisey Bay Project, Canada (nickel, cobalt, copper)
UMMC, Russia (copper refinery)
Jiangxi, 147 China (zinc refinery)
Kazzinc, Kazakhstan (copper refinery)
Do you want to upgrade your productivity? Then consult our Künz sales engineers for specific information.