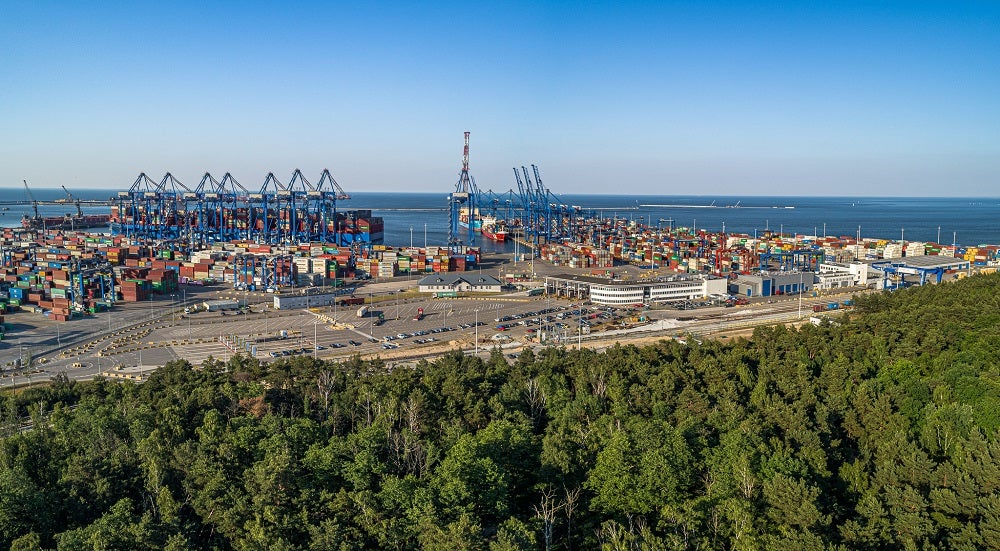 Austrian crane builder Künz, together with the systems integrator ABB, has secured a prestigious order for 20 automated sideloaded stacking cranes for Baltic Hub's new T3 terminal that is currently under construction. Baltic Hub, located in Gdansk, is one of the fastest-growing terminals on the Baltic sea and a strategically important port for the leading international port group PSA. The order was signed in September 2022. This project will further strengthen and expand the long-standing partnership between Künz and PSA.
Technical Design
The cranes are fully automatic stacking cranes. They have a span of 32m and two cantilevers of 8.5m lengths each. The lifting height is 1 over 6. The electrical equipment, including automation, is supplied by ABB. After collaborating on many stacking crane projects for end-loaded terminals, ABB and Künz will now deliver the first equipment for a sideloaded terminal in Europe, moving their long-standing relationship to the next phase. The crane structure consists of a double girder gantry with Künz's patented trolley. The trolley is equipped with a four-drum hoist with direct outgoing ropes to the headblock. The headblock is equipped with micro motion, which allows fine positioning in trolley and crane travel direction. A possible skew is also corrected by this system. The proven ABB technology consists of 3D laser systems with cameras that allow loading and unloading automatically in the truck area and the container stack.
"The tailor-made concept of ABB and Künz according to Baltic Hub's requirements for automatic stacking crane systems, was the basis for winning Baltic Hub's order. Künz is extremely proud to be selected to produce the new automatic stacking cranes for Baltic Hub," says David Moosbrugger, General Manager at Künz.
"We selected Künz and its partner ABB for several reasons, such as their patented hoist and gantry design and tailored automation solution for Baltic Hub. Together with Künz, we will take great steps on our automation journey that will increase Baltic Hub's productivity while helping us achieve our ambitious sustainability targets," says Mustafa Dogan, Technical Director at Baltic Hub.
Delivery and Commissioning
The cranes will be delivered in several phases beginning in early 2024. The final cranes will be completed by the end of H1 2025. Künz plans to go live on the terminal in the second quarter of 2024.
With this project, Künz has won one of the largest orders in the company's history and strengthened its position in the automated stacking cranes market in Europe.
Balic Hub – Deepsea Terminal T3
Baltic Hub recently started construction of its third deepsea terminal known as T3, which will make the container hub one of the largest in Europe, able to handle the next generation of containerships arriving in the Baltic Sea. With this new terminal, Baltic Hub will be ready to continue to serve and support the Polish economy, Central and Eastern European and Baltic states, as well as their international commercial markets. The investment also means a significant enrichment of the service range available to Baltic Hub customers and an impetus to attract new services and shipping alliances. The T3 construction, which will be completed by 2025, will include a deepwater quay of 717m in length, with depths alongside of 17.5m and a yard area of 36.5 hectares. In addition, the investment will involve the purchase of 20 semi-automated Rail Mounted Gantry (RMG) cranes for the container yard and seven new quay cranes capable of handling the world's largest vessels.