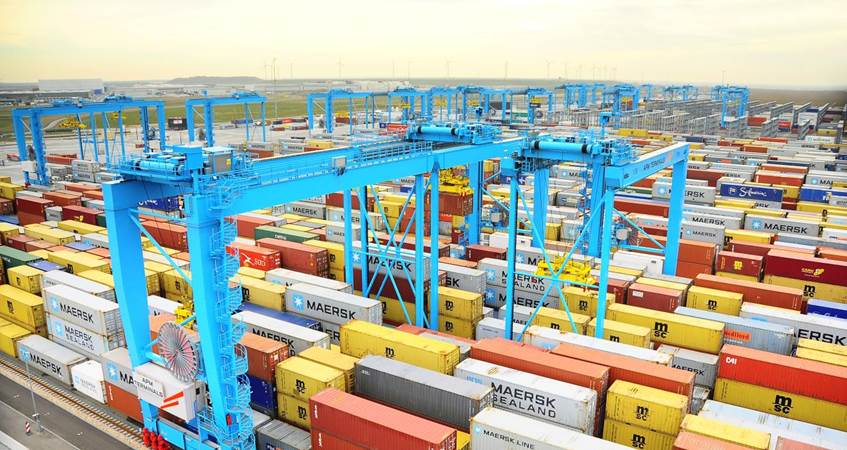 Kuenz awarded with contract for delivery of 32 fully automated stacking cranes (ASCs) for APM Terminals MedPort Tangier.
After successful ASC projects in Hamburg and Rotterdam, Kuenz was able to fend off strong international competition and was awarded with the order to deliver 32 ASCs to a new automated terminal in the Port of Tangier, Morocco. The customer, APM Terminals, is one of the most important operators of sea terminals worldwide.
Fully automated stacking cranes
In a terminal such as this, large ships are loaded and unloaded using ship-to-shore cranes. In the stacking area, all incoming and outgoing containers are temporarily stored before being loaded onto trucks or other vessels for further transport. The stacking area in Tangier is organized into 16 storage blocks, with each block being operated by two fully automated ASCs from Kuenz.
Apart from cranes for the intermodal container handling, automated stacking cranes have emerged as a bestseller for Kuenz in recent years. A total of 100 stacking cranes from Kuenz are currently in operation in Hamburg and Rotterdam, with almost 20 more in the process of being commissioned. With the new order in Tangier, Kuenz container cranes will be installed in Africa for the first time.
Customer already operates Kuenz cranes
A subsidiary of the Maersk Group, APM Terminals is one of the world's leading port operators. "The main reason for the latest success in Tangier was the high satisfaction of the customer with the cranes in Rotterdam," says Guenter Bischof, CEO of Kuenz.
APM Terminals MedPort Tangier is a greenfield project, similar to the Port of Rotterdam. According to the tight time schedule, the terminal will go into full operation in the first half of 2019.
New technology
An additional key to Kuenz's success is an entire new generation of stacking cranes. In contrast to the traditional construction, the main beams of the new cranes are designed with a round girder. This aerodynamic main girder design results in a number of advantages for the operator. A lower wind attack area requires less drive power, which leads to lower energy consumption and reduces dynamic forces on drive wheels, crane tracks and civil works.
Facts about Kuenz
Founded in 1932, Kuenz is an Austria-based crane manufacturer. The company offers innovative and efficient solutions for container handling in intermodal operation and automated stacking cranes for port and rail yard operations.
Today, Kuenz is the market leader in intermodal rail-mounted gantry cranes in Europe and North America. While the group's headquarters is located in Hard, Austria, additional fabrication facilities are located in Gross St. Florian, Austria, and Kechnec, Slovak Republic.
Kuenz America in Raleigh, NC, is the group's sales and service organization in North America.
In 2016, Kuenz stood out amongst strong international competition and was awarded a contract with...