Mobilaris has been delivering world-leading position-based decision support systems for the last 15 years to telecom operators, authorities and industries. Solutions from Mobilaris increase safety and enhance efficiency by introducing easy-to-use applications, real-time visualisation and middleware with open APIs. In the last three years Mobilaris has brought all this experience into mining operations.
Mobilaris Mining Intelligence is a position-based decision support system that opens up a new world of intelligent underground and open-pit mining, significantly increasing safety and productivity. Mobilaris Mining Intelligence provides superior situational awareness, real-time positioning and information on vehicles, equipment and personnel – presented in a sophisticated 3D user-interface.
3D visualisation for underground mines
Mobilaris Mining Intelligence opens the lid on underground mines. The user-friendly 3D visualisation includes advanced dynamic shading and filtering features that help the user to stay on top of the situation all the time for both big and small mines. Just like Google helps you discover things and make decisions in your everyday life, Mobilaris Mining Intelligence will disclose details in your operations that will increase production efficiency while increasing safety.
Real-time production efficiency data
Keep track of what is happening in the mine in real-time. Whenever trouble is identified, users can utilise Mobilaris Mining Intelligence to take the proper measures in order to minimise the downtime or to avoid bottlenecks, such as: performing spatial searches for personnel, vehicles and equipment, increase collaboration with integrated communications (voice and text) and gain a better understanding of the mining process with superior visualisation of the mine as well as the presentation of data reports and key performance indicators.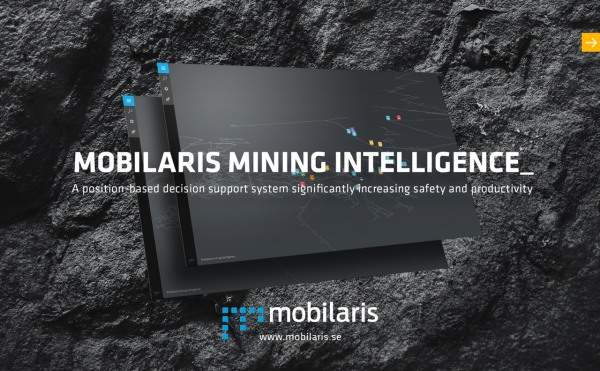 Mobilaris provides 3D simulation and data reports on underground and open-pit mines.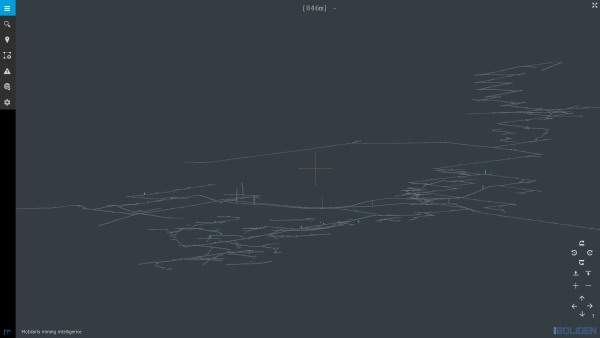 The system can offer advanced shading and filtering features to provide an alternative perspective of tunnel systems.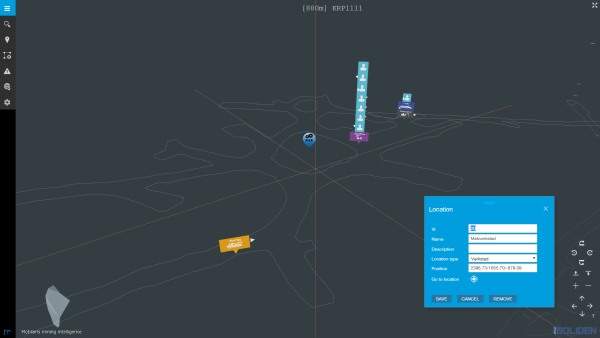 The Mobilaris Mining Intelligence package can also provide real-time data on production efficiency and spatial searches for personnel, vehicles and equipment.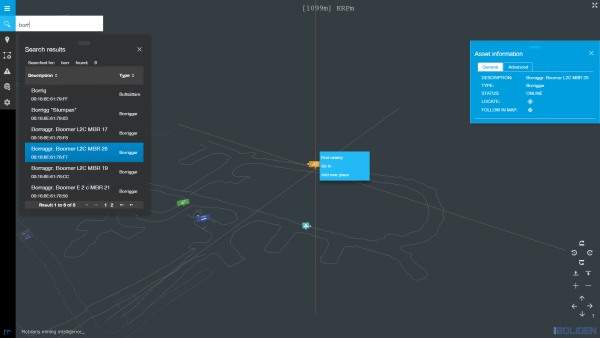 Mobilaris's mine intelligence software is compatible with any technology interface.
Automatic danger area surveillance
Automate the surveillance of dangerous areas by adding geofences (user-defined digital fences) that limit access to recently blasted areas, areas with dangerous gases or unsecure areas. Simplify your permission access such as limiting the access for personnel to certain areas.
Minimise evacuation time by determining the best emergency escape routes when there is an accident, and send this information to personnel at the right locations.
Learn from your mistakes by analysing incidents in the visualised history log, where you can replay the actual situation from any angles and learn from it.
Multiple technology environments
In an underground mine, positioning and communication can be set up in a number of different ways. What works best in one mine may not be the best choice in another. Beyond that, certain technology may already be installed and in use.
Because of this, Mobilaris Mining Intelligence is technology-agnostic; it will seamlessly funnel data from multiple source technologies into one decision support system. Mobilaris Mining Intelligence supports a multitude of technologies, such as WiFi (any vendor, any WiFi tags), RFID (active/passive), Dead-Reckoning/Inertia navigation via Leaky Feeder or other comms channel, GPS and positioning using mobile networks.
This allows us to utilise the most cost-efficient technology to locate vehicles, personnel and equipment at any time.
Web-based decision support system
The Mobilaris Mining Intelligence user interface is totally web-based. It can be easily deployed and used on stationary PCs, laptops, tablets or other commercially available platforms. The main idea has always been to create a system for everyone, while still retaining full information control and integrity (miners, safety personnel, mining operational centre personnel, mine managers, IT departments, transport managers, truck drivers, etc.)
Customer service and support
Process IT and automation solutions like Mobilaris Mining Intelligence, are and will be increasingly important for safety and efficiency in the future. Therefore, global precedence with local support is essential.
In our solutions for telecom and public safety, where telecom-grade quality is expected 24/7, we have a strong global partnership with Ericsson and other local companies, creating a global presence – supporting 150 milion subscribers in four continents.
Within mining, partnerships are also part of our strategy. Recently, we have created a global partnership with ABB to guarantee a global support and service organisation.
Key features:
Web-based graphical user interface – easy deployment
Real-time tracking of vehicles, equipment and personnel.
Mass-location of equipment
Powerful information filtration facilities
Possibility to track and follow objects as they move
Advanced data mining and report generator
Tools for creation and management of geofences
Integrity protected visual location history log
Spatial search (whole mine or search 'near me')
Integration of mine voice/text communication systems
Points/areas of interest
Advanced IT management tailored for underground mining
Technology agnostic solution that combines multiple positioning technologies into one solution for the mine
An open solution, easy to integrate other mining applications using open APIs