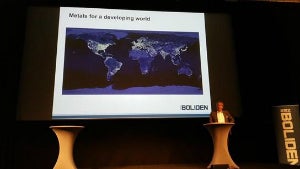 During Bolidens Supplier Summit 2015, Mobilaris received an award for its exceptional performance in the area of innovation.
The award was introduced by Staffan Sandström, Boliden head of technology, with the following motivation; "Through agile development, the innovative company Mobilaris include their technical knowledge from another branch of industry to help Boliden in striving to be a world-class mining company. Their ambitious marketing also spreads a positive image of Boliden as a company and opens doors for knowledge exchange with our mining colleagues".
At this event, Mobilaris general manager for mining and industrial, Hans Wahlquist, made a short introduction on how Mobilaris Mining Intelligence adds value to Boliden in the areas of production efficiency, as well as safety.