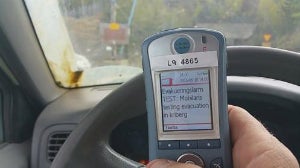 In Bolidens latest issue of the Boliden Magazine, the focus is set on safety.
Bolidens CEO, Lennart Evrell, points out that "There must never be any doubt that safety is always our most important objective". On the last page, Mobilaris' new solutions for evacuation support are presented.
The new set of tools sets a new level on mining safety, and includes an evacuation application that minimises the time for evacuation, a history viewer that help post-analysis of incidents and a training simulator that allows rescue personnel to keep up their skills.
Mobilaris Mining Intelligence combines telecommunication and positioning technologies in a smart and user-friendly system.