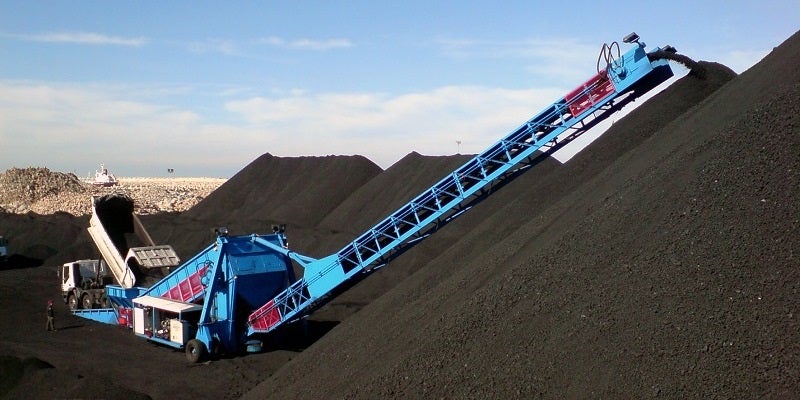 SAMSON Materials Handling, part of the AUMUND Group, specialises in the design and manufacture of mobile equipment for surface installation, providing flexible and cost-saving solutions, for a vast range of applications in bulk materials handling.
The fundamental principle of surface installation and mobility is central to all SAMSON products. We focus on flexibility and economy combined with high engineering standards for long-term reliability.
Reception and transfer for bulk mining material
Combining the strength of an apron feeder with the cleanliness of a belt system, the Samson Material Feeder receives any kind of bulk material direct from tipping trucks or shovels, and provides a buffer holding capacity and controlled discharge to the subsequent handling equipment.
High-performance mobile shiploader
With the mobile shiploader, high performance may be maintained without the need for fixed infrastructure. We provide dedicated designs for ship loading with many specialised features including mounted Samson Material Feeders, a complete range of trimming and powered manoeuvring systems, and effective pollution control.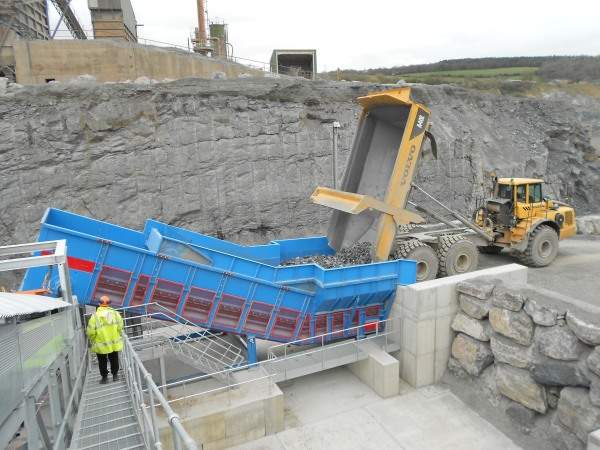 Material reception and transfer with the SAMSON™ surface feeder.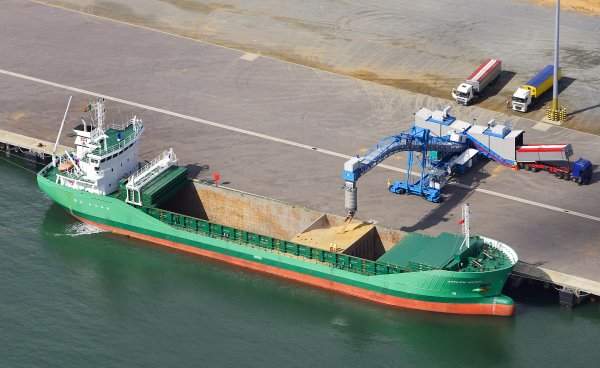 Ship loading with the mobile shiploader.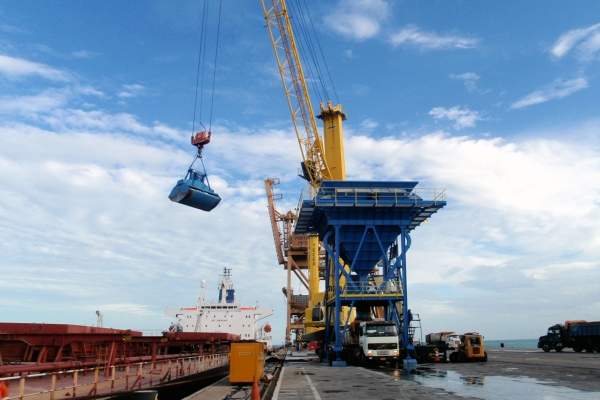 Discharge of dry bulk cargoes with the Eco-Hopper.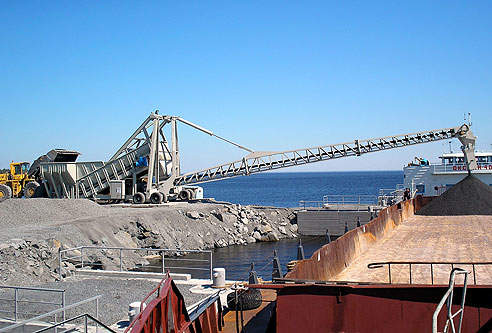 Stormajor™ radial stacker / loader.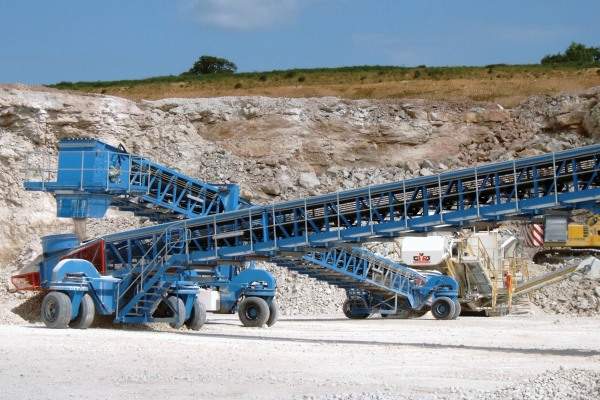 The concept of mobility is extended to mobile link conveyors operating in quarries.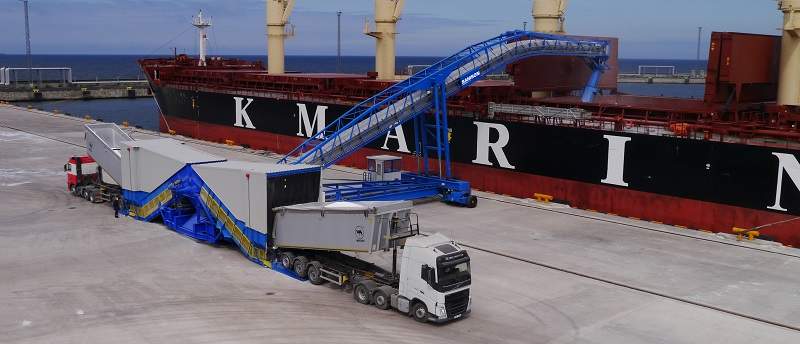 The integrated Samson Material Feeders receive fertilizer from two trucks simultaneously and transfers to the SAMSON Shiploader to load vessels.
SAMSON provides a complete system to receive and load coal.
Robust and reliable, the Samson Feeder can easily be transferred to operational areas.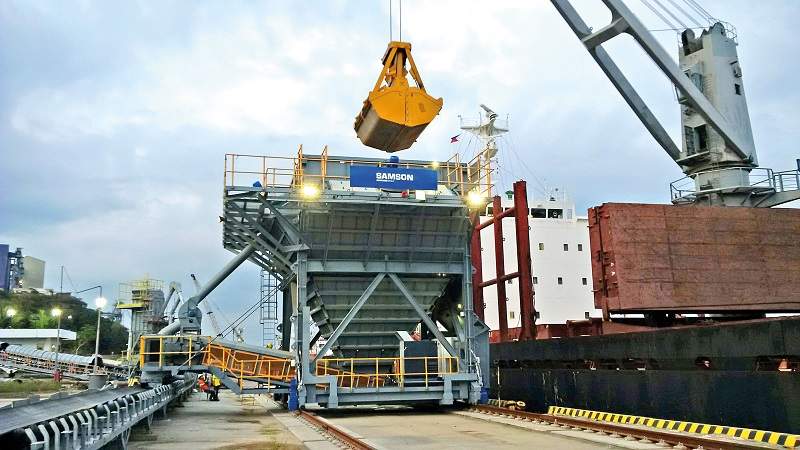 The rail-mounted SAMSON Eco Hopper receives cement clinker from ship-based grab cranes.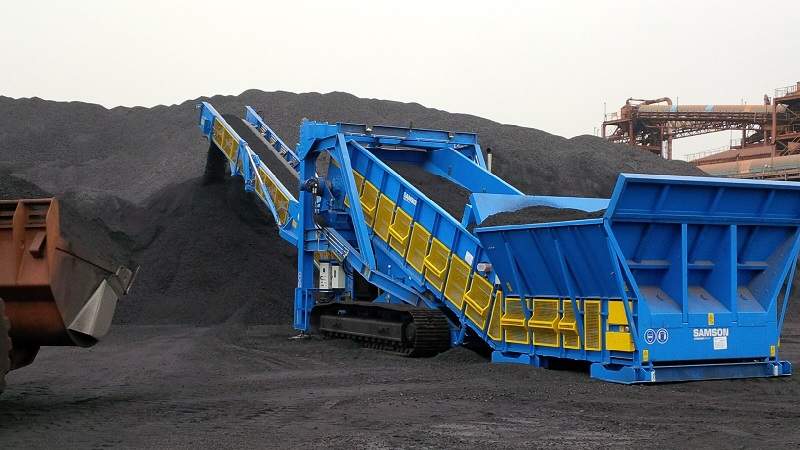 The Stormajor® stockpiling coal.
Dust-controlled grab unloading hopper
The Eco Hopper, a dust-controlled grab unloading hopper is an economical and ecologically sensitive solution fulfilling all needs for the efficient import of dry bulk cargoes. It is available in a wide range of sizes and specifications.
Fully integrated mobile radial stacker / loader
The Stormajor® radial stacker / loader combines the benefits of the Samson Material Feeder with a radial outloading boom. Mounted on a wheeled or tracked chassis, the Stormajor® ensures stockpiling or barge / rail wagon loading as a fully integrated mobile unit.
Mobile link conveyors for quarries
The concept of mobility is extended to mobile link conveyors operating in quarries with a mobile face crusher. This eliminates the need for fixed primary unit handling rates to 2,500t/h. Lengths of up to 70m are available.
The SAMSON mobile concept for above-ground installation offers an economical alternative to conventional fixed installations in quarries, mines, production plants, ports and terminals, and any kind of mineral processing plants. Complete flexibility and fast-track availability allows SAMSON to react quickly to specific market situations with minimum investment risk.
Benefits include:
Surface mounted
Fast-track cargo handling
No expensive excavation
Minimum capital cost
Minimum operating cost
Easily relocated
Maximum flexibility
Reliability
Quality