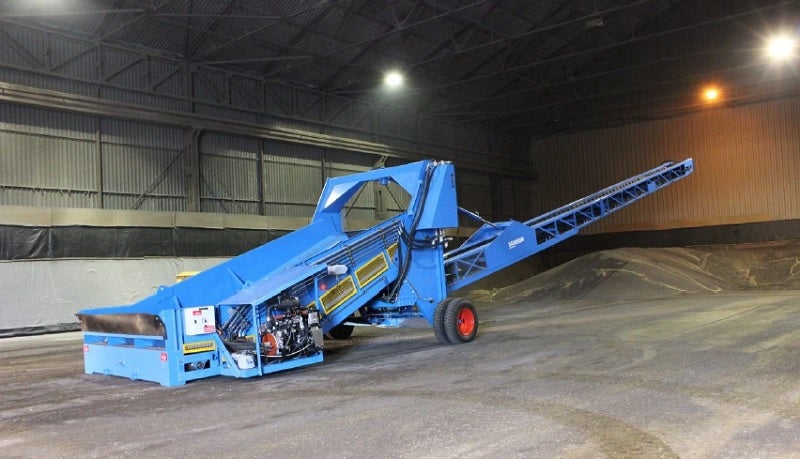 In June 2016, following an impressive 28 years of dedicated service and handling in the region of 700,000t of grain a SAMSON Stormajor®, a mobile stockpiling machine, was given a new lease of life by Forth Ports at the Port of Dundee.
The Stormajor® was originally installed in 1988 at the port for stockpiling oil rape seed, barley, wheat and malt. Forth Ports and SAMSON Materials Handling decided that bringing the Stormajor® up to the latest specifications would both improve efficiency and allow Forth Ports to future proof their equipment whilst respecting resources by renewing existing equipment.
Taken away on a low loader the Stormajor® spent a few weeks being stripped down, refitted with the latest component parts, diesel engine and drives before being repainted and then returned to site for commissioning. Commissioned on site by SAMSON in June 2016 in time for the next harvest this Stormajor® is now set for another long period of active service.
Commenting on the Stormajor® refurbishment, David Webster, Port Manager at Dundee said: "At the Port of Dundee, we are recognised as the main agricultural hub in the east coast of Scotland, not only handling tonnages over the quay side, but drying a significant volume of malting barley each year resulting in the Port of Dundee handling in excess of 250,000t each year. The Stormajor® has served us well for 28 years and now that the machine has been fully refurbished and has a new lease of life, we will enjoy many more years' service at the port."
SAMSON after-sales manager Krissy Lee, who was responsible for the refurbishment, agrees that: "The Dundee Forth Ports Stormajor® refurbishment was a great project; executed on time and to budget and to everyone's satisfaction. This really is a testament to the expertise of the engineering teams at Forth Ports and SAMSON and how by enjoying open communication we can understand our client's situation and provide an actionable solution to their material handling needs."