Hauhinco designs complete water hydraulic systems for underground longwall mining and industrial applications.
Hauhinco high-pressure stations for longwall hydraulics are premium, certified systems with all the necessary approvals. This also applies to the spraying stations for the supply of the shearer water sprays, coal plow operations and cooling systems of drive motors.
Hauhinco systems guarantee the necessary safety and reliability at the coalface. A complete portfolio of high-pressure plunger pumps and valves made for the heavy conditions in underground coal mining enable the design of systems that are tailored to customers' requirements.
High-pressure plunger pumps for underground mining
Hauhinco started as a mining company in 1908 and has ever since supplied the industry with innovative products and solutions.

Pump station with three EHP-5K 400.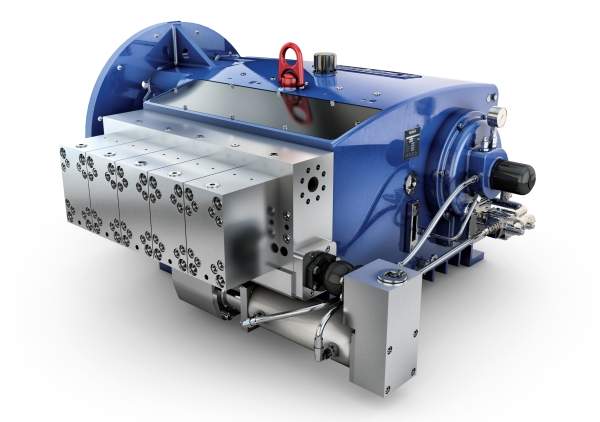 Hauhinco high-pressure systems for longwall hydraulics use pumps such as the EHP-5K 400.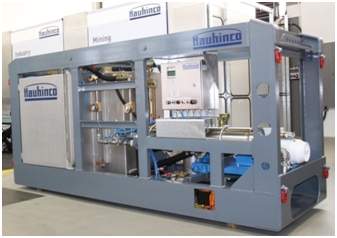 Hauhinco developed the reverse osmosis system to improve water quality in mines and minimise wear on machinery.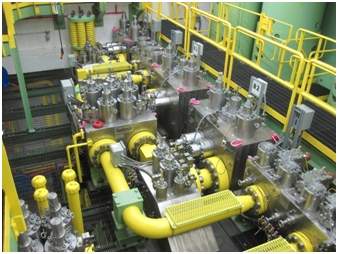 Industrial solutions: manifolds for water hydraulic presses.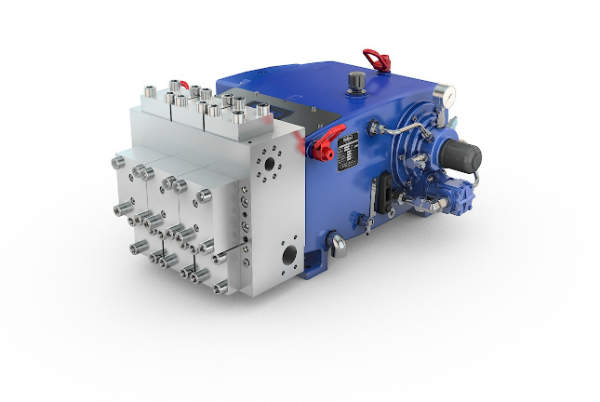 The EHP-3K 75 is the newest addition to the Hauhinco pump portfolio.
Hauhinco high-pressure plunger pumps for underground mining applications have been demonstrating their reliability under the toughest conditions in the most productice mines all over the world for many decades. This experience enables the continuous development of compact triplex and quintuplex plunger pumps with crankshaft drives and integrated reducers. This ensures maximum efficiency and profitability of the underground high-pressure and water-spray pump systems.
The most important quality criteria – such as high efficiency and minimal wear – are ensured by state-of-the-art manufacturing and testing procedures at the production location in Sprockhövel, Germany. Extremely long operational service lives are achieved by using wear-resistant materials and innovative technical solutions that set standards worldwide thanks to quality 'Made in Germany'.
Emulsion high-pressure pump stations for longwall hydraulics
Hauhinco high-pressure systems for longwall hydraulics include Triplex EHP-3K or Quintuplex EHP-5K plunger pumps with electric motors, emulsion tanks, high-pressure and return filters, piping, hydraulic accumulators, control modules, explosion-proof measurement instruments such as flow meters and provision for data transfer and visualisation.
All pump systems are tailored to customer requirements and are designed for the toughest conditions in underground longwall mining.
Water spray pump stations
Hauhinco water spray systems are developed to supply shearer water sprays or the coal plow operations and the cooling systems of the drive motors. The systems consist of EHP-3K plunger pumps with an electric motor, a water tank, a filter unit, as well as the necessary piping. The integration into an existing supply line is of course also possible.
Hauhinco pump systems are available as decentralised and mobile versions. The decentralised pump systems are generally for two or three longwall mining areas. The mobile pump systems can travel along the longwall, and are available as suspended or upright versions, featuring a compact design in a frame or mounted on a carriage.
Water treatment system for underground mining
The Hauhinco water treatment system guarantees clean and saline-free water. Due to bad water conditions in mines around the world, Hauhinco designed a system that cleans the water before it enters the longwall system. Clean water enables a much longer lifetime of the entire longwall equipment used in the face.
Designed in a typical Hauhinco frame, the main components of the system are the filtration unit, the tank, the reverse osmosis tube and the controller. The reverse osmosis system can be integrated without any difficulty into the longwall operation, and is completely automatic.
Since its market launch in 2010, the system has been installed in several mines and has proven itself by delivering great water quality results.
Worldwide servicing and maintenance
Regular maintenance and servicing are essential to ensure the longevity of any system. For this reason, Hauhinco employs trained hydraulic technicians and electricians with many years of experience to keep the system in perfect technical condition. These specialists ensure the high availability of your systems, help modernise and optimise existing systems and train employees in the safe and optimum use of Hauhinco components and systems.
Water hydraulic systems for industrial applications
Hauhinco also manufactures drives and controls for water hydraulic presses of all kinds, descaling systems and customised engineering solutions for other water hydraulic applications. The requirements pertaining to industrial systems are constantly increasing. In addition to power, precision and reliability, there is an ever-growing demand for maximum efficiency. Water hydraulic systems by Hauhinco offer you all of these competitive advantages.
The product portfolio covers the complete spectrum of components and systems: high-pressure plunger pumps, valves, hydraulic valve blocks (manifolds), descaling rotors, control technology and modular systems. This way, Hauhinco systems can be developed according to exact customer requirements. Everything comes from a single source: starting with the project schedule, through to design and production, and all the way to commissioning of the completed system.