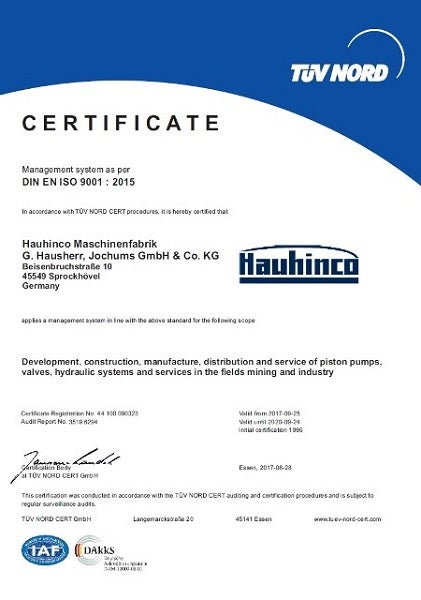 Since 1996, Hauhinco has been certified according to ISO 9001. On the 22 and 23 August 2017, the re-certification audit was conducted at Hauhinco by the TÜV Nord according to the updated Quality-Management Standard ISO 9001: 2015.
All departments and processes were checked according to the modified ISO 9001: 2015 requirements during the audit. An update and modification of the ISO 9001 standard was necessary, as the international working environment has become significantly more complex over the last years.
The most important modifications are:
The integration of the QM-System in the companies strategy
The extension and engagement of the interested parties
Focus on a comprehensive and systematic process management
Stronger emphasis on leadership and management commitment
Systematic handling of risk and chances for the company (risk-based thinking)
Building a systematic structure for the companies knowledge management
IT-supported structure of the entire QM-documentation
Hauhinco has carefully prepared the transition to ISO 9001: 2015 and thus was able to fulfill the requirements to 100% during the re-certification audit.
The high-quality of our high-pressure pumps, valves and water hydraulic systems is the basis for the satisfaction of our worldwide customers in mining and industry. Focussing on the needs of our customers, as well as living and following our quality policies sustainably secure the success of the company.
We are looking forward to taking part at AISTech 2018 in Philadelphia, PA, US, from...