Cestusline™ (Cestus) is a specialist manufacturer of industrial gloves designed especially for the mining industry. Our Mining Series gloves are the result of various conversations with industry officials about the weaknesses in the market's current hand-protection offerings.
The Cestus R&D team creates new technologies that can handle some of the roughest working environments in the world.
Hand protection in mining industry
While the mining industry has come a long way, the protective equipment used by miners has undergone a slower development. Cestus was first approached at an industry trade show by a safety manager, who was frustrated by this oversight.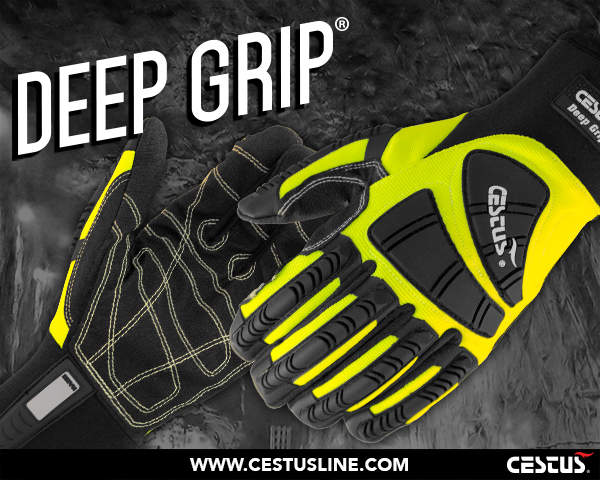 Cestusline specialises in protective gloves specifically designed for the mining industry.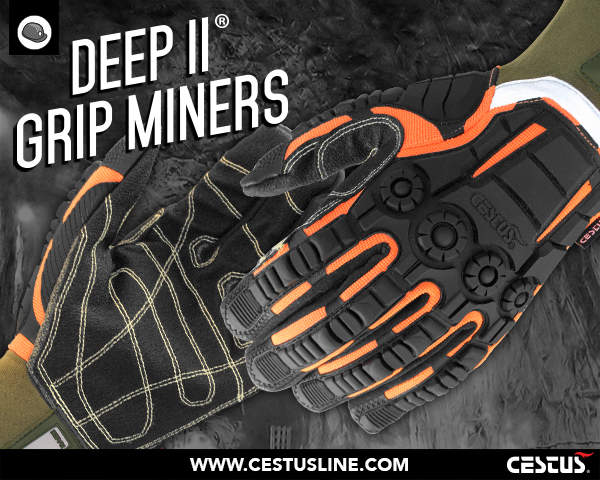 Our Deep II® Grip Miner gloves combine high-impact protection with thermoplastic rubber (TPR).
The HM® Impact gloves feature reflective fingertips and padded impact protection.
The injury statistics in the mining industry can far outweigh other heavy industries, and the manager was actively seeking new technologies that would either prevent or reduce the severity of injuries that were occurring far too often.
Heavy-impact gloves with vibration-reducing palm pods
The first obstacle that Cestus had to overcome was the high incident rate of impact injuries, which are often caused by equipment weighing more than 100lb.
Our industry representatives provided us with a list of additional features that pushed our development team to the limit.
Miners are often working in extreme, occasionally upside-down, cramped and dark conditions.The shifts tend to be long, so our R&D team also looked into ways to develop the heaviest-impact gloves we had ever made, which include a high-dexterity flex to reduce hand fatigue.
Since many miners use impact and power tools, we added vibration-reducing palm pods to one of our models in an effort to reduce the severity of jobsite hand arm vibration syndrome (HAVS) and carpal tunnel.
Mining gloves with high-impact protection
Cestus's Mining Series currently has three glove models with variable levels of impact protection technology.
The DM Hybrid® is our flagship mining glove, which features a moulded polycarbonate knuckle and flexible 3D thermoplastic rubber (TPR) impact-protection shields.
An overlooked feature is the TPR impact shields that extend to the wrist and protect the metacarpals and wrist. The palm side of the glove features our patented Ripple Grip® with vibration reducing pods, filled with our exclusively patented Hexagonal Memory Gel®.
The Deep II® Grip Miners have the features of two gloves in one. The complete impact protection comprises a single-piece, flexible TPR impact shield that protects from fingertips to wrist.
The flared, extended thumb protection is the full-impact protection from thumb tip to knuckle. The Deep II series gloves have TPR, which is thicker and wider than our original Deep Series TPR.
The palm side features our bestselling SkidX™ Grip with an under-layer of our exclusive Lastamid®, a 1,600°C flame-resistant fabric. This glove is resistant to oil, water, puncture, flame, abrasion and cuts.
The HM® Impact features padded impact protection with our DNX Grip™. Great dexterity with thoughtful reinforcement to the saddle adds durability where gloves tend to wear out. Reflective fingertips make this a great glove for low-light conditions.
Adjustable elasticised wrist cuffs keep debris out of the glove. All the Mining Series gloves can be washed by hand and air-dried to extend the lifetime of the glove.
We have additional Cestus gloves from our family to meet any job description, as our Pro Series, Welding Series, Handler Series and Trade Series gloves are suitable in many industrial settings.
Onsite trial programmes
Clients can try out our Mining Series gloves on their jobsites with our Cestus Proving Grounds programme.
Qualified end-users can purchase a trial of up to 12 pairs of our mining gloves to experience the Cestus difference for themselves.
About Cestus
Named after the ancient Roman battle hand protection worn by gladiators in combat, Cestus creates multifaceted gloves from basic utility and gardening gloves, to oil-resistant and anti-vibration technical gloves.
Cestus was founded in 2010 and our management brings more than 30 years of experience in the glove manufacturing field to the table. Combined with user feedback, our expertise in hand protection allows us to manufacture work gloves that deliver in protection, functionality and comfort.
A combination of top-of-the-line durable materials, detailed stitching and innovative designs based on end-user feedback make our gladiator-tough gloves that are also comfortable to wear while working.